Skaters are More Important But…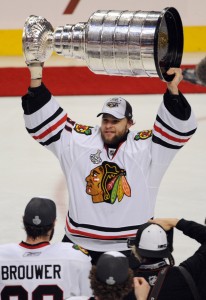 Yours truly is a firm believer that the 18 skaters in front of a goaltender are much more important than having a "stud" goaltender. For example, three of the four teams left remaining in the Stanley Cup playoffs don't have starting goaltenders who are considered "elite". Corey Crawford, Ben Bishop, and Frederik Anderson are all considered good goaltenders, but they aren't All-Stars. Neither of them are even top-10 in the league in terms of reputation. The Blackhawks have won two of the past five Stanley Cups with unheralded goaltenders. The first was won with a rookie Antti Niemi who has proven to be merely an average goalie over his career, and the other with Crawford.
Outside of Jonathan Quick, none of the other top rated goaltenders in the league, Henrik Lundqvist, Carey Price, Tuukka Rask, Pekka Rinne, nor Braden Holtby have won Stanley Cups as starters. The point to be had is that a top notch goaltender isn't as integral of an ingredient to a Stanley Cup roster as is having depth forwards and depth defensemen. Recent goalies to win Stanley Cups since the missed season of the 2004-05 lockout: Cam Ward, Jean-Sebastian Giguere, Chris Osgood, Marc-Andre Fleury, Niemi, Tim Thomas, Quick, Crawford. Not exactly the cream of the crop. Most of them did however get hot at the right time. That is what teams need, a goaltender getting hot. And the goalie that gets hot doesn't have to be the clear No. 1 to starter at the beginning of the season. Ward, Osgood, and Niemi were not the starting netminders at the beginning of their Cup winning seasons. Osgood didn't even begin the 2008 playoffs as the Red Wings' starter.
Moral of the story? Goaltending is extremely unpredictable come playoff time. We can add Crawford into the group of Ward, Osgood, and Niemi, as Cup winners without track records (or in Osgood's case twilight of his career). Even during these current playoffs, Chicago's Corey Crawford hasn't started every game because he struggled early and backup Scott Darling started a few games. Goaltending is very tricky. A big name netminder isn't a prerequisite but teams need goaltending to come through in big moments. The best way to ensure getting that big save at the right time is by having quality depth. And goaltending depth is just another area where the San Jose Sharks have failed miserably over the years.
…Teams Need Goaltending Depth Too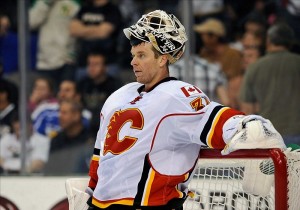 It is quite shocking when one realizes the Sharks haven't drafted and developed an NHL starting goaltender since the previous millennium. The last two goaltenders the Sharks drafted who went on to become NHL starters? Vesa Toskala and Miikka Kiprusoff who were both drafted back in 1995. No, that is not a typo, they were drafted in 1995. The Sharks have not drafted a starting caliber netminder in two decades.
Over the past two decades there are only a few names of note in terms of even backup goaltenders the Sharks have developed. The main two of note being current backup Alex Stalock, as well as another current NHL goaltender in Thomas Greiss. The latter of which at one point was battling with fellow Sharks draft pick Dimitri Patzold for the backup job behind Nabokov. Die hard Sharks fans also probably remember the name Nolan Schaefer. Schaefer became famous for a 5-0-1 record in emergency fill in for Nabokov and Toskala.  None of these guys however have gone on to become No. 1 goaltenders.
Even though Toskala at one point took the No. 1 job away from Nabokov in 2005-06, the Sharks rode Nabokov hard towards the end of his career. They didn't develop goaltenders behind him, and since Nabokov left, the Sharks have ridden Niemi the same way, as their clear cut No. 1 without any talent behind him. You would have thought with the lack of depth behind Nabokov and Niemi that they were elite goaltenders like Lundqvist and Price, but they weren't nearly performing to those elite levels.
Sharks Playoff Goaltending Woes
The following numbers are the playoff save percentages of the last three years of Nabokov's career with the Sharks, and all four years since with Niemi.
.907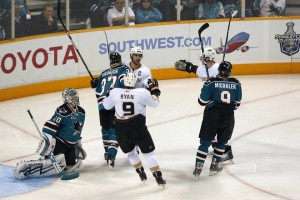 .890
.907
.896
.914
.930
.884
Three out of the past seven years the Sharks' starting goaltender delivered a sub .900 save percentage, that is nowhere close to good enough. Of course in a number of these seasons the Sharks needed better defensemen but some of these years the Sharks did have a pretty good group of defense. Only one season of the past seven did the Sharks' starting netminder clearly have an above average playoff save percentage. That was Niemi's .930 in 2013. Not good enough.
Not Drafting Enough Goalies
Yet despite the mediocre goaltending the Sharks have received over the last seven years, they have drafted only one goaltender in their past six drafts. You heard that right, just one goaltender drafted in the past six years. The Sharks selected Fredrik Bergvik out of Sweden with a 4th round selection in the 2013 draft. San Jose didn't draft a single goalie in last year's 2014 draft, and the next most recent goalie they drafted was Harri Sateri back in 2008. Sateri at this point is pretty much done as an NHL prospect. After a number of years with AHL Worcester, Sateri was back overseas for 2014-15 playing in the KHL. So that leaves Bergvik as the only goaltender the Sharks have drafted that is currently considered a prospect. Unfortunately, Bergvik is ranked as just San Jose's 15th best prospect according to hockey's future. Prospect sites around the net suggest he could be a future NHLer one day, but doesn't seem all that likely.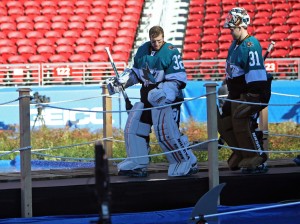 Overall the Sharks prospect pool has gotten a lot better over the past 12 months. 2014 forward selections Rourke Chartier, Dylan Sadowy, and Kevin Labanc all lit up their respective leagues. There are also defensive prospects like Dylan DeMelo and Konrad Abeltshauser who could both make their NHL debuts next season. DeMelo was called up briefly to the NHL this past season but never played. There are some older prospects too like Sean Kuraly, a speedy two way center that starred in the WJC a couple years ago. He has been playing at Miami of Ohio and could be an ideal type of tenacious forechecking forward to play with Ben Smith on a fourth line. The Sharks have a number of quality skaters in the system but have arguably the worst pool of goaltending prospects in the league.
As already mentioned Bergvik is their only goaltending draftee of the last six years and he isn't highly thought of at this point. Plus recent minor league free agent goaltenders like Troy Grosenick and Aaron Dell aren't thought of to be future NHLers. Therefore the Sharks ought to select multiple goalies in the upcoming draft. Most NHL goaltenders are selected in the mid-to-later rounds (or go undrafted) so ideally the Sharks will draft a couple of goaltenders between the third and fifth rounds coming up in June. They must stock up on multiple options so they don't end up overly relying on one goaltender like they have done for so many years. Nabokov was a 9th rounder in 1994, and Tosakala and Kiprusoff went back-to-back in the fourth and fifth rounds of 1995. Mid round draft choices are where most goalies come from, but goaltending is incredibly unpredictable. One goaltender every six drafts isn't going to get it done.