The Preds have missed the playoffs the past two seasons for numerous reasons: goaltender Pekka Rinne's health, miscommunication between the players and EX-Head Coach Barry Trotz, losing Ryan Suter back in 2012 free-agency, etc.
Now obviously those are some big hurdles to overcome, but it doesn't help when you go 12-14-3 against your own division with season-series wins against only the Chicago Blackhawks, and Winnipeg Jets. The problem is since almost everyone in the Central Division improved, it makes the Central arguably the best division in hockey. If the Preds are going to take a shot at making the playoffs, than they have to improve in inter-division play.
I'm going to be taking a look at each of the season-series from last year, and give my thoughts on what the Preds need to do against each team for this up-coming season. I will also give early season-series predictions for the up-coming season.
Vs. Chicago Blackhawks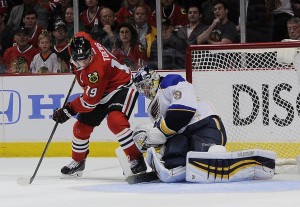 This was actually the most surprising for Preds fans as they were able to take the season-series with the Hawks 4 games to 1. Not only that, but they outscored the Hawks 20-12 in those games. Now naturally it seems like there isn't anything to change; the Preds had Rinne in net for 3 of the 5 games, and the outscored the Hawks by a pretty wide margin.
We should all remember though that there isn't a season that goes by where one team in your conference is going to have your number, and it's easy to say that this was just one of those years for the Preds. The Hawk are a darn good team in basically every area, the only place the Preds have a district edge in is the crease when Rinne is healthy. Otherwise, the Hawks have them beat al-around the ice.
The teams play 4 games this season, so while the Preds will for sure give the Hawks a run for their money whenever they face-off, them taking next year's series is a pipe dream for me.
Blackhawks win season-series 3-1
Vs. Dallas Stars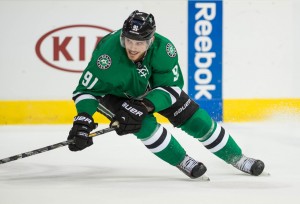 This series from last year was the homer series for the Preds, as over 5 games against the Stars, the home team won every game leaving Nashville barley losing the series 2-2-1.
This match-up is very intriguing, as with the addition of Jason Spezza, there isn't a doubt in anyone's mind that the Stars improved. I counter that statement by saying, well what if the Preds have Rinne every game next season? The Preds probably would have won the series, however, for this up-coming season, even with Rinne back healthy, it's gonna be tough for Nashville to go head-to-head with the Stars.
The Stars are a team on the rise, they have a ton of young, great players such as Benn, Seguin, and Nichushkin just to name a few. I'm not sure if the Preds have the fire-power to keep up with the Stars young legs. The Preds may have a bunch of young talent themselves, however Dallas's youth is definitely more advanced, and ready to take another step forward this season. The two teams play 5 games once again and even though it should be a close series, I see the same result as last year.
Stars win season-series 3-2
Vs. St. Louis Blues
This series was just a clear-cut case of one team dominating the other, as the Blues rolled to a 5-0 sweep over the golden boys while outscoring them 20-8 in the process.
In my eyes, this was all on the coach, as Ken Hitchcock easily beat Barry Trotz at his own game. The defense-first, puck-control system that Hitchcock deploys made trying to match lines, and score goals, next to impossible for the Preds. However, I distinctly believe things will be different this season with the addition of Peter Laviolette behind the bench.
Hitchcock may have been able to shut-down Barry Trotz's defensive system, however Laviolette's high-paced, offensive system should help immensely with breaking through the Blue's stout defensive system. Even with the Blues addition of Paul Stastny, I still believe the Preds are going to give the Blues a big-time surprise this season like they previously did with the Blackhawks.
I believe as a whole that the Blues aren't going to be the same team as last year because of their consistent early playoff exits, so in 5 games, I'll say the Preds bite the Blues back this season.
Nashville wins season-series 4-1
Vs. Colorado Avalanche
Let's face it here, Colorado didn't just surprise the Preds, they surprised the entire Central Division, and the entire NHL. They somehow won the division in the last day of the season while the Blues were in the mist of their horrendous 0-6 finish.
This leaves the season series for next season in an interesting position, as even though the Preds went 1-2-1 against Colorado, all of the games were very close, as there wasn't a final score differential of more than two goals. To me, this is a very winnable series for Nashville, as after such a successful season, the Avs are surly going to decline somewhat; they gave up 32.7 shots a game last season which left goaltender Semyon Varlamov alone to stand on his head most nights.
https://www.youtube.com/watch?v=sZM_7jDznNQ
I'm not saying that Colorado is going to be bad next season at all; I really like their young depth and I think that they will contend just like last year. However the Patrick Roy effect won't have as much of a surprise as last season making them in my mind, more vulnerable to be taken out.
The Avalanche won't be surprising anyone this year, and with the teams playing an extra game, I'll take the Preds getting some revenge.
Nashville wins season-series 3-1-1
Vs. Minnesota Wild
This is another one of the match-ups that I find very intriguing. Last year's season-series saw the Wild take 3 of 5, and only outscore the Preds 14-12.
The Wild opened a lot of eyes last year as they almost took out the Hawks in the Western Conference Semifinals. However, thanks to Patrick Kane's OT heroics, they bowed out in 6 games. Even in defeat, the Wild showed that they were a force to be reckoned with, along with the progression of a lot of their younger players.
In my mind, they are an even more advanced Dallas Stars team. They have just as many fantastic young players, along with the all-star veterans up-front that really do some damage, and forget about adding Tomas Vanek via free-agency. Point is, the Preds are going to have their hands full dealing with this bunch.
Even with Rinne back to full health, I fully expect the Wild to break out against Nashville, while putting up some big numbers. Minnesota incorporates the type of system that will not only negate what Laviolette does, but counter it as well. The only flaw I see, along with everyone else, is the goaltending, which if they can figure that out, watch out NHL.
The Preds got swept by the Blues last season, I don't think this will be a sweep, but they will certainly be in for a tough go against the Wild.
Wild win season-series 4-1
Vs. Winnipeg Jets
There shouldn't be a doubt in anyone's mind that this has to be another series win for the Preds. However, only going 3-2 isn't enough; every other team in the Central are going to have shot at piling up points against Winnipeg, so having another 5 games against them is a great opportunity.
Finishing last in the division has got to sting of you're a Jets fan, but having to watch GM Kevin Cheveldayoff do basically nothing during the trading deadline, and free-agency must be excruciating. I thought it was a smart move to bring in new Head Coach Paul Maurice, but bringing in a new coach isn't going to do much for a franchise that is unwilling to go out and get a star player for their team. Aside from a star player, they just need a goaltender to actually keep the puck out of their net, its clear No.1 goaltender Ondrej Pavelec, and his declining save percentage aren't getting it done anymore.
That's exactly the weakness Nashville should be able to exploit. I couldn't count the amount of times when I watched Jets games where the opposing team would score off the rush against Pavelec. Get him down early, and it should be smooth sailing the rest of the game.
The Preds are going to need points so they don't just need to win this series, they have to dominate.
Nashville wins season-series 4-0-1