In a year where the Carolina Hurricanes are averaging barely two goals per game, few players have stood out as positives. Eric Staal and Alexander Semin are scoring, but not nearly at the same clip as last year. Jordan Staal has further been entrenched in a "shutdown" role, trading Jeff Skinner for Patrick Dwyer on his wing.
In fact, beyond Skinner, production from the depth forwards has been virtually non-existent. Staal and Semin's strong season in 2012-13 masked the lack of secondary scoring, but it's been very apparent this year.
After those three, only Nathan Gerbe has more than 3 points. Monday night, he provided the only offense in what might have been Carolina's worst game of the season. Though his goal came on a 5-on-3, Gerbe played the majority of the night with Staal and Semin, leading all skaters in ice time.
Afterward, Kirk Muller was visibly displeased with the majority of his team, calling their play "light" and saying they were "pushed out of the game", but Gerbe escaped his wrath.
"He's a goalscorer," Muller said of Gerbe. "He finds holes and he's got good skill. I thought it was another game where he worked hard, created stuff and got a goal. I was happy with his game."
Expectations
Coming into the season, Gerbe may have just been happy to make the team. But now, his one year, $550,000 two-way deal is among the best bargains in the NHL.
"I just want to come in and make a mark on this team," he said Monday. "I want to help. I want to win, just like everyone else in this locker room. We're here to win. We think we've got the team capable of doing that."
With 4 goals in his first 12 games — a 27-goal pace — his contributions are not going unnoticed. But it's not unheard of production for the 26-year-old. In 2010-11 while with the Buffalo Sabres, Gerbe recorded 16 goals, playing most of the season alongside Paul Gaustad, whose career high is 36 points.
Give Gerbe more talented linemates, and he may surprise you. And that's just what Muller has done.
Top Line Duty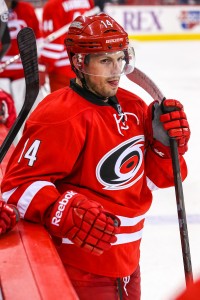 Gerbe has been one of the few bright spots on the team, in all facets of the game. Not only has he been driving to the net with regularity, creating high percentage chances, but defensively he's been stalwart. Despite getting some of the toughest assignments on the team, only Jordan Staal has a better shot attempt differential at 5-on-5.
In an effort to jumpstart scoring, Muller swapped Gerbe and Jiri Tlusty. After game one, the verdict is inconclusive. The new top line had several successful zone entries led by Gerbe, and Jordan Staal's new linemates had multiple shifts where they held the attacking zone at length, but neither trio found the back of the net at even strength.
Rather than continue to juggle lines, keeping the new combinations together may be the best course of action. Tlusty is more than adequate defensively and a transition to an increase role in that regard could help him contribute beyond the scoresheet. Gerbe leads the team in shots, and his energy could carry over to Staal and Semin.
"Obviously they're two high end players," Gerbe said of his new linemates. "Eric's a power player. He gets down low, has a big body. I let him do his thing. Semin is as skilled as they come and as good of a shot as they come. As a line, we want to do more every game and we expect more from ourselves every day."
A Role Model
Gerbe's career trajectory is not unlike Martin St. Louis', another diminutive forward. St. Louis was undrafted and unwanted, once released by the Calgary Flames after going unselected in the 2000 NHL Expansion Draft. He didn't hit his stride until he was 27 and in his third year with the Tampa Bay Lightning. Through each player's first 200 games — Gerbe played his on Monday — the numbers aren't too far off; St. Louis had just five more goals when he was at that stage of his career.
Friday night, the two will go head-to-head. While it is extremely premature to say that Gerbe could become St. Louis, a rare talent, the Lightning captain is someone Gerbe can strive to emulate. But thus far, he's already proven to be well worth the small risk that Jim Rutherford made in signing him.
Andrew Luistro graduated from Appalachian State University. An avid sports fan, he began beat writing for the Sunbelt Hockey Journal, part of The Hockey Writers Network, with a focus on the Carolina Hurricanes. Andrew also actively follows the Boston Red Sox and Carolina Panthers, among other teams. Follow him on Twitter @ndrewL7