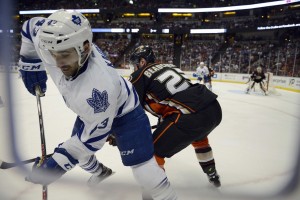 Imagine for a second that your NHL team could have a do-over – a chance to reanalyze their possibilities in any given National Hockey League entry draft. Then how would these team's stack up? Would we still have seen the dominance of the Edmonton Oilers in the 1980's? Or would the New York Islanders have won four consecutive Stanley Cups to start that decade?
The truth is, every pick is over analyzed in each team's draft war room. They are thought about and talked about countless times before the team takes to the stage to call the chosen one's name. It's easy to go back and say that a pick didn't work out. But what if your team missed out on an eventual all-star?
For Maple Leafs' fans, it's been a long wait since their last championship. In fact, it's been nearly 50 years and until recently, draft picks and developing their young players haven't been the team's specialty. Even then, with the exception of a few, the Leafs' brass haven't seen a huge payout from their prospects – at least not yet.
In 2009, the Leafs had the seventh overall selection in the NHL's 47th Entry Draft. Their pick was preceded only by the New York Islanders, Tampa Bay Lightning, Colorado Avalanche, Atlanta Thrashers, Los Angeles Kings, and the Phoenix Coyotes. Aside from being the first player in the draft to not find himself on NHL Central Scouting's final ranking in 2006, Nazem Kadri would become one of the more talked about Leafs in the years following the draft.
https://twitter.com/KellyFriesen/status/430424714494763009
Nazem Kadri: The Unexpected Pick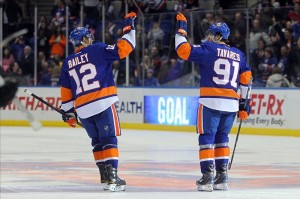 With the Islanders having the first overall pick, there was no question they would take Oakville-native John Tavares, a player who received exceptional status to play in the Ontario Hockey League. Following that, there was a little bit more question of how teams would draft.
Tampa Bay decided to go with the big Swede defenceman, Victor Hedman, while the Avalanche took Matt Duchene from the OHL's Brampton Battalion. The, now extinct, Atlanta Thrashers drafted Evander Kane from the Western Hockey League's Vancouver Giants with the Los Angeles Kings and Phoenix Coyotes taking Brayden Schenn and Oliver Ekman-Larsson with their respective picks.
The Maple Leafs followed the Coyotes by taking Kadri seventh overall – a move questioned by some but defended by former Leafs' general manager Brian Burke. It's a move that's remained under the microscope of many since he was drafted five years ago.
The News and Numbers
If it wasn't his coming to camp out of shape, it was his uncanny ability to show nothing but confidence in interviews. Regardless of what it is, a cloud of news always seems to hover over the young centre's head.
Most recently, his compete level has been questioned. His hit on Minnesota Wild goaltender Nicklas Backstrom earlier in the season was criticized. And many gawk in disgust at his innate ability to draw a penalty. But whatever the case, Kadri seems to answer every question with the right answer and he allows his numbers to answer all the other questions.
Goal Leaders From 2009 NHL Draft:#Isles Tavares – 135#Avs Duchene – 99#Jets Kane – 95#Avs O'Reilly – 64#Leafs Kadri – 40

— Sportsnet Stats (@SNstats) January 29, 2014
Kadri is the fifth highest goal scorer from the 2009 draft with Ryan O'Reilly being the only player picked after him in the draft. In fact, from the 94 players drafted in 2009 to have played in the NHL, Kadri ranks seventh in points with 107 (43g-64a) behind Tavares (315 points), Duchene (253 points), Evander Kane (191 points), O'Reilly (178 points), Marcus Johansson (133 points), and Victor Hedman (130 points).
However, Kadri's played fewer games than those ahead of him and seems to still be finding himself at the NHL level. Even he knows that you can't score every night.
#Leafs Nazem Kadri plays in his 100th NHL game. His 0.64 points per game rank 3rd among all players drafted in 2009 (min 100 GP).

— Sportsnet Stats (@SNstats) October 2, 2013
"You want to score every game, but sometimes, that's not the case," he said in an interview with Toronto Star's Kevin McGran. "A lot of times you're getting bad breaks, but as long as the chances are there, you're doing something right."
Maple Leafs: Doing Things Differently
Looking back, the question remains the same. If Brian Burke knew what he knows now – how players would turn out – would he do anything differently? Would Nazem Kadri still be the seventh overall pick?
For starters, the only two NHL all-stars to emerge from this draft are Tavares and Duchene – both of whom were taken prior to Kadri. So realistically, it depends on what the Leafs were looking for, which seems to have been a scoring forward. More specifically they seemed to be after a centre. So here's a look at some of the others that could've moved up for the Leafs.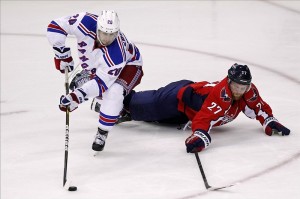 Chris Kreider
Kreider was drafted 19th overall by the New York Rangers. The 22-year-old started his NHL career with the Rangers during the 2011-12 playoffs where he put up seven points (5g-2a) in 18 games. He's since recorded 37 points (18g-19a) in 82 regular season games over the past two seasons.
He's 6'3" and comes in at roughly 230 pounds. He's a versatile player and can play the wing as well as down the middle.
Marcus Johansson
The Washington Capitals took Johansson 24th overall in 2009 out of the Swedish Elite League. Sure, he's not the biggest of the bunch, but he started his NHL career the following season and hasn't look back.
Some would argue that it helps playing with Alexander Ovechkin and it certainly does, but Johansson hasn't always found himself playing with Russian star. Yet, in 249 career regular season games, he's recorded 133 points (41g-92a) and doesn't seem to be slowing down.
Ryan O'Reilly
At 6-feet and 200 pounds, O'Reilly was taken by the Colorado Avalanche 33rd overall in 2009. Aside from a contract hold-out after the 2012 lockout, he's been a huge piece on a young Colorado team.
Starting his career in 2009-10, he's recorded 178 points (69g-109a) in 328 regular season games. With the continual growth of the young players around him, there's no question those totals will continue to impress.
So the big question remains. Did the Maple Leafs draft right in Kadri at seventh overall? Well aside from Johansson, the other players that could've replaced Kadri weren't listed on Central Scouting's final rankings. In fact, O'Reilly was passed on by every other team in the NHL draft and Kreider's stats have yet to truly impress.
Surely, it can be debated or re-analyzed over and over, but looking at the numbers that he's recorded to this point in his career, he's got the ability to be a big game player. The key for Kadri and the Leafs will be for him to find consistency in his game. But only time will tell if Burke and the Maple Leafs called out the right name in 2009.
Agree or disagree? We'd like to hear your thoughts by commenting below of follow Andrew on Twitter @AndrewGForbes and Google+.