Corey Crawford has been there, done that, and got the t-shirt – literally. The 29-year-old starter is a back-to-back 30 game winner who's in the prime of his career. In 30 appearances in last year's lockout-shortened season, Crawford went 19-5-5 with a superb 1.84 goals against average. If the fate of the Blackhawks hangs on Crawford, certainly Blackhawks fans have nothing to worry about, right?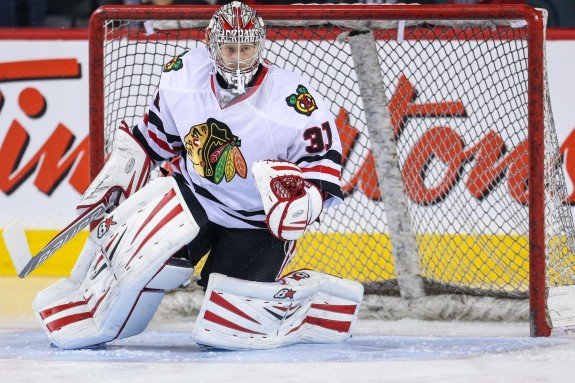 [Keep RazorGator in mind for your Blackhawks tickets needs]
Fate Of The Blackhawks Held By Corey Crawford?
When healthy, Crawford is one of the game's best. If his NHL career record of 108-54-29 doesn't say so, his .914 save percentage and Stanley Cup Championship do. Unfortunately for the Blackhawks, however, Crawford's health is anything but a given. Furthermore, Crawford's starting gig was certainly not a forgone conclusion as early as last season.
Proving Himself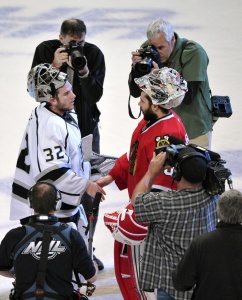 Although it may be a stretch, it's at least arguable that Crawford was heavily assisted in reaching the finish line last season. Despite coming off of another 30 win season, Crawford's 2-4 playoff record in 2012, along with his .893 save percentage was enough for GM Stan Bowman to sign veteran Ray Emery as a backup insurance policy.
Chicago's backup goalie played remarkably going 17-1-0, winning his first 12 games. Emery would go on to pitch three shutouts with a 1.94 goals against average and a .922 save percentage. Still, Crawford did start the season 11-0-3, and ultimately, did nothing to lose his job.
The playoffs convinced Bowman that Emery, who was with the team on a one-year deal, was expendable when the number crunching was finalized. After all, Crawford won a career best 16 playoff games en route to a 16-7 record and a Stanley Cup Championship.
Before out-dueling other elite goaltenders like Jonathan Quick and Tuukka Rask in last season's playoffs, teammate Patrick Sharp reiterated his confidence in the Blackhawks netminder.
"Yeah, he's awesome," Sharp said. "We've been answering questions all year about Corey, if he's the No. 1 guy, if he can do it. Said the same answer all along. There's no question in our locker room. He's the guy we want in net back there. He's proven it in the past. It's nice to see him finally get the credit that he deserves."
Fate Of The Blackhawks Includes Depth In Net?
Depth isn't just a luxury teams can brag about when it comes to skaters. Depth in net is equally important, which was proven last season with Emery's brilliance. With Emery in Philadelphia now, the Blackhawks were forced to give rookie Antti Raanta his shot at the backup role after newly acquired Nikolai Khabibluen was lost after only four games. With the verdict on Raanta still out, there's plenty to evaluate nonetheless.
Congratulations to Antti Raanta on the Blackhawks' decision to sign Nikolai Khabibulin.

— Jonathan Willis (@JonathanWillis) July 6, 2013
Could Losing Ray Emery Be Costly?
While Raanta entered the season as Chicago's top goalie prospect, the central theme around the majority of his scouting reports was that he needed to prove himself worthy of being effective against the North American style of play. One scouting report gave what can be perceived as an above average grading:
"Raanta is not the biggest nor the most skilled goaltender, but he has proven to be a durable and productive goaltender in the Finnish leagues. He uses consistent positioning to make the first save and a battler's mentality to get in the way of any subsequent chances. Raanta's reliability and steady play have earned him accolades in Finland, but the goalie will have to prove himself all over again as he transitions to North America." — Hockey's Future
Raanta was temporarily handed the reigns for nearly the entire month of December when Crawford was sidelined with a groin injury. The 24-year-old rookie was rock solid, going seven appearances before losing his first regulation loss on Dec. 14th. But despite a 12-2-3 record on the season, Raanta's .904 save percentage tells a different story.
Kent Simpson in goal for Chicago, Raanta pulled after allowing five in two periods. #leafs #hawks

— Michael Augello (@MikeInBuffalo) December 15, 2013
Before losing his first game in regulation to Toronto, Raanta hadn't given up more than two goals in a game. On Dec. 14th, however, the Maple Leafs beat Raanta five times. Since then, Raanta has gone 7-1-2. While impressive, he's gone on to give up four or more goals twice, including another give goal game in St. Louis' epic come-from-behind win on Dec. 28th.
Raanta last appeared in action on Jan. 28th, where he was pulled from the game after giving up four goals on 15 shots against Calgary. Clearly, there is more here to Raanta's sterling record than meets the eye, which could end up severely costly should Crawford go down once again.
"Recall that Raanta's last start, January 28th, ended with him getting pulled during the second period. Over Raanta's last four starts he certainly regressed, exemplified by a .864 save percentage. Nonetheless, Raanta was in net for the Blackhawks' lone win against the Avs this season, although he only had to face 18 shots." — Rant Sports
Ray Emery, on the other hand, was brought back to Philadelphia to serve in the same fashion as in Chicago. With newly acquired Steve Mason attempting to reestablish himself with the Flyers, GM Paul Holmgren nabbed Emery off the free agent market at a bargain price of $1.65 million.
"He's a winner," said Flyers head coach Craig Berube after Emery's 2-1 win over Calgary in February. "He's won everywhere he's been. I knew he'd go in there and play well. He stayed sharp in practice and had a real good game."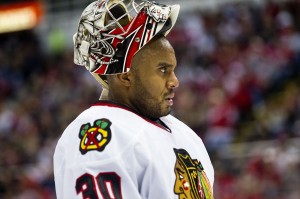 Comparing Emery to Raanta by the numbers may be misleading. Despite Emery's 7-9-1 record on the current season, the former Chicago backup now plays for a team that is less talented all-around, including the ever so important blue line.
While the Flyers ultimately continue to fill their defensive needs via free agency, teams like Raanta's Blackhawks have drafted and developed defensemen, which has resulted in success.
"Since (Chris) Therien was taken with the 47th pick (in the third round), the Flyers have drafted 198 players, including supplemental picks.

Of those 198 players, only three remain as surviving defensemen playing somewhere in the NHL:

•    Dennis Seidenberg (2001), who played a key role in winning a Stanley Cup with Boston
•    Joni Pitkanen (2002) now with Carolina
•    Luca Sbisa (2008) who become the centerpiece for Anaheim in the Pronger deal.

The Chicago Blackhawks, for example, have drafted six current NHL defensemen playing somewhere, including Nicklas Hjalmarsson (2005), Brent Seabrook (2003) and Duncan Keith (2002), all of whom are still with them." — CSN Philly
In comparison, the Flyers have given up 190 goals to contribute to their minus-six goal differential. And while Chicago has given up only 18 less goals, they've also scored 39 more goals. As you can see, Emery's lesser numbers in Philadelphia fail to convey the bigger picture. With four more back-to-back games on the schedule, were the Blackhawks right in saying goodbye to Emery?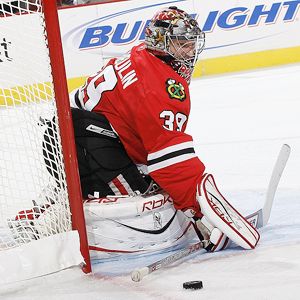 With Raanta signing a one-year entry level contract that hits the Hawks with over a $1 million cap hit, the already cap strapped Blackhawks simply couldn't fit Emery into their plans, much like David Bolland.
"We spoke to Ray quite a bit down the stretch here after the season and it became apparent in talking to his agent that he was looking for a different opportunity," said Blackhawks GM Stan Bowman. "It sounded like he wanted to go somewhere where he had a chance to maybe be the No. 1 guy.
"(So) we turned our attention to other goaltenders and it was pretty apparent when we looked at the list of goalies available that Nik was the best candidate for that position," Bowman added. "We're really thrilled to add him to our team. He's able to be the tandem with Corey that we've experienced the last couple of years and has worked so well. We've got a goaltender who has an accomplished career and he's still got a lot of game left in him."
Fate Of The Blackhawks Determined Elsewhere?
Certainly, the Hawks have had their struggles in other areas, including special teams and finding a true fit for the second line center. But despite their slippage in these areas, the Blackhawks are still the owners of the league's best defensive pairing in Duncan Keith and Brent Seabrook, as well as arguably the league's best offensive fire power.
So that whole back-up goalie thing…May be #Blackhawks only weakness.

— Laurence Holmes (@LaurenceWHolmes) November 17, 2013
The Blackhawks boast five players with 50 or more points, which includes Patrick Kane, Patrick Sharp, and Jonathan Toews, who are in the NHL's top 20 in points. They possess veteran leadership, and arguably the best player in the game today in Toews.
"I think he's returned from the Olympics in great shape, very confident," said Blackhawks head coach Joel Quenneville after a recent victory over Buffalo. "He just seems to have the knack, has good pace with it, has the puck a lot as well. And when he's around the net, he's getting rewarded."
Raanta is confident he can do the job if Crawford is out for any length of time. "That's the job I came here to do," he said. #blackhawks

— Tim Sassone (@TimSassone) December 9, 2013
The Blackhawks will need their $36 million dollar man in Corey Crawford to stay healthy, however. Inevitably, Raanta will see more time in the upcoming weeks. But as Crawford sees it, Raanta is more than capable of filling the backup duties.
"It's almost the same kind of relationship that me and [Ray] Emery had the last couple of years," said Crawford. "We definitely push each other having that competition, but it's a team game and we want to see the other guy do well. We just feed off each other."
If the fate of the Blackhawks rests on goaltending, the Blackhawks either have an incredible poker face, or they truly are confident in what's been proven and what hasn't.