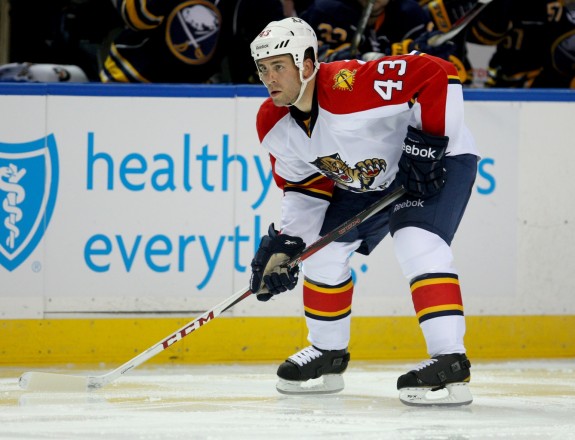 Over the course of the past ten years, there have been few times that Montreal Canadiens fans have been as excited as they were on trade deadline day 2014. General Manager Marc Bergevin made his most aggressive move since taking over the reigns in Montreal, acquiring Austrian sniper Thomas Vanek and a conditional 5th round pick from the New York Islanders in exchange for prospect Sebastian Collberg, and a conditional 2nd round pick. Bergevin has been universally praised for this move, as Vanek ended up costing Montreal much less than Garth Snow's initial asking price. However, he deserves praise for more than just this trade. On March 4th, 2014, Bergevin traded a 5th round pick to the Florida Panthers in exchange for defenceman Mike Weaver.
Bergevin was initially criticized for making this move, as it was almost identical to one he made at the 2013 trade deadline, when he sent a 5th rounder to Los Angeles for Davis Drewiske. Drewiske only played 9 games for Montreal (in which he was largely ineffective) before being sent down to the Hamilton Bulldogs of the American Hockey League this season. A career journeyman, at 5'10, 180 lbs, on paper it appears Weaver will have a similar impact on the Habs to that of Drewiske, but upon further review that is not the case. He will fill an important role for the Canadiens down the stretch, just as he's done for countless teams throughout his career.
Mike Weaver's Junior Hockey and NCAA Career
Making it to the National Hockey League is a tough for any player, but that's especially true when you're small and play defence, a big man's position. Weaver wasn't highly touted coming out of minor hockey, so rather than play Major Junior (he was a 7th round pick of the Guelph Storm), he decided to play Junior A instead in order to maintain his NCAA eligibility. He played in the Metro Junior A League in 1994-1995, and then the Ontario Provincial Junior League in 1995-1996 where he starred for the Bramalea Blues. Because he opted to play in a smaller league, Weaver went largely unnoticed and was passed over entirely in the 1996 NHL Entry Draft. Luckily for Weaver though, his decision to retain his U.S. College eligibility was a smart one. At the end of the 1996 season, Michigan State University came calling and offered him a four year scholarship, one in which he promptly accepted.
Weaver ended up playing four years for the Michigan State Spartans, and posted solid numbers in the process. Never a big time goal scorer or point producer, Weaver honed his skills at MSU, as he focused on becoming the best defensive defenceman he could possibly be. He helped the Spartans win both their conference twice, and helped them reach the Frozen Four in 1999. Weaver finally started to receive the attention he deserved playing with the Spartans, as he was named the best defensive defenceman in the CCHA in each of his last two seasons.
Dominant in the Minors
After building a reputation as a winner and solid defensive player, NHL teams began to take interest in Weaver. On June 15th, 2000 Weaver was signed by the Atlanta Thrashers after their inaugural NHL season. Weaver's NHL dream would have to be put on hold for the time being though, as he was assigned to the Orlando Solar Bears (I know it's quite the name) of the IHL.
Despite his inability to crack an NHL roster, Weaver continued to have success. In his rookie season with Orlando, he helped the Solar Bears capture the 2001 Turner Cup as winners of the IHL that season. The following year he moved up to Atlanta's American Hockey League affiliate the Chicago Wolves, and even received a few call ups to play for the Thrashers, playing in 16 games. With the Thrashers being nowhere near a playoff spot at the end of the regular season, Weaver was returned to Chicago just in time for the American League playoffs. He continued his winning ways, as the Wolves went on to win the 2002 Calder Cup as AHL champions.
Becoming a Full Time NHLer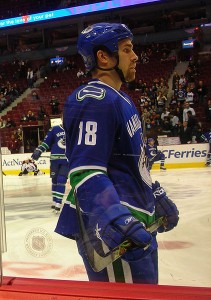 Following his minor league success, Weaver moved up and down between the Thrashers and the Wolves over the next few seasons. Unable to earn a permanent spot on Atlanta's defence, Weaver decided to sign a contract with the Los Angeles Kings in the summer of 2004. Following the NHL lockout during the 2004-05 season, Weaver finally became an NHL regular for Los Angeles during the 2005-06 season.
Although it seemed that Weaver had established himself a legitimate NHL defenceman at this point, he continued to bounce around to several teams. Over the next four seasons, Weaver was property of Pittsburgh (he never actually played for them), Vancouver and St. Louis, where he continued to establish himself as a strong defensive defenceman and penalty kill specialist. This caught the eye of the Florida Panthers, who decided to sign Weaver in August of 2010.
For the past four seasons in Florida, Weaver was quietly one of the Panthers' best d-men. In those four years, he averaged close to 20 minutes per game, killed well over half of Florida's penalties, and had solid possession numbers (with his Corsi For percentage peaking at 50.8% this season). That is quite impressive for a so-called journeyman. He was also a major reason as to why the Panthers made the playoffs in 2012 (their first appearance in 10 years), as he played on Florida's top defensive pairing alongside Jason Garrison.
Why Mike Weaver is of Great Value to Montreal
Mike Weaver would have been an excellent addition to any potential playoff team, but that is especially true when you consider the price Marc Bergevin paid to get him. The likelihood of a fifth round draft pick turning into a substantial NHL contributor is very slim. From 1990 to 1999, only twelve percent of draft picks selected in the third round and beyond went on to have careers in the National Hockey League. I think I'll take the upside of having a guy like Weaver in my lineup for a playoff run over the slim odds of that fifth round pick turning into a NHLer.
The Canadiens haven't been the strongest on defence this season, so having Weaver to rely on should help their situation. Beyond P.K. Subban, Josh Gorges and Andrei Markov, their defence has been very suspect at times. Alexei Emelin was very strong last season, but has had a tough time bouncing back from ACL and MCL surgery. Nathan Beaulieu, Jarred Tinordi, Douglas Murray and Francis Bouillion have all spent time on the Canadiens' bottom pairing this year, but none of them have been consistent enough to garner big ice time (just check out some of their possession numbers).
This is where Weaver will make a major difference. He has no issue with playing big minutes (he's averaged 18:43 of ice time so far this season), and can anchor Montreal's penalty kill which has struggled as of late. Although he was a healthy scratch for his first game as a Canadien, I see him sliding onto their bottom pairing alongside Douglas Murray. Weaver should compliment him well, as he is a strong skater and can move the puck well, two things that Murray struggles with. Weaver also shoots right, which is significant playing on a team like Montreal, where P.K. Subban is the only other defenceman with a right handed shot.
With Josh Gorges out for at least four weeks with a broken hand, Weaver will surely get plenty of chances to prove his worth to the Canadiens throughout the rest of the season. He may lack lengthy NHL playoff experience, but he makes up for that with leadership qualities that are off the charts. If head coach Michel Therrien is smart, he will rely on Weaver early and often down the stretch and into the playoffs.
Marc Bergevin has preached in the past that he wants to acquire players with character. Without a doubt, that's the type of guy he's getting in Mike Weaver. Weaver has shown that it in order to make the NHL it doesn't matter how small you are, or which round you were drafted in, but rather how badly you want it. Through hard work and dedication he's shown all of his doubters that if you believe in yourself, truly anything can happen.