Welcome to Red Wings Weekly, a look at how Hockeytown's heroes have fared in the past seven days, although for the sake of having all of March covered, this will look at the past nine.
The Week That Was
The Red Wings played five games, winning one and losing in overtime in another. It wasn't a great stretch.
Honouring A Legend
Well, this was pretty neat. The Red Wings retired Nicklas Lidstrom's #5 before the Thursday game against a rather fitting Avalanche opponent. For many of these types of events it's typical to realize that you never knew what you had until it was gone, but that's not at all the case here. Lidstrom was the best defenseman the Wings have ever had and certainly one of the best of all time. His absence has left a hole in the Wings' roster that has yet to be filled.
The ceremony itself was a well done, classy way to honour Lidstrom. I'm not sure who decided that the podium needed two very large potted plants, but I'm glad they were involved in the decision making process nonetheless.
Wing Of the Week
This week's WOW is Johan Franzen. Scoring 3 goals and 3 assists in five games, Franzen was the Wings' most dangerous player. With guys like Zetterberg, Datsyuk, and Weiss still out, there's going to be a lot of pressure on 'The Mule' to perform if the Red Wings are going to make the playoffs. Franzen is no stranger to coming through in the clutch. Here's his goal against the Devils. It was pretty nice looking.
Goal That Bothered Me The Most
With Jonas Gustavsson getting the start in a very high scoring affair against the Devils, it would be easy to pick on his glove hand here, but the goal that bothered me the most this week is the one that iced the game for the Rangers on Sunday.
It starts off with Niklas Kronwall pinching to cover a guy who doesn't have the puck, leaving Derek Stepan and Chris Kreider a 2 on 1 with Jonathan Ericsson as the only man back. Bertuzzi makes a valiant effort to get back, but unfortunately doesn't have the speed to impact a rush led by two of New York's faster players.
Stepan does a good job of not allowing Ericsson to set himself up and throws a hard pass across the ice to Kreider as they enter the Red Wings' zone. This all happens so fast, Howard isn't able to get over in time, leaving Kreider with an open net.
I'm guessing Howard was expecting the Rangers to come in a bit more and get a shot off closer to the net, and it's up to the defenseman to block the passing lane, but still, I wish Howard would've gotten himself over a little bit quicker. I thought he actually had a really strong week, making some big stops, but this goal bothered me.
New Guy
Ken Holland made a move on Trade Deadline Day, acquiring David Legwand for Patrick Eaves, Calle Jarnkrok, and a third round pick that becomes a second rounder if the Wings make the playoffs. Legwand is a pending free agent, but could very well re-sign this summer, and with him being a Detroit native, there is certainly some allure for him to stick around for next season. So far he's looked solid, with one goal and four points since arriving.
Playoff Push Performance
As a result of only getting 3 points in their last five games, the Red Wings now find themselves out of the current playoff picture, two points behind the Flyers for the final Wild Card spot.
From an Atlantic point of view, the Bruins have the top spot all but locked up. The hockey world continues to wait on the eventual collapse of the constantly out-possessed Maple Leafs, but for now they continue to pick up points.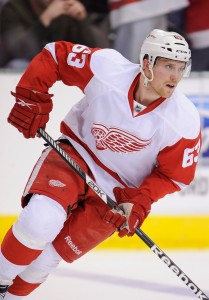 The Canadiens just finished a very tough Western road trip, and will only get better once Carey Price returns. The Lightning are on a five game losing streak, although they did pick up two loser points. In short, the Wings need to get going.
Injuries
This list of injured Red Wings continues to grow, this week welcoming Joakim Andersson and his broken foot. Jimmy Howard missed Tuesday's game against Columbus with the flu, but should be fine.
Looking Ahead
The Red Wings will host the Oilers, then play in Chicago, before coming back home to face the Maple Leafs. With only one game against a very good team, the Wings would serve themselves well here by getting some wins.