Over the past decade, NCAA defensemen have been making an impact in the NHL and general managers are taking notice. The skills demanded from defensemen these days has made the position increasingly difficult to play. Now, the league's top blueliners are highly coveted commodities commonly referred to as premium real estate. The value placed on those with a well-developed offensive game is higher today than it's ever been and it's all thanks to parity. That extra layer of offense from the blue line can sometimes make the difference between games won and lost.
Defensive Development
Since the role of traditional defensemen is changing, so too are their developmental regimes. It all comes down to physical, mental and emotional maturity. Men do most of their growing before the age of 18 but many continue growing until they're 21-years-old. For some, though, they don't stop growing until they're 25. When guys are drafted into the NHL at the ripe age of 18, they've done most of their growing in terms of height but the vast majority still have some filling out to do.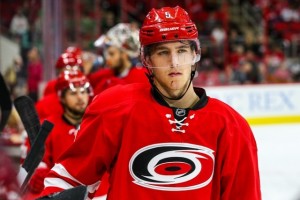 So when defensemen get drafted in the first round at 18, it's become more challenging to measure up to that first-round draft selection right off the bat. Look at Olli Juolevi for instance. He was drafted in the 2016 Draft at No. 5 but went back to Junior for at least another year. Noah Hanifin, another defenseman drafted a year prior was also selected at the same No. 5 spot but played in 79 games right away.
Haydn Fleury was the second-highest defenseman to get drafted at the 2014 Draft at No. 7 (Aaron Ekblad was the first at No.1) and he still hasn't played in the NHL. Ivan Provorov was selected by the Philadelphia Flyers the following year, also at No. 7. He started playing for the Flyers this year but fans in Philadelphia very quickly questioned his readiness after he committed a series of rookie mistakes, including a minus-five in the game against the Chicago Blackhawks on Oct. 18, 2016.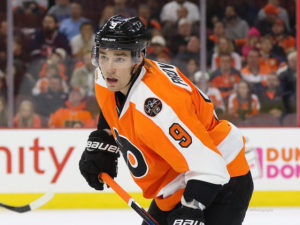 Interestingly, Zach Werenski was selected one spot after Provorov in the same draft but he's having a phenomenal rookie year and currently ranks ninth for points among NHL defensemen.
So why are some of the league's youngest and most skilled blueliners performing so well while others seem to struggle?
The answer has to do with their path to the NHL.
[irp]
NCAA Defensemen Are "NHL-Readier"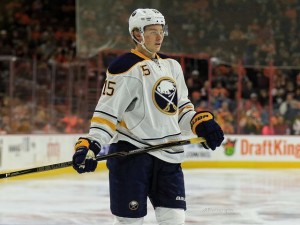 Juolevi, Fleury and Provorov were all being developed in the CHL at the time they were drafted. Hanifin and Werenski, on the other hand, were NCAA defensemen, meaning, they developed in the NCAA before entering the NHL.
The difference matters.
The 2015 NHL Draft in Florida was the first draft in NHL history to see three top-10 picks come from the college rankings, with Jack Eichel (Boston University), Hanifin (Boston College) and Werenski (University of Michigan) all selected by the eighth overall selection.
For Eichel, Hanifin and Werenski, you get to measure these players against bigger and stronger players who are closer to the NHL game, and in my view, there's nothing but positives in that regard. – Craig Button, NHL Network Analyst
Players developing in the CHL play 68 to 72 games during the regular season and they're competing against guys between the ages of 16 and 19. According to College Hockey Inc., Eichel, Hanifin and Werenski were playing against players who were on average, 21.9-years-old. Even though they played 35 to 40 games each year (Werenski played for the University of Michigan for two years, while Hanifin and Eichel played College Hockey for one), the long-term results of prolonged development in this league outweigh the short-term benefits provided by the CHL. Of course, some players are better suited for the CHL but as the NHL continues to demand more from their defensemen, the NCAA is quickly becoming their best option.
Patterns Found With No. 1 Defensemen
Before Ekblad was drafted at No. 1 in 2014, the last time a defenseman was drafted first overall was in 2006 when the St. Louis Blues selected Erik Johnson. Johnson is a NCAA defenseman and played in 41 games for the University of Minnesota before playing in the NHL.
Before him, the last time a defenseman was drafted first overall was a decade earlier when the Ottawa Senators drafted Chris Phillips who played for the WHL's Prince Albert Raiders. In fact, around this time it was pretty common for defensemen to be selected at No. 1. In 1995, the Senators selected defenseman Bryan Berard first overall and he came from the OHL's Detroit Junior Red Wings. In 1994, the Florida Panthers drafted Ed Jovanovski first overall and he played for the Windsor Spitfires. In 1992, the Tampa Bay Lightning selected Roman Hamrlik first overall and he came from a European league.
In the early to mid-1990s, the role of defensemen was quite different than it is today. Today's defensemen are a new breed – a hybrid consisting of the traditional defensive roles and the offensively-gifted. From a logical perspective, developing additional skill sets requires additional time for development, so it makes sense that the longer pathway to the NHL prepares defensemen in ways shorter routes can't.
NCAA Defensemen Gaining Favour With NHL Scouts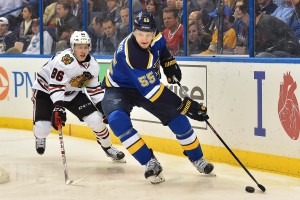 The fact that more NCAA players are having success at the NHL-level than ever before is eroding the stigma attached to NCAA programs and their corresponding likelihood of NHL success. In fact, the NHL's top, young NCAA defensemen who were drafted in later rounds are actually out-performing their CHL counterparts.
Let me show you.
Since the 2010 Draft, the NHL has drafted nine NCAA defensemen in the first round. Two of them rank within the top 10 (defensemen) in points. Three other NCAA defensemen drafted between 2010 and 2016 also made the list but they were drafted in the second and third rounds:
NCAA Defensemen: Most Points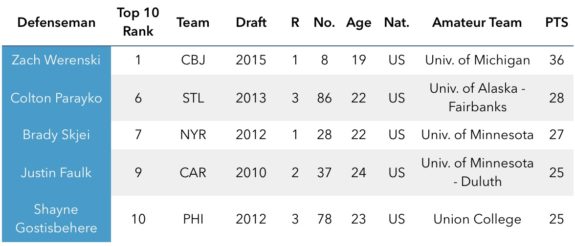 Looking at the league's top defensemen in points, most goals, most hits, most blocked shots and most takeaways, you'll notice some patterns between NCAA defensemen and CHL defensemen. In the charts below, you'll see that defensemen (aged 24 and younger) who rank within the league's top 10 and developed in the NCAA were mostly drafted after the first round:
NCAA Defensemen: Most Goals

NCAA Defensemen: Most Hits
NCAA Defensemen: Most Blocked Shots (BLKS)

NCAA Defensemen: Most Takeaways (TkA)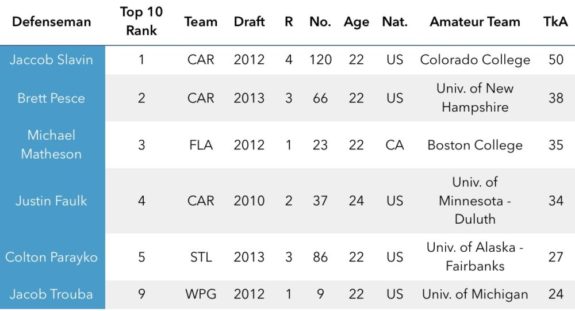 In the charts below, you'll also notice that defensemen (aged 24 and younger) who rank within the league's top 10 and were developed in the CHL were mostly drafted in the first round:
CHL Defensemen: Most Points

CHL Defensemen: Most Goals

CHL Defensemen: Most Hits

CHL Defensemen: Most BLKS

CHL Defensemen: Most TkA

At this point, it seems that scouts are better at projecting the capabilities of defensemen who've developed in the CHL compared to those developed in the NCAA. In reality, though, the NHL's changing needs are demanding more out of defensemen. By providing them with an extra year or two to develop physical, mental and emotional fortitude, they will go further than most people know… and project.
Now that teams are seeing more and more players roll out of the NCAA and having unprecedented success, even if they're not starting immediately, NCAA players are gaining more interest from scouts and general managers. Perhaps we'll start seeing defensemen drafted at No. 1 more often than they used to, but they'll likely be staying in the NCAA for a year or two before making the roster.