Players like Shea Weber and Drew Doughty are names we've all heard before. They appear in headlines time and time again because their defense is unparalleled. They represent Canada in international tournaments and win league awards to no end. We've also heard of guys like Brent Burns, Erik Karlsson and Kevin Shattenkirk, all ranking among the NHL's highest point-producing defensemen. These five blueliners each carry different styles of defensive play, yet they're all considered to be ranked among the most elite defensemen in the league.
It's always been challenging to use enhanced analytics to assess the quality of defensemen in the NHL. Even when it comes to metrics like shot blocking and hit delivery, defensemen on teams that rank high in puck possession will have statistically fewer shots needing to get blocked and fewer hits needing to be made. Comparisons between defensemen will not reflect which one is truly better at blocking shots or making hits.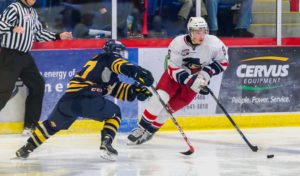 One way to assess the effectiveness of blueliners entering the NHL is by noting the choices they make in each zone. These choices are indicative of the reputation they will eventually build for themselves.
The Basics of Defense
The main role of defensemen is to limit his opponents' scoring chances. Whether that's forcing the opposition into the corners, poke-checking the puck away, body checking, blocking shots altogether, or clearing the puck from goal. All blueliners are responsible for this.
Defensive defensemen, also known as stay-at-home defenders, are generally focused on protecting their net. In the neutral zone, they tend to stay near the blue line and pass the puck to forwards. In the offensive zone, they're hugging the blue line and place priority on keeping the puck inside the offensive zone. They're good at making that first pass to start a breakout. Their speed of passing is impressive and it's always tape-to-tape.
Although these are the crucial and most prominent responsibilities of all defensemen regardless of style, there are significant differences between defensive and offensive styles.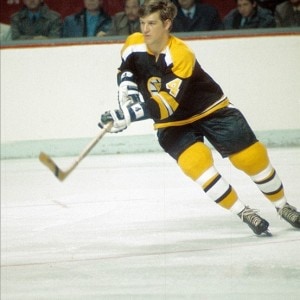 When Bobby Orr came into the NHL in 1966, he completely redefined the role of defensemen. His arrival caused the traditional role of defending to evolve. Yes, there are other factors contributing to the evolution of defensemen. The early 1970's is when the NHL really started to diversify. The worldwide growth of hockey is seeing new players and styles integrate within the North American game.
Offensive defensemen have an additional focus. They seek to generate offensive opportunities. They participate in moving the play further into the offensive zone. When in the neutral zone, their first thought might not always be to pass the puck right away, but rather initiate a forecheck or execute a rush themselves. The best blueliners are those who excel at both ends of the ice. They put up offensive numbers and can still be relied upon when facing top opposition.
Blueliners Evolving the Game
As parity in the NHL rises, scoring at even strength is becoming more difficult to do. The league is placing increasingly more value on a defenseman's ability to produce from the blue line. Having that extra layer of offense can sometimes make all the difference.
Blueliners today have to find space, perhaps even create it, and then fire a shot with laser-point precision. Players who possess a hard and precise shot come in handy because their shot cuts through traffic and rarely get blocked. Kevin Shattenkirk, a defenseman who plays for the St. Louis Blues, authored a couple of fantastic articles for The Players' Tribune in the Spring of 2015 about elite defensemen. He went into detail about what makes specific defensemen he faces so special. When speaking of Erik Karlsson, he gave an excellent visual of one of his unique skills regarding his shot:
Karlsson has the unique ability to create a shooting lane for himself by "walking the blue line" and looking guys off with his eyes like an NBA point guard. – Kevin Shattenkirk
A hard, fast and precise slapshot is no walk in the park, so defensemen who can do this are becoming a premium commodity. Opponents don't have time to react to its highly intense speed and force. The hardest slap shots are nearly impossible for goalies to absorb, so if the shot does get through the slew of bodies, it's probably going in the net, or rebounding off it.
In order to produce from the blue line, finding an opportunity to shoot on goal requires just as much tact as actually taking the shot itself. In today's hockey, the role of defensemen is being redefined. Hockey's changing landscape is dictating the precedence of the blueliners' most valuable assets. It's a new breed of defensemen — a hybrid consisting of the traditional defensive roles and the increasingly valuable offence-producing blueliner.