The days are getting shorter and the summer is coming to an end. The college hockey season can't come fast enough. There are 37 days until the 2014-15 college hockey season begins.
Piggy backing from the last blog post,  I picked five more intriguing college hockey match-ups that I felt would attract a great deal of national attention. Obviously, there are other match-ups that will draw a great deal of national attention. Feel free to chime in with your must-see match-ups.
Editorial note, these are match-ups that I found to be interesting, and they aren't ranked in any particular order.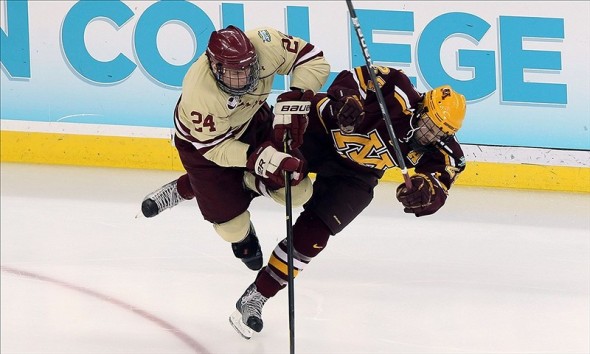 1.) Providence College vs. the University of North Dakota
Date: October 24-25, 2014.
Location: Ralph Engelstad Arena, Grand Forks, North Dakota.
The Providence College Friars invade the Ralph Engelstad Arena in October to play the University of North Dakota in an important two-game non-conference series. The Friars went 22-11-6 last season, and made it to the 2014 NCAA East Regional Final, before losing to the eventual national champion Union College 3-1. The Friars return a veteran lineup and "should" be one of the better teams in Hockey East.
All-time, UND has a (8-5-0, .615) record against Providence. The two teams haven't played since the 1988-89 season, when UND beat the Friars 3-2 in Providence, Rhode Island.
2.) Boston College vs. Boston University
Dates: November 7, 2014, January 16, 2014.
Location game one: Conte Forum, Chestnut Hill, Massachusetts.
Location game two: Agganis Arena, Boston, Massachusetts.
If you're a Hockey East fan, this is one of those historic series that you want to mark down on the calendar. Let's chalk this up as one of those must see conference series.
Boston College and Boston University are two of college hockey's biggest rivals. The Terriers are going to be looking for some revenge after going 0-3-0 against the Eagles last season. The Eagles outscored the Terries 14-6 in three games.
All-time, Boston College leads the series (46-33-11, .572).
3.) Quinnipiac University vs. UMass.-Lowell
Date: October 17-18, 2014 Location
Game One: High Point Solutions Arena – Hamden, Connecticut. Location
Game Two: Tsongas Arena – Lowell, Massachusetts.
This has the making of an exciting two-game non-conference, home-and-home series that should have national implications in the PairWise Rankings. Over the last two seasons, Quinnipiac (54-18-11, .716) and UMass-Lowell (54-11-6, .695) have been two of the better teams in college hockey.
This will also be the re-match of last year's non-conference series between the Bobcats and Riverhawks. The Bobcats swept the Riverhawks in an exciting, two-game home-and-home series. The Bobcats won 3-1 on Friday night in Lowell, Massachusetts. The Bobcats followed up Friday's win with an identical 3-1 score on Saturday Night in Hamden, Connecticut.
All-time, Quinnipiac has a (3-1-1, .700) record against UMass-Lowell
4.) Saint Cloud State University vs. Union College
Date: October 24-25, 2014.
Location: Messa Rink–Schenectady, New York
The defending national champions, the Union Dutchmen entertain the Saint Cloud State Huskies in an important non-conference match-up. This series will have national implications in the Pairwise Rankings.
This is the re-match of last season's non-conference series, the two teams met in Saint Cloud, Minnesota, resulting in a 4-1 Union win and a 3-3 tie.
All-time, Union has a 1-2-2 record against Saint Cloud.
5.)  The Beanpot Tournament
Teams: Boston College, Boston University, Harvard University and Northeastern University.
Dates: February 2 & 9, 2015.
Location: TD North Garden, Boston, Massachusetts.
Television: New England Sports Network.
The Beanpot Tournament is one of the most prestigious hockey tournaments in all of college hockey. College hockey fans not living in New England, can watch the Beanpot Tournament if they have the Sports Pack on DirecTV.
In the semifinals, Boston University will take on Harvard University in the afternoon game. Boston College and Northeastern University will play in the evening game.
The losers will play in the consolation game on February 9, 2014. The winners will faceoff in the championship game on February 9, 2015.
While the Boston University Terriers have won an impressive 29 Beanpot titles, they haven't won a Beanpot since February 9, 2009. The Boston College Eagles are the reigning Beanpot champions and have won the last five Beanpot tournaments in a row. Northeastern, Boston University and Harvard look to change that.
Boston College is 10-0 in the last five Beanpots.
Eric is a 1996, 1999 graduate of the University of North Dakota. Eric covers the University of North Dakota Hockey and Division I college hockey. Eric is the Contributing Editor for Inside Hockey.