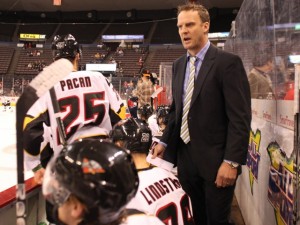 As the dog days of summer come to a close and the start of hockey grows closer, there is one person in particular that can't wait for the puck to drop on opening night and that is newly appointed Norfolk Admirals Head Coach Jarrod Skalde. He was promoted from Norfolk's Assistant Coach to Head Coach earlier this summer by the Admirals parent team, the Anaheim Ducks, following the call-up of Trent Yawney who filled the Assistant Coaching role in Anaheim.
No Stranger To Calling The Shots
Skalde is no stranger to the Head Coaching position as he was the recipient of the John Brophy Award which is given to the ECHL's top Head Coach. He received the award following the 2012-2013 season after he led the Cincinnati Cyclones to a 42-22-5-3 record that sparked a semifinal playoff appearance for the team.
The Niagara Falls, Ontario native talked about how he continues to carry the success he had in the East Coast League into the American League, "When the hockey starts I think that is the most important thing. These guys are all well conditioned, extremely talented, some of the best in the world, and some will go on to the National Hockey League. It's managing them and their expectations. How they're going to play and what it will take to get them to the next level, because I think a lot of young guys need to make sure it does happen, but you have to work for it. You are one step below realizing your dream. It's very important you manage their expectations, their time, and their going in the right direction."
Scouting Potential Talent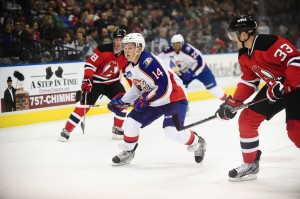 Skalde was on hand for the Ducks player development camp this summer where he saw numerous players he helped develop in Norfolk last season as an Assistant Coach. Some of the players he saw may be back with him in Norfolk performing in front of him as a Head Coach this time. Skalde took some time to assess Anaheim's talent pool by saying, "First of all they're all highly motivated to get the season started. A guy like Chris Wagner is going into this third-year pro. He needs a big year individually and team-wise. We will be leaning on him a lot this year from a leadership standpoint. Max Friberg had a tremendous rookie season. I expect a lot from him this year. He is such a detailed player and he plays in all situations. It was very important last year that he got to play in the regular season and playoff games. He knows what to expect. He is a highly talented kid and he's going to play in the National Hockey League."
A Friendly Face
The duo of Skalde and Veilleux can be traced back to when the two played for the Kentucky Thoroughblades in the AHL during the 1997-1998 season. Skalde shared his thoughts on Veilleux, "We played against each other for a long time and then I was able to play with Eric in Kentucky for a year. We developed a friendship there and he went on to have success in Major Junior. When this opportunity came about and when I was offered the head job here we had a discussion and he felt right about it and comfortable with leaving that position to come here and be an Assistant here in Norfolk."
Between The Pipes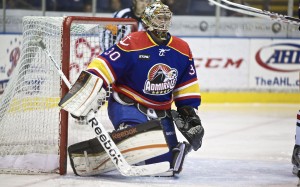 Anaheim already seems to have the goaltending down pat this year with John Gibson and Frederik Andersen. So where does this leave Norfolk in terms of goaltending? Well in lieu of Brad Thiessen the Ducks went out and signed 34-year-old journeyman Jason LaBarbera who split time between the Rockford Icehogs and the Oklahoma City Barons last season. Don't forget Igor Bobkov who re-upped with Anaheim this summer. Bobkov was a regular call-up to Norfolk last season, but most of his time was spent developing in ECHL Utah with the Grizzlies.
Norfolk's new Head Coach talked about the goaltending, "I'm very encouraged by our goaltending situation. I think John Gibson and Frederik Andersen have earned that right to be in Anaheim and to battle for who is to be number one. To go out and get a guy like Jason LaBarbera as a number three guy is tremendous for us. He was a premier goaltender when he played in the American Hockey League and he's had success at the National Hockey League level also. I'm not concerned about our goaltending. I think he's going to do a great job.
Skalde went on to speak about Bobkov, " He is going to be a big part of our team. We're going to rely on 'Bobber' a lot. He's got all the tools, the size, the athleticism, and he's got the dedication. It's just a matter of putting it all together and I think 'Bobber' has the ability to do that."
Keeping Tabs
When seeing a brilliant idea you don't want to forget one usually makes a note of it, right? Skalde is the same way. Skalde has a notebook he jots down ideas for games and practices. Skalde shed some light on his notebook sharing, "I always think it's important to have something to go back to instead of relying off memory all the time. There's a lot going on in many situations so every game I'll make notes on what worked, what didn't work, who played well, who maybe needs to play better, different things from travel to philosophy. You watch an NHL game, you see something you like, you take a note of it, and you may incorporate it into what you do here. It's very important that you write the stuff down and reference it. It's a nice dialogue of things that are going on and where you want to be and where you want to go and also things that have worked."
Did You Know?
Skalde spent some time playing under Herb Brooks in New Jersey and Utica. Skalde took some time out to share his thoughts on the movie Miracle and how Kurt Russell portrayed Brooks in the movie, " The movie was really well done. From an acting standpoint I thought it was terrific. A lot of stuff in the room about getting guys fired up was 'Herby' and he always had you thinking and guessing about where he was coming from with this. I thought it was really well done and I learned a lot from Herb. He was very demanding. He told you exactly how he felt and how you were playing and what you needed. There was always some unusual type of tactics and I thought that was portrayed in the movie also. He was a very brilliant man and has done a lot for hockey."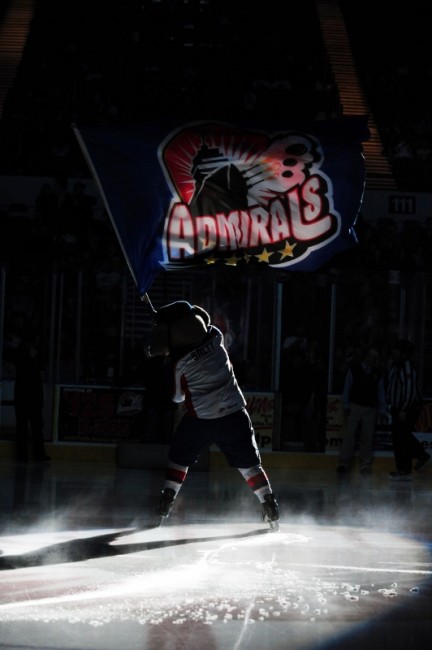 It's safe to say that Norfolk's new Head Bench Boss is ready for hockey. Skalde and his Admirals begin the quest for the Calder Cup on Saturday, October 11th against the Hershey Bears at the Norfolk Scope Arena. Puck drop is slated for 7:15 pm.