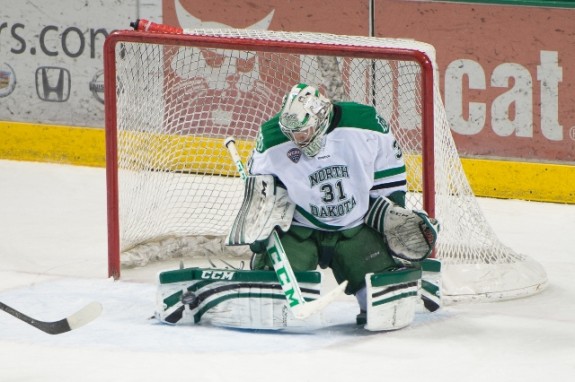 Last week during the annual NCAA coach's meeting, the topic of the "gentleman's agreement" came up, again.  Apparently, even though a majority of the Division I hockey coaches want to keep the gentleman's agreement, there are a number of big schools (Wisconsin, Boston College and Minnesota) that say that they will no longer honor the agreement.
In the past, the gentleman's agreement was a nonbinding agreement among Division I hockey schools that stated once a recruit is committed to a school, other schools will no longer recruit that hockey player.
For the most part, the agreement has been honored, except for a few instances.
As it stands right now, some coaches would like to continue to recruit players after they have verbally committed to a school. Under NCAA rules, that's perfectly legal as long as they haven't signed a NCAA National Letter of Intent.
University of Minnesota Head Coach Don Lucia, who has been an outspoken critic of the gentleman's agreement, told Brad Schlossman of the Herald that he will no longer honor the gentleman's agreement.
"I find it frustrating that we want to recruit a kid, but we haven't had a chance to get him to campus," Lucia said. "Suddenly, someone puts a gun to his head to make a decision, which happens. I don't think that's fair either."

"Or else, maybe a kid wants to come here, but we're full, so he commits somewhere else. All of the sudden, we have a couple of kids sign (pro deals) and spots open up. Why shouldn't I be able to give that kid a scholarship that we didn't have a month earlier?"

Lucia also pointed out, "The bottom line is that you work for your institution, not somebody else's institution. You don't want to be picking off a kid weeks before signing day, but there are other situations." (Grand Forks Herald)
I also reached out to the University of North Dakota, but they declined to comment on the matter at this time. In the past, UND has been supportive of the gentleman's agreement.
Back in May of 2008, UND Head Coach Dave Hakstol told Brad Schlossman of the Grand Forks Herald that the honoring the gentleman's agreement has served UND well.
"It's been something that's unique to the hockey world," Hakstol said. "I think it's served us well. Are there ways to change it and make it better while still honoring the verbal commitment? I think that's something we'll talk about over the next year or two."
According to the Wisconsin State Journal, Wisconsin Badgers Head Coach Mike Eaves will continue to recruit players until they sign an LOI with the team they're committed to.
"Eaves said he and his staff will keep a list of certain recruits they coveted, but lost. The coaches will place a call to those players once a year until a National Letter of Intent is signed to see if there is any wavering."

"We'd say, 'Are you still true to your word?' " Eaves said. "If the young man says yes, then that's it. We're done."
Are we approaching a slippery slope?
I have written on this subject in the past, and I think it's a slippery slope. Sure, recruits that haven't signed an agreement are fair game, but is this an ethical recruiting practice? Do we want college hockey to resemble Division I basketball and football? I don't know about others, but I don't want to see college hockey go down that road. It's bad enough that college hockey teams have to worry about Major Junior teams recruiting their players. Now you have to worry about your fellow coaches as well.
Second, these coaches that want to recruit other teams' committed recruits, until they sign a letter of intent, are going to turn around and complain when another team steals one of their prized recruits. It's going to happen.
Third, I have a feeling this policy change is going to hurt the smaller schools. These schools are already feeling the pinch because of travel and re-alignment now have to worry about other division I hockey schools poaching their recruits.
Let's not forget, division I college hockey is a business, and these schools are in business to bring in revenue and win national championships for their schools.
The re-alignment debacle of a few years back already proves that some of the bigger power brokers in college hockey don't care about the best interests of college hockey's smaller schools. Is anyone surprised that some of the "big schools" are pushing for this move?
Some recruits flip their commitments anyways
As we have already seen, even with the gentleman's agreement in place, some colleges have been able to get prized recruits to flip their commitments. Check out this recruiting news nugget from the hockey blog Over the Boards. I suppose we will see more of these now.
96 F Sonny Milano switches commitment to Boston College – November 18

NTDP star forward Sonny Milano, who had been committed to Notre Dame, announced this weekend that he will be an Eagle this coming fall of 2014 in Chestnut Hill. Milano, a forward with unshakeable confidence and uncanny ability to hang onto the puck and make something happen, takes a lot of parity out of the top group of recruiting classes for 2014 as he would have been a marquee recruit for the Fighting Irish next fall. With the loss of Ryan Gropp to the CHL hurting North Dakota's super-class, and the emergence of BC-committed Alex Tuch, the Eagles class of 2018 is looking like one of the most fierce in college hockey next fall. Milano is lethal all over the ice and should jump right in with Boston College's high-powered offense.
Lastly, these schools that are for scrapping the gentlemen's agreement should not complain when a team poaches your prized recruit. It will happen. Who's going to be the first to complain once the genie is out of the bottle?
As I write this, there's some good news, Notre Dame, Miami University, Bowling Green State University and Quinnipiac are going to continue to honor the gentlemen's agreement. Stay tuned.
Quinnipiac will continue to honor verbal commitments as well. @USCHO @chnews

— Bill Riga (@BillRiga) May 9, 2014