The NCAA revealed the 2016 tournament bracket Sunday, showing the path to the Frozen Four and a National Championship for the 16 teams still in the race.
No huge surprises in the bracket, with multiple sources projecting how the seeding would work perfectly.
Here's the full bracket: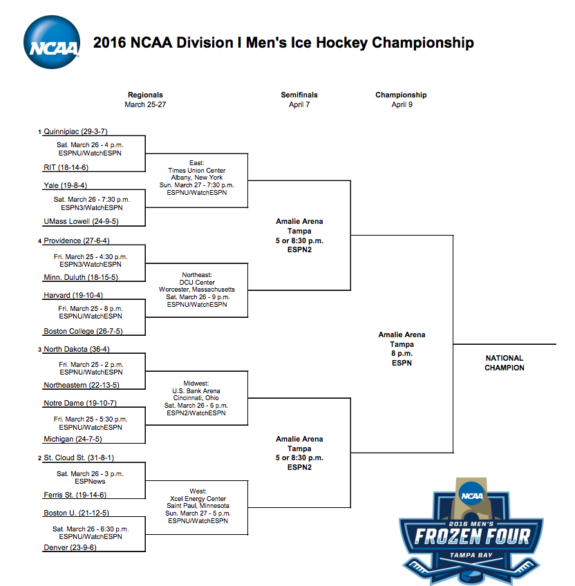 North Dakota retains a number one seed despite getting bounced in the first round of the Frozen Faceoff by Minnesota-Duluth. The University of Minnesota is notably, and expectedly, absent. They needed to win the Big Ten tournament over the weekend in order to gain a berth, but lost 5-3 to Michigan.
Providence will look for a little redemption as a No. 4 overall seed after falling in the first round of the HEA tournament to UMASS Lowell in triple OT on a controversial goal. Though they won't find redemption against Lowell unless both teams are able to make it all the way to the Frozen Four.
It's also the first time all four Beanpot teams have made the tournament, with Boston College, Boston University, Harvard and Northeastern all making the opening round.
The tournament kicks off the weekend of March 25 with games at the Xcel Energy Center in St. Paul, Minnesota; the Times Union Center in Albany, New York; the DCU Center in Worcester, Massachusetts; and U.S. Bank Arena in Cincinnati, Ohio.
The tournament then moves onto the Frozen Four April 7 and 9 at Amalie Arena, home of the Tampa Bay Lighting.
RELATED: 10 Hobey Baker Award Finalists Announced
Dustin Nelson is the News Editor for The Hockey Writers. He's a contributor to Hockey Prospectus, Hockey Wilderness, and writes a column for Rotowire. He's also written for Gone Puck Wild, Wild Xtra, InDigest, Electric Literature, The Rumpus, Tiny Mix Tapes, Prefix Magazine & other publications. Have a tip? Email him at dlukenelson[at]gmail[dot]com.