The game-winning goal caught everyone off guard. It was so unexpected yet undeniably magnificent. With 26.6 seconds to go in the third period tied at 1-1, Alex Iafallo of the Minnesota Duluth Bulldogs re-directed the puck into Crimson's net, causing the win half a minute later.
The game between the Bulldogs and Crimson was certainly a close one. Both teams played to their strengths and that made for a grinding game. "I mean, obviously it was heartbreaking when they scored that goal with 26 seconds," Alexander Kerfoot said in Thursday's post-game press conference at the United Center. "Everything happened so fast."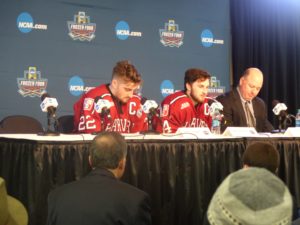 Fast is exactly the word to use when describing this game. Of the NCAA's 60 teams, Harvard currently ranks first in scoring offense and scoring margin but Minnesota Duluth's seemingly greater offensive prowess was evident from the very beginning. Interestingly, they rank first for best goalie winning percentage and that's why the game was so close.
"Obviously, at this time of year, you look at it, these teams are all great defensively," said Ted Donato, head coach of the Harvard University Crimson in Wednesday's press conference before the semifinal game. "… at this time of year, you expect to have to play in tight games, and while it's great that offensively we've had a productive season, we know that we have to be prepared to win a 1-0 hockey game if that's what comes at us."
One of the most important elements of the Frozen Four games is speed and Donato knows that. "…We want to dictate the tempo and really get to our game as quick as possible," he told reporters before the game. His focus was crystal clear … "we really want to use our speed to be quick — you know, quick to defend, quick to break the puck out, and really play to a tempo that we're comfortable at and can play at."
THE BULLDOGS STRIKE BACK!

Joey Anderson with the tricky wrister… 1-1 with less than two minutes remaining in the 2nd! #FrozenFour pic.twitter.com/NP4VYIFhWF

— NCAA Ice Hockey (@NCAAIceHockey) April 6, 2017
But for Bulldogs though, having elite puck-control skills can sometimes outweigh top-end speed because it forces the opposition to work at coverage. It's a strategy that includes the creation of space and it's probably the best strategy to use against Harvard's top end. "We want to be tighter and not give teams so much time in space," said Dominic Toninato, the Bulldogs' captain.
When you give teams time in space, they can make it hurt and score some goals… – Toninato
And that's exactly what Minnesota did. "It was a good pass by Joey," Bulldogs' Alex Iafallo said of the game-winning goal in Thursday's post-game press conference. "We kept it in there at the blue line and that was pretty much the key to the goal."
Frozen Four Drawing on Elite Defensive Systems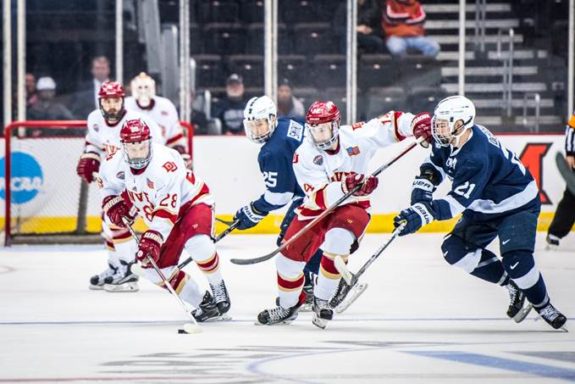 It would appear that team's with the strongest defensive cores are those who out-skate, out-score and out-last the others. After all, this year's Frozen Four all rank within the NCAA's top 10 teams for scoring defense. This trend has contributed to the media's increased interest in the Frozen Four and the regional games preceding this year's tournament have illustrated an influx of offensive contribution from team's defensive systems, which was particularly prominent in the quarterfinals a couple weeks ago.
The driving force fuelling this kind of stylistic change is the same one that's driving change in the NHL. That is, the rising parity and demand for players to keep on developing new skill sets, especially skill sets unique to defensemen.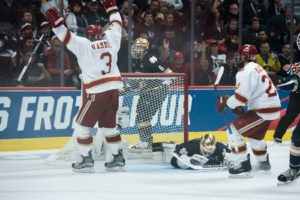 In the semifinal game between the Denver Pioneers and the Notre Dame Fighting Irish on Thursday, the Pioneers won 6-1 and four points were contributed by defensemen, including a goal scored by Tariq Hammond. "…When our forecheck is going, makes the game easy for the D-men because we can gap up and stay right on their forwards in our defensive zone," Will Butcher told reporters in Thursday's post-game press conference at the United Centre. "I think when our forwards are playing well, it makes our jobs as defensemen easier."
Strategies that make the life of defenders easier are always warranted… except, not by the opposition of course. And both the Pioneers and the Bulldogs play to systems that suggest good offense is a form of good defense.
A lot of people don't always think, well, you're a great defensive team if you don't give up a lot of shots you don't give up a lot of goals, but their defence was their offense, their defence was their puck possession, their puck management, they do a good job with their defensemen making good plays coming out of their zone. They do a great job in the O-zone where they possess the puck. That's how you hold teams down in shots. If the other team doesn't get the puck, they're not going to have many shots. – Jeff Jackson, Head Coach of the Notre Dame Fighting Irish
Notre Dame was facing a high-pressure, forechecking offensive team and that put pressure on their own defense, which then went on to affect their offense. "…When we manage the puck out of our zone, we're not playing our defense," Jackson continued. "We improved so much of the second half of the year, and it showed up again tonight where we weren't making good plays coming out of our zone or good plays through the neutral zone. If you don't do that, you're going to be forced to play defense. And we did, and we're chasing too much."
The 2017 Frozen Four Final Game
Well done Chicago and the United Center! Two @TheNCHC teams battling for @NCAAIceHockey #NationalChampionship on Saturday night! #NCHCProud pic.twitter.com/M1BuTlcUw4

— Josh Fenton (@Fenton_JC) April 7, 2017
Forwards in today's fast-paced game must have the wherewithal to draw defenders towards them and create space for their teammates. This will be an important element of Minnesota Duluth's game on Saturday when they face the Denver Pioneers in the Frozen Four championship title.
The game of hockey has really put an emphasis on skating and puck-moving ability in recent years and as a result, the demand for puck moving defensemen has increased. Minnesota's defenders will need to get involved in breaking down Denver's defense to help create better scoring opportunities if they want to beat the league's number one team.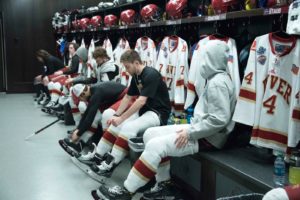 …We played them [Minnesota Duluth Bulldogs] twice this year. We know they're a hard-working team. They're great in the D-zone and they've got some great offense. And they're backed up by a good goalie. – Dylan Gambrell, Denver Pioneers Centerman
Ultimately, the rise in importance of this skill for defensemen comes from the fact that most teams play a very tight defensive system that's hard to beat using forwards alone. By using blueliners to create better opportunities for scoring more often, teams are creating another layer of offense from the blue line and that's how games are won in this day and age.