One of the reasons why so many NCAA-developed defensemen are having success at the NHL-level is because these two leagues have parity. Its effects are paying dividends to the game's entertainment factor, including the league's style-of-play. In order for teams to stay competitive, responsibilities of defensemen in both leagues are becoming more congruent to each other. These responsibilities include the need for another layer of offense from the blue line because that's what it takes to win consistently. This year's regionals leading to the Frozen Four have illustrated just how much parity truly exists in college hockey via defensive systems.
NCAA Tournament Pin-Points Defense Evolution
During the weekend's regionals, the University of Minnesota – Duluth's first game was against Ohio State University and four of the five accumulative goals between the two teams were scored by defensemen. On top of that, it was Minnesota's defenseman Willie Raskob who scored the game-winning goal in overtime, defeating Ohio 3-2.
The next illustration of the league's defensive prowess can be seen in Boston University's first game against North Dakota. Two of Boston's four goals were scored by a defenseman, including another game-winning goal belonging to Charlie McAvoy, who scored in the second overtime period.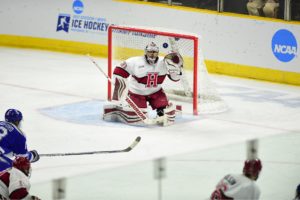 A third is when Harvard University beat Air Force Academy 3-2 in the quarterfinals. Harvard's Viktor Dombrovskiy, a Canadian, was the only defenseman on both teams to score a goal and if he hadn't, things could have turned out a lot differently for Harvard. "They're certainly a team that can score," said Scott Sandelin, head coach of the University of Minnesota – Duluth Bulldogs in a media conference on Tuesday. "They're also strong defensively. They got a very talented group of forwards. Obviously, their goaltending is solid as well…"
Both the Minnesota – Duluth Bulldogs and the Harvard University Crimson could have been easily taken out of the running to the Frozen Four but now they'll face each other on Apr. 6, 2017 in the semifinals.
Frozen Four Coaches Take Notice
Right now, each of the Frozen Four teams is scouting each other, looking for weaknesses and strategizing their next moves.
[miptheme_quote author="Ted Donato, head coach of the Harvard University Crimson." style="text-center"]…We have a great respect for Minnesota – Duluth… They have a great balance, they've got the great goaltending… they have a good mix of size and skill and they just go about their business winning hockey games…[/miptheme_quote]
Donato Named Finalist for Spencer Penrose Award Honoring CCM/AHCA Men's Hockey Coach of the Year https://t.co/E6pQ8Q2mVd #GoCrimson pic.twitter.com/hmHuva3yzj

— HarvardMHockey (@HarvardMHockey) March 28, 2017
Coming up with a winning strategy is a lot easier said than done though, and Minnesota may need to take a closer look at their Frozen Four opponents if they want to make it to the finals. For instance, if you take a look at the shot summaries for each of the quarterfinal games, you'll notice that each winning team had a one shot on goal differential to that of their opponent.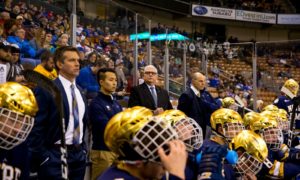 Talk about parity. "…This should be a pretty entertaining Frozen Four with the skill and ability and the speed of the teams that are involved," said Jeff Jackson, head coach of the Notre Dame Fighting Irish. With two, second-round NHL-drafted forwards and one, second-round NHL-drafted defenseman, Jackson's team has the most NHL prospects from the first two rounds competing in the NCAA's Frozen Four. He understands that this doesn't necessarily make for easy winning. When they played UMass – Lowell in the quarterfinals, the final score was 3-2, a lot of thanks going to centerman Andrew Oglevie, who scored the game-winning goal in overtime. That's also the same score they had against the University of Minnesota in the first round.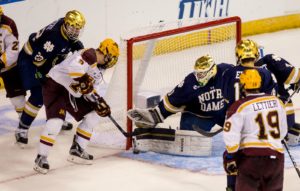 Interestingly, Notre Dame's defensemen haven't been the ones to score goals in these games. Instead, the spotlight's been on a position that truly sets this team apart. Cal Peterson, Notre Dame's goalie, captain and most prolific defender of the net, is proving to be a force not to be reckoned with. "… Anders Bjork and Cal Petersen are probably the two biggest factors right now that I'm looking at," said Jim Montgomery, head coach of the University of Denver Pioneers. Denver will be facing Notre Dame in the Frozen Four and Montgomery knows exactly why elite goaltending matters in this league. It can win games, take teams deep into the playoffs and fuel the roster's confidence in unprecedented ways. In fact, he's seeing the effects of good goaltending with his own team, as Tanner Jaillet has been making huge strides this season.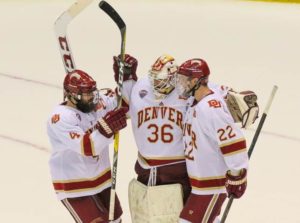 [miptheme_quote author="Jackson" style="text-center"]Jaillet certainly improved. I think he really started taking over the number one job… when we saw him last year on new years, I thought he played well against us then… they certainly had the majority of the scoring chances on that weekend coming off Christmas break, they were pretty impressive…[/miptheme_quote]
This is also why goalies are given such consideration when opposing teams are strategizing the plan of offensive attack. Denver is arguably one of the best teams in the league and according to Sandelin, they are the best team. "I think Denver is certainly, probably the best team in our league right now," Sandelin told reporters on Tuesday. "I know they're a team that has the ability to score goals, they play well defensively and certainly their group of forwards is very good and they've got a pretty good backend too…"
When it comes to identifying skill in any league, it's easy to see who the elite players are and where a team's strengths lie because they simply stand out from the rest. Jackson seems to have done his homework, as he described the strengths of Denver's defensive core,
[miptheme_quote author="Jackson" style="text-center"]Certainly they got some dynamic forwards but I think the key to their team is their defensive core… they're great skaters, they create gaps, they don't give up much space with their skating ability. They got good defensive sticks… a lot of it has to do with their skill and their skating ability on the backend and obviously with goaltending, that just is a great combination and they certainly have a great work ethic and they get back and their forwards do a great job of supporting their defensemen and they don't give you a lot of time and space and that's a sign of a really talented team…[/miptheme_quote]
NCAA's Signs of Elite Talent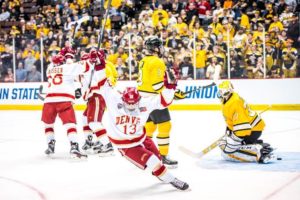 Not only do the Pioneers have a great goalie, they have a standout group of forwards and a strong backend. The other semifinalist coaches have nothing but good things to say about every aspect of their game, which begs the question, are they going to win the championship title? After all, when they faced Michigan Tech in the first round, they beat them 5-2 and when they played against Penn St. in the quarterfinals, they won 6-3. For the Pioneers, the final score hasn't been that close at all.
Clearly, defensemen are playing big roles in the NCAA and they're having dramatic impacts on the scoreboard. This is what's happening in the NHL, as the margins between winning and losing games are becoming increasingly narrow, just as they're doing in the NCAA's regional champions.
I'm a Hockey Journalist based out of Barrie, Ontario, a Contributing Writer for The Hockey Writers covering OHL, and NHL prospects with an insatiable thirst for all things LA Kings, and PR gal for Abel Sports Management.