Pittsburgh Penguins head coach Mike Sullivan isn't in an envious position these days. The Penguins — as they approach nearly 250 man games lost to injury — are deploying a roster built with AHL depth, patch worked together to form lines that are somehow still producing. At least, until their last three games, as Pittsburgh looks like a team that is finally impacted by all these injuries to key players.
Thankfully, there are signs of good things on the horizon. Conor Sheary skated with the team at practice and will likely play on Wednesday night when the Penguins host the Chicago Backhawks. Ron Hainsey and Jake Guentzel skated in no-contact jerseys on Tuesday and then followed that up by joining the team in regular jerseys on Wednesday morning, and Guentzel said he's symptom free after suffering a concussion against the Buffalo Sabres last week. Sullivan said he hopes to have Evgeni Malkin back in the lineup sooner rather than later and then of course, there's potentially an encouraging update on Kris Letang…
I just got told the Pens are hopeful of having Letang back w/in 10 days. So, unless I was lied to, it's not dire.

— Mark Madden (@MarkMaddenX) March 27, 2017
While there are obviously no guarantees, it seems as if the Penguins could be back to — or at least close to — full strength when the playoffs begin. The question becomes; Where do you play everyone? Considering their recent strand of injuries, they've lost valuable time in finding combinations capable of getting hot, similar to last year's HBK line. It seemed as if captain Sidney Crosby, flanked by Sheary and Guentzel would be that trio but will they be healthy?
For this exercise, we'll assume they will be since all players are skating again.
Top Six Forwards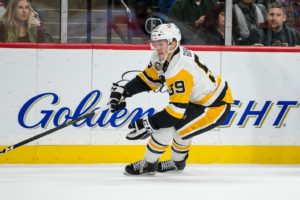 There's no reason to touch Pittsburgh's top line. They rank first in the league when it comes to shots generated per hour among lines with at least 100 minutes time-on-ice, second in scoring chances created per hour and third in expected goals per hour — which uses a combination of numbers to determine an expected scoring rate.
In simpler terms — if they're healthy — leave them alone.
Things get a little more interesting when you look at Pittsburgh's second line. The Penguins, frankly, have too many right wings — which means one of Phil Kessel, Patric Hornqvist, or Bryan Rust will need to move over if they plan to stay in the top nine. In looking at line combinations at Corsica.Hockey, Malkin's most productive line is Hornqvist and Carl Hagelin flanking him on the right and left, respectively. That's exactly how I'd start the postseason.
The toughest decision here is moving Kessel away from Malkin. Recently, Kessel hasn't looked like himself — and considering his success alongside Malkin this season — he may need number 71 to give him a boost. That can be addressed if he struggles with Nick Bonino, though. Which brings us to the bottom six.
Bottom Six Forwards
Pittsburgh's HBK line — consisting of Nick Bonino, Hagelin, and Kessel — hasn't been able to reproduce their magic from last season. One of those three, though, is hitting his stride right on time.
Bonino has been intriguing since joining the Penguins, as he tends to play average hockey, below average in some cases, prior to March. After scoring just nine goals through the first 60 games of the season, he's tallied seven through 14 games this month. His late season surge is why Bonino and Kessel could work again in the playoffs.
Placing Bryan Rust on the left side in this trio would give you added speed and scoring ability somewhat comparable to how Hagelin fit there. Kessel would be the main trigger man and could get his shot numbers back up, which is what needs to happen for him to break out of this scoring slump. It also means Pittsburgh continues to spread their biggest scoring threats across three lines, something Sullivan has stressed in the past.
Matt Cullen, Chris Kunitz, and Tom Kuhnhackl are best suited for fourth line duties, with Scott Wilson being scratched. Wilson hasn't grown this season like many assumed he would, and despite having a little more scoring touch, there's a lot to like about what Kuhnhackl brings to the lineup.
Overcrowded Blue Line
Olli Maatta is approaching his original estimated return date after undergoing surgery to repair an injured hand in mid-February. Trevor Daley is also nearing his six-week estimate after injuring his knee against the Carolina Hurricanes on February 21. Those injuries prompted general manager Jim Rutherford to fetch Ron Hainsey from Carolina and Mark Streit from Philadelphia — using Tampa Bay as a proxy — on or near this season's trade deadline.
When everyone returns to play, who actually dresses?
Hainsey, a 35-year old stay-at-home defender, has played his way onto Pittsburgh's second pairing over 22-year old Maatta. Maatta has struggled mightily over the past few seasons, and while he started playing his best hockey just prior to getting injured last month, you have to stick with what's working in the playoffs. Hainsey's the guy, and Daley should be alongside him.
Streit has played well for the Penguins, but he hasn't trumped Daley in the way Hainsey outplayed Maatta. Those two are a toss-up and could be switched at any point. However, Daley is a bit younger, faster, and Sullivan knows what he can offer when things intense during the postseason.
The entire lineup breaks down as follows…
Jake Guentzel – Sidney Crosby – Conor Sheary
Carl Hagelin – Evgeni Malkin – Patric Hornqvist
Bryan Rust – Nick Bonino – Phil Kessel
Chris Kunitz – Matt Cullen – Tom Kuhnhackl
Brian Dumoulin – Kris Letang
Ron Hainsey – Trevor Daley
Ian Cole – Justin Schultz
If the Penguins are indeed healthy, they're still the favorite until someone can prove otherwise. Their path to the Cup will be a grueling one, as they'll almost certainly face the Columbus Blue Jackets in round one, followed by the Washington Capitals in round two. If there's a team that can do it, it's this one. Of course, they'll need to get all available bodies back in the lineup and avoid further injury through their final seven games of the regular season to even have a shot.