We all know the story by now, as it's been written time-and-time again. The talented, yet enigmatic Phil Kessel — once deemed the cornerstone of Toronto's franchise before being cast away — needed a new home. He needed a place in which he could be a supporting cast member, as opposed to the main focal point. 
He found exactly that with the Pittsburgh Penguins but after an impressive stint down the stretch and throughout the playoffs last season — as well as the first half of 2016-17 — is it time to be concerned about whether or not he can find that level of play again?
Kessel was just behind Sidney Crosby last summer when it came down to Conn Smythe voting for playoff MVP. And yes, his late season emergence on Pittsburgh's now infamous HBK line was quite possibly the biggest reason for their impressive run into the postseason. That's all behind us now, though. The Penguins are preparing for another postseason run and a title defense. They're in the midst of a grueling battle with the Washington Capitals and Columbus Blue Jackets for first place in the Metropolitan Division, which means a favorable matchup in round one.
Pittsburgh needs Kessel to step up, just as he's known to do when the stakes are high. So far, he hasn't. It's time to talk about what Kessel has done for the Penguins recently.
Disappearing Act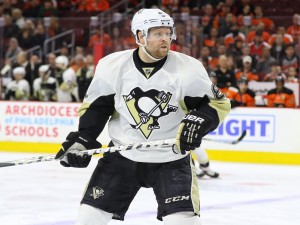 Elite scorers in the NHL — or at any level, really — are streaky, so Kessel will have stretches where he isn't tickling the twine on a nightly basis. Arguably the most impressive part of his game is the fact that he's much more versatile than many gave him credit for throughout his career, which is evident in his assist numbers and overall production this season. Kessel currently has four more points than his grand total last season with eight games remaining. It's safe to say that he could tie, or even surpass, his goal total of 26 during the 2015-16 campaign and he's already beyond last year's assist total.
That's all great news and impressive, except that he has essentially disappeared in recent weeks.
Kessel has one goal through his last 18 games. At even strength, he has accrued only 57 individual even strength shot attempts during that span, according to Corsica.Hockey. That's an average of 3.2 shot attempts per game, which is far too low for a scorer of his caliber. Taking all situations into consideration – meaning special teams as well – that number only increases to a hair over four attempts per game. He's deferring far too often and playing alongside Evgeni Malkin was deemed the culprit but with Geno out of the lineup as of late, what's his excuse? Simply put, Kessel needs to shoot the puck. He's a great passer but the Penguins need him to score.
Kessel on pace to finish with 224 shots, which would be his lowest number in a full NHL season since he had 213 in 07-08 with Bruins.

— Bob Grove (@bobgrove91) March 24, 2017
Puck management has also been an issue as of late for Kessel. His turnover rate is alarming and unlike anything we've seen since he joined the Penguins. He's coughing up the puck consistently and even looks unsure of himself on the powerplay, which has been his bread and butter this season (28 of his 65 points have come with the man-advantage). Is it a confidence issue? These types of issues frequently are, and thats bad news for Kessel and the Penguins with the postseason hurriedly approaching.
The good news is, Kessel can escape this funk by doing one simple thing.
Shoot, Shoot, and Shoot Some More
There's a fine line between having an effective shoot first mentality and just throwing garbage at the net. Kessel is an individual that finds shooting lanes very well, especially off the rush. So, it's simple, right? Stop deferring and start shooting. It's never a bad play when you have a shooter of Kessel's caliber putting the puck on net.
During the 2016 postseason, Kessel attempted 124 shots at even strength and 175 when taking special teams into consideration. That's an average of over seven shot attempts per game, and it resulted in 10 goals through 24 contests. That's the version of Kessel Penguins' general manager Jim Rutherford wanted when he acquired him and that's the version that will help push the Penguins through a deep playoff run once again.
But Pittsburgh can't wait until the postseason. They need him now. If playoff Phil can make an appearance to close out the regular season, the Penguins could very well take over the top spot in the East and face either the New York Islanders, Boston Bruins, or Tampa Bay Lightning — all teams battling for the final wild card spot. If he doesn't — and Malkin remains sidelined — Pittsburgh is on a crash course toward the Blue Jackets.
The Philadelphia Flyers coming to town on Sunday night provides Kessel the perfect chance to turn things around.