After having the first overall pick in 2017, things were more subdued for the New Jersey Devils in the 2018 NHL Entry Draft. They made six selections with only one coming in the first three rounds. They selected two defensemen, three forwards, and one goalie. Here's a review of each pick made by general manager Ray Shero and his team of scouts.
First Round
Ty Smith (D)
With their first selection, the Devils used the 17th overall pick on defenseman Ty Smith of the WHL's Spokane Chiefs. Smith is listed at 5-foot-11 and 176 pounds, and was ranked 14th in NHL Central Scouting's final rankings, 13th by TSN/Bob McKenzie, and 15th by McKeen's Hockey.
For what Smith lacks in size, he makes up for in production. He finished the 2017-18 season with 73 points (14 goals, 59 assists) in 69 games. He is a threat on both the power play and at 5-on-5, where he was one of the top scorers among CHL draft-eligible defensemen.
Among CHL draft eligible defenders, Smith finished 2nd only to Bouchard in points and 5v5 points. Led the way with a ridiculous plus-39 goal differential (63.27 GF%) at 5v5.

— Todd Cordell (@ToddCordell) June 23, 2018
Smith's game isn't limited to only offense.
"Another mobile defenceman, Smith doesn't have a ton of size, but it rarely seems to matter. Plays against top lines and defends better than many of his peers in this draft class," The Hockey News' Ryan Kennedy told Iain MacIntyre of Sportsnet.
Before Friday, the Devils lacked a top-flight prospect on defense. Smith's selection makes him the best defenseman in their prospect pool. He projects as a top-four defenseman who will contribute offense in all situations. His offensive prowess should fit in well with a fast, attacking Devils team. It may take a year or two for his NHL debut, but he should have an impact once in New Jersey.
Fourth Round
Xavier Bernard (D)
Without a pick in the second or third-round, the Devils' next selection came at 110th overall. They would use that pick on Xavier Bernard, a defenseman from the Drummondville Voltigeurs of the QMJHL. He finished this season with 35 points (11 goals, 24 assists) in 66 games.
At 6-foot-3 and 200 pounds, Bernard becomes the biggest defenseman in the Devils' system. It should come as no surprise that he has a physical element to his game. "I like to hit," Bernard said to Abbey Mastracco of northjersey.com, "When I need to play physical and hard, I can do it."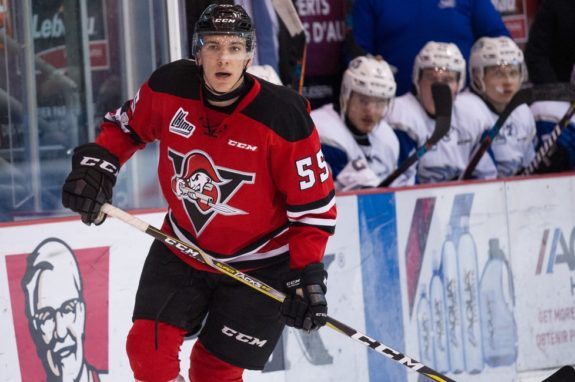 Much like Smith, Bernard is solid on both ends of the ice. He doesn't have the same offensive punch as Smith. That said, he has a hard shot and can move the puck.
"I can skate with the puck. I feel like I have a great shot, so I can bring offense with my shot," Bernard told Chris Ryan of NJ Advance Media, "One of my best strengths is my first pass. I have a good first pass and can play well on defense, so I'm a pretty complete defenseman."
His game still needs fine-tuning, so don't expect him in New Jersey for a couple of seasons at a minimum. He most likely projects as a third-pair defenseman in the NHL.
Related: Ty Smith – 2018 NHL Draft Prospect Profile
Fifth-Round
Akira Schmid (G)
The first of two fifth-round picks, the Devils selected Swiss goaltender Akira Schmid 136th overall. The 18-year-old finished this season with a 2.60 goals-against average (GAA) in 32 appearances for Langnau U20 in Switzerland. He also played for Switzerland's U-18 team, finishing with a .882 save percentage in 12 appearances.
When it comes to drafting goalies, the Devils have gone for size in recent years. Schmid comes in at 6-foot-4, 165 pounds (both Mackenzie Blackwood and Ken Appleby are 6-foot-4). They also drafted the 6-foot-5 Gilles Senn in 2017, so there's no shortage of size in net in the organization.
For Schmid to be successful, he'll have to fill out his frame. Goalies can take a while to develop, but there's no rush given his age. He'll likely remain in Switzerland for the foreseeable future before making his way to the U.S. That's when we'll get a better idea of where he projects long-term.
Yegor Sharangovich (C)
Just five picks after Schmid, the Devils selected their first forward of the draft. Sharangovich is a 20-year-old center from Belarus who played for Dinamo Minsk in the KHL, finishing with 12 points in 47 games in 2017-18. He also had five points in six games for Belarus's U-20 team at the 2018 World Junior Championship.
Jonathan Willis of The Athletic Edmonton weighed on the Devils' selection of Sharangovich.
Before the trade details come out: NJD's pick at 141, Yegor Sharangovich, is really interesting. Overage guy, but good size and already a KHL regular. I like him at this point of the draft.

— Jonathan Willis (@JonathanWillis) June 23, 2018
Sharangovich may be the Devils' most intriguing selection of this draft. He has good size at 6'2, 196 pounds, as Willis points out. He was a regular with Dinamo Minsk, so he's played against decent competition. His production was also respectable for a 20-year-old in a pro league. The key will be getting him to North America.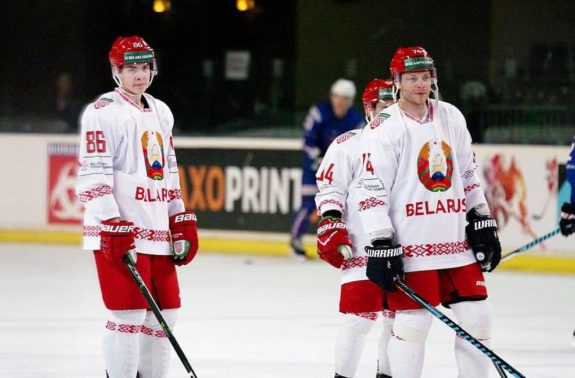 With KHL prospects, it's always a concern. However, that may not be the case with Sharangovich. Devils Director of Scouting Paul Castron believes his contract with Dinamo Minsk may have expired. If that's true, he may make his way over to the U.S. as soon as this coming season. If signed, there's a chance Sharangovich starts 2018-19 with the Binghamton Devils.
Sixth Round
Mitchell Hoelscher (C)
With the 172nd overall selection, the Devils added more center depth when they picked Hoelscher. He finished his first full OHL season with 28 points in 67 games for the Ottawa 67's. The Devils have a history of going for smaller forwards in later rounds (Jesper Bratt, Aarne Talvitie) under Shero. At 5-foot-11 and 165 pounds, Hoelscher is no exception.
This late in the draft, it's tough to know what you have. That said, the Devils seem to have gotten some value. Hoelscher was the 81st ranked prospect by hockeyprospect.com and 134th ranked prospect by McKeen's Hockey. He is a work in progress and will need time to develop in the OHL. At just 165 lbs, he needs to add muscle to handle the rigors of the NHL. If all goes well, the Devils will hope to have another Bratt in a few years' time.
Seventh Round
Eetu Pakkila (LW)
With their final pick of the draft, the Devils selected Finnish left-winger Eetu Pakkila. He finished 2017-18 with 40 points (23 goals, 17 assists) in 48 games for Karpat U-20 in the Jr. A SM-Liiga. Pakkila also totaled four points in seven games for Finland's U-20 team. He was ranked as the no. 123 European skater by NHL's Central Scouting.
Pakkila comes in at 6'0, 168 pounds and continues the trend of smaller, skilled forwards taken by the Devils in the late rounds. He needs to round out his game and add some muscle before making his way to North America. He'll likely remain in Finland for the next season or two to continue his development.
Final Thoughts on Devils' Draft
The Devils fared well without second or third-round picks. Already set with a solid group of prospects up front, they bolstered their blue line with Smith and Bernard. Smith is the highlight of the class. He could've been a late top-10 pick but fell to the Devils at 17. He gives them great value based on his draft slot and now becomes their best defensive prospect. Bernard gives them some size and physicality they lacked, as well as some offense.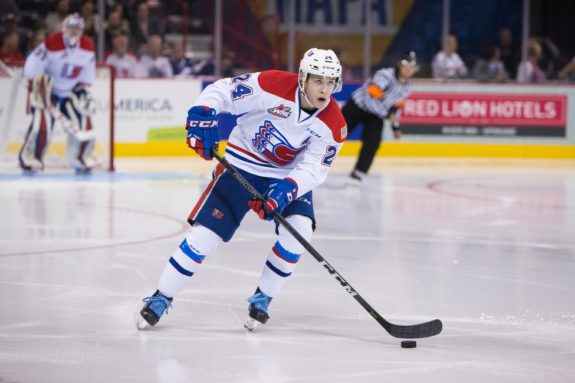 Time will tell with the Devils' selection of forwards. Sharangovich, Hoelscher, and Pakkila have potential but are projects—as most late round picks are. Schmid adds to the Devils' depth in net but is a long way from being NHL ready. Overall, the Devils added skill to their system, continuing the trend of their last three drafts. If Smith pans out, along with some of their late-round picks, this class will be a success in due time.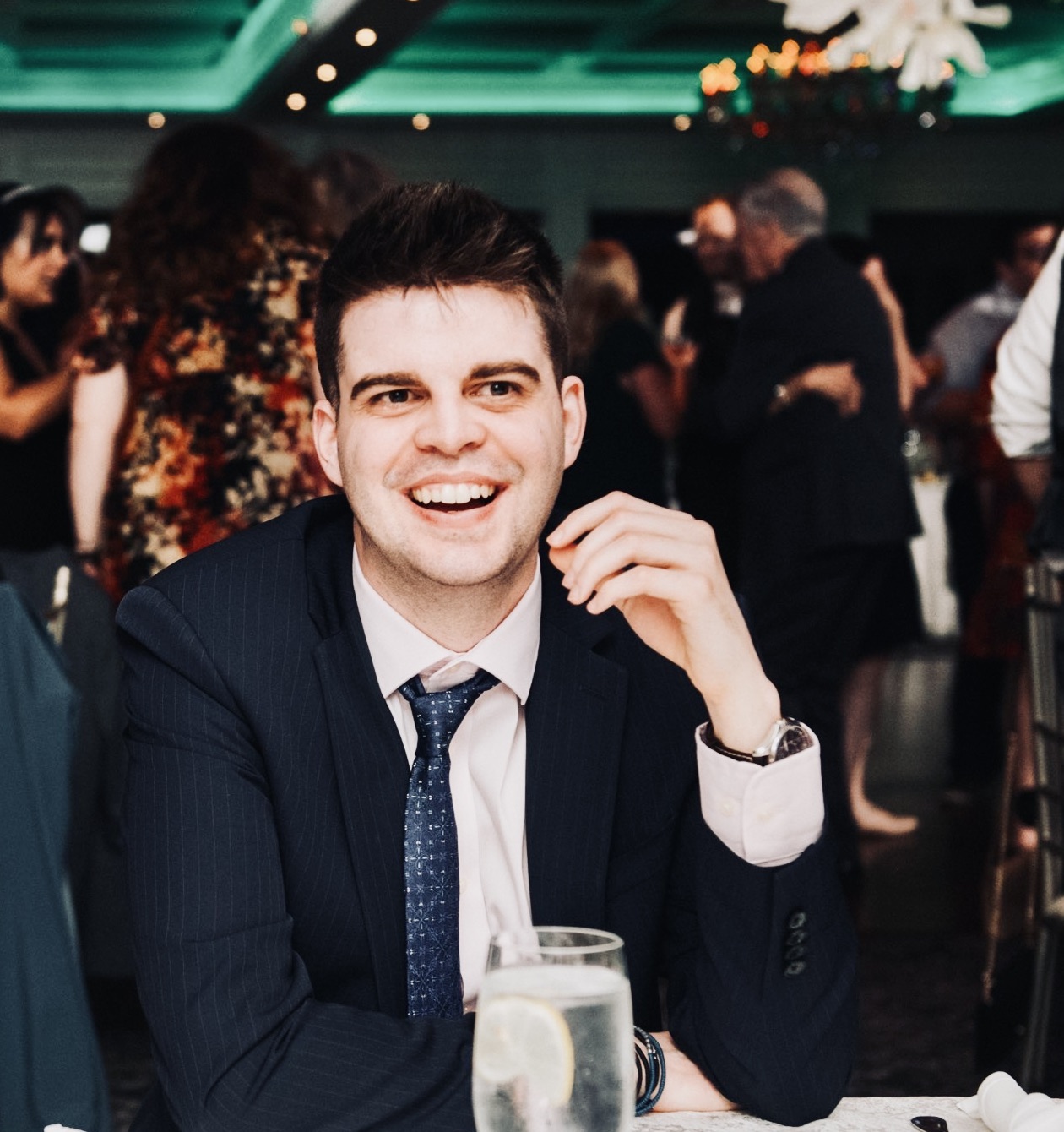 Alex Chauvancy is a New Jersey Devils writer for The Hockey Writers who has a penchant for advanced stats, prospects, signings and trades. He previously wrote for Devils Army Blog, a New Jersey Devils fan blog, from 2015-2017