They may not be official games, but there is hockey to be played this weekend. The New Jersey Devils will travel to Buffalo, New York to take on prospects from the Pittsburgh Penguins, Boston Bruins, and Buffalo Sabres at the 2018 Prospects Challenge. Here are some storylines to follow over the next three days, as the Devils unofficially start play tonight.
John Quenneville's Time to Earn an NHL Spot
John Quenneville has been in the Devils' system since the team selected him 30th overall in the 2014 NHL Entry Draft. He had a strong rookie AHL season in 2016-17, totaling 46 points in 58 games. He produced at a 60-point pace last season but played in just 43 games due to injury.
Quenneville won't earn a roster spot at the Prospects Challenge. However, there is an opportunity for him to show he's a cut above everyone else. At 22 years old, he'll be one of the Devils' oldest prospects at the tournament, which should work to his advantage.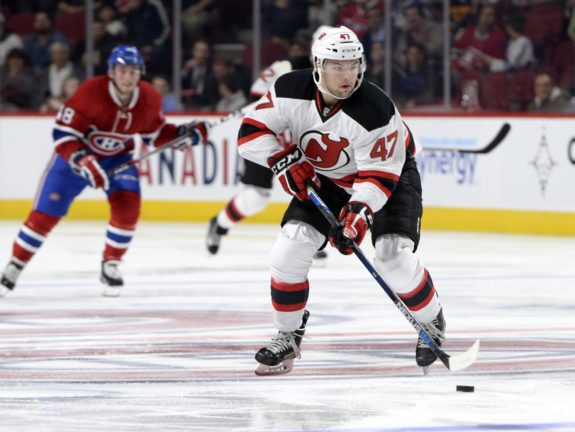 The Devils could use more secondary scoring, and Quenneville is a strong candidate to provide some. Staying healthy was a problem last season, but he's worked hard on his conditioning this summer. This weekend's tournament gives him a chance to build on his offseason training and show he's ready to compete for an NHL spot during the preseason.
Michael McLeod Looking to Rebound
A top draft pick of the Devils in 2016, Michael McLeod had a tough training camp in 2017-18. He tore his meniscus in one of the team's preseason games and was forced to miss the start of the OHL season.
When he returned to health, he struggled to take his game to the next level. He finished the season with 44 points in 38 games, which comes out to a 78-point pace over a full OHL season. That was lower than his 2016-17 scoring rate, where he scored at an 87-point pace.
From the THW Archives: Devils Select Michael McLeod 12th Overall
Despite the difficult year, McLeod is still one of the Devils' top prospects. They already have Nico Hischier, Pavel Zacha, Travis Zajac, and Brian Boyle at center, so McLeod will have his work cut out for him. That could force him to play right wing to make the NHL roster. It wouldn't be a surprise to see him get ice time at center and right wing over the next few days.
Ty Smith Headlines Group of Defensemen
The 17th overall pick this past June, Smith had a dominant showing at the Devils' development camp two months ago. He was the best skater there and closed camp with a hat trick in the Red-on-White scrimmage, where his skating ability and offensive prowess were on full display.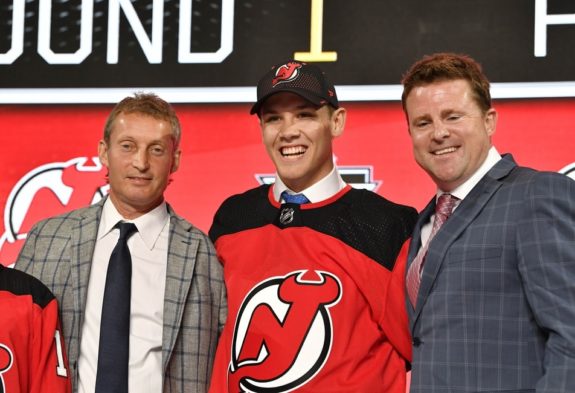 Smith will now get to showcase his skills against tougher competition. He may be a longshot to make the NHL roster, but there's no denying there's an opening for him on the Devils' blue line. If his performance this weekend resembles anything close to his development camp, it will only strengthen his argument for an NHL spot.
Another prospect to watch is Colby Sissons, who will be making his pro debut this season. He signed with the team as an undrafted free agent just before the 2016-17 season. He had a breakout 2017-18 in the WHL, finishing with 94 points in 98 games between the regular and postseasons. The Devils still have room on their bottom defense pair. A strong showing from Sissons could put him in the mix for one of those spots.
Devils Will Have Fierce Competition at Right Wing
The Devils right-wing depth at the NHL level is a bit suspect, but that may take care of itself during the preseason. Blake Speers, Joey Anderson, McLeod, and possibly Quenneville all have a shot at playing the position.
Speers and Anderson, both former third-round picks, are natural right wings and will likely see the most time there this weekend. Speers played in three NHL games in 2016-17 before being returned to juniors. He struggled in the AHL last season and is looking to get back on the right track. A good Prospects Challenge could help him do so.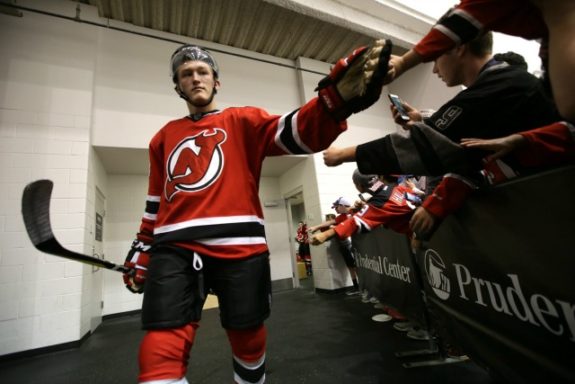 Anderson had an impressive NCAA career, winning a national title this past spring with the University of Minnesota-Duluth. He also has bronze and gold medals with Team USA at the U-20 World Junior Championships. He's excelled in big moments, which should help him in his first taste against NHL competition.
McLeod, as mentioned above, could be forced into that spot. However, that's not necessarily a disadvantage. He has the speed and skill set to help him win the job. Quenneville has the most experience and may have the most offensive upside out of the four. The Prospects Challenge won't determine who earns the spot, but it should give us glimpse of what will be a competitive battle this preseason.
Related: Six Devils Prospects Who Could Make the Roster
Which Devils' Late Round Picks Will Shine?
Last year's Prospects Challenge served as a stepping stone for Jesper Bratt, a 2016 sixth-round pick, to make the NHL. That may not happen this season, but there are a few late-round picks worth everyone's attention.
Brett Seney is a small and speedy forward who possesses some offensive upside. He was a sixth-round pick of the team in 2015 and made his pro debut with the Binghamton Devils last spring, where he had eight points in 12 games. Seney may be a dark horse for an NHL spot, but a good Prospects Challenge would help his cause.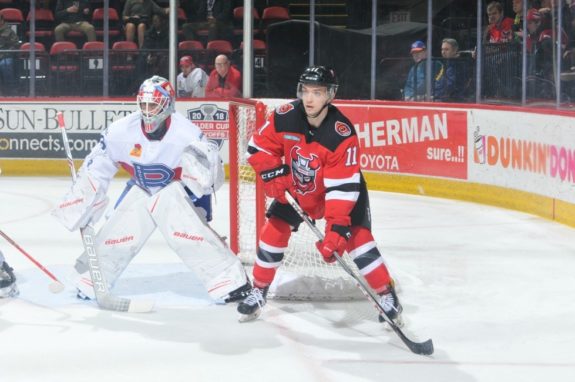 Yegor Sharangovich was a fifth-round pick this past June and signed his entry-level deal (ELC) earlier this summer. He played in 47 games for Dinamo Minsk in the KHL last season, finishing with 12 points. He has good size, and his pro experience makes him an intriguing prospect. The Prospects Challenge will give us our first look at the forward on North American ice.
Marian Studenic, a fifth-round pick himself, is another prospect the Devils hold in high regard. He spent last season with the Hamilton Bulldogs of the OHL, where he finished with 48 points in 62 games. He also added 15 points in 21 postseason games. The Prospects Challenge gives him the chance to show off his progress over the last year.
Mackenzie Blackwood Needs a Strong Showing
Blackwood has been the team's top goaltending prospect since he became part of the franchise in 2015. He had an impressive OHL career, where he posted a .921 save percentage (SV%) with the Barrie Colts in 2015-16. Things haven't gone as smoothly since he turned pro in 2016-17, though.
He had a .907 SV% as an AHL rookie and followed it with a .882 SV% in 2017-18. Binghamton should be much better in 2018-19, so that will help him. However, he has to show the Devils he can be a long-term asset to them in the NHL. Keith Kinkaid is an unrestricted free agent next summer, and Cory Schneider isn't getting any younger.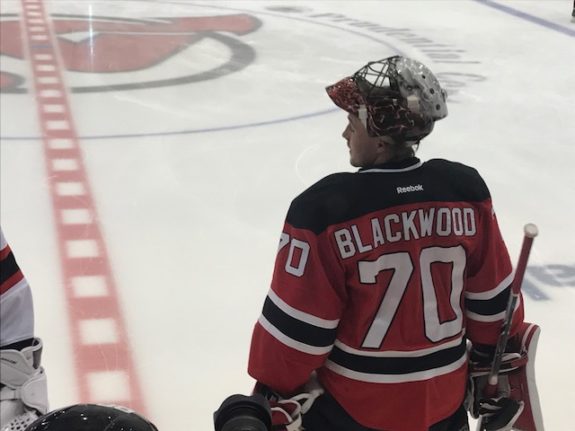 Blackwood's time in the NHL could come sooner than later. He hasn't shown he's ready yet, but the Prospects Challenge will be a good barometer of where he is. He'll be facing decent competition, especially against the Sabres, who boast one of the best farm systems in the NHL. A good showing will give him confidence heading into the preseason and could get him on the right track in the AHL.