With his New Jersey Devils off to a fast start in 2013 (9-2-3), GM Lou Lamoriello is already bolstering his lineup as his team looks to repeat as Eastern Conference champions. With Dainius Zubrus sidelined until possibly the last week of the regular season, Lamoriello brought Alexei Ponikarovsky back to the Devils for a second tour of duty, acquiring him from the Winnipeg Jets for a 7th round draft pick in 2013 and a 4th round pick in 2014.
One player who was noticeably happy to have Ponikarovsky back in New Jersey's locker room was Ilya Kovalchuk. First when talking with some media members he said with a smile, "We missed him for 13 games this season, so let's look at it like he got a suspension for 13 games." The Devils' leading scorer later added, "It's like he never left; we need more Russians." Afterwards when Kovalchuk was walking past a large group of reporters surrounding the 32-year-old Kiev, Ukraine-native and said (loudly) with a big smile, "PONI COMING BACK AND SCORING! WOOO!"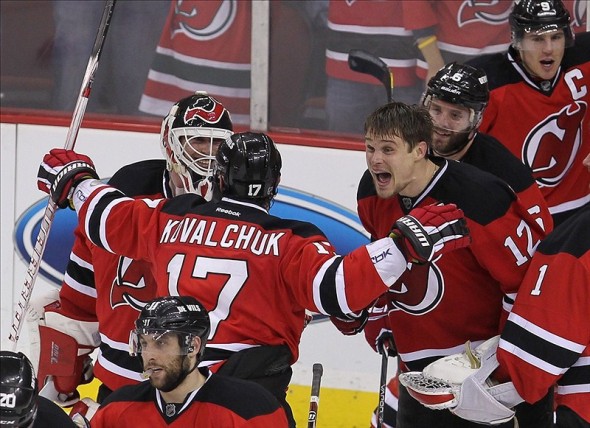 This season in 12 games with Winnipeg he scored 2 goals on 10 shots, and he will most likely round out the Devils top six; in fact he started and finished his first game back alongside Kovalchuk and Travis Zajac. He would later spark a comeback when his goal early in the second period of his second Devils' debut cut the Philadelphia Flyers' lead to 3-2; a game they eventually won 5-3.
"I looked up and the short side was open," he explained after the game. "I just took the shot for there. I don't know if maybe he (Ilya Bryzgalov) lost the puck or something, but it was open (on his stick side). I was coming full speed too, maybe that's why it threw him a little bit off; he wasn't in the right position right away."
Ponikarovsky was brought to New Jersey last season on January 20, 2012 in a trade from Carolina. In the regular season he put up 18 points (7g-11a) in 33 games and in the playoffs he had 9 points (1g-8a) in 24 games. He also scored (against the Flyers) in his first Devils' debut, as captain Bryce Salvador recalled. "I think when we traded for him last time, he debuted against Philly and he scored in that game too. Maybe Lou has to keep not signing him and bringing him back when we're playing Philly, keep that streak going," Salvador said with a chuckle. "On a serious note, he played well for us last year, its great to get him back – he's a big body and he comes in and competes every day. You get a body like that, he can play any forward position, he can play top line or fourth line, he kills penalties, we can use him on the PP. Him being here is a big plus for us."
One of his biggest moments during last season's playoffs was when he scored the overtime winner in Game 3 against the Philadelphia Flyers, his only goal of the postseason; at least he made it count eh?
Afterwards he was the center of attention in the locker room and yours truly in all his handsomeness had a front row seat for all of the action.
He also assisted on the game-winning, series-clinching goal in Game 6 of the East Finals against the New York Rangers — it was the rebound of his shot that Adam Henrique buried to make history.
In the Finals, he collected three assists in the six-game loss to the Los Angeles Kings, and coach Peter DeBoer felt he was a very big contributor to the success New Jersey had last spring. He and the players were sorry to see him sign as a free agent with the Jets as the Devils waited for Zach Parise to make his decision.
"As an organization when we had our exit meetings last year at the end of the year, he was a guy that we felt was a key part of our run," DeBoer told the media the morning after the deal. "Free agency brings all kinds of different issues and surprises, so it was disappointing when he didn't come back, but great to have him back now."
After the come-from-behind win against the Flyers, DeBoer's postgame comments continued that thought process: "It's great to have him back, he's a solid NHL player. He does the right thing out there, he puts the puck in the right places, he gets a chance to score and he puts it in the net; he's a nice addition for us."
Ponikarovsky is the 23rd player to be re-acquired by New Jersey, a list that includes: Tommy Albelin, Jason Arnott, Scott Clemmensen, Jim Dowd, Bobby Holik, Claude Lemieux, Vladimir Malakhov, Alexander Mogilny, Stephane Richer, Brian Rolston, Mike Rupp, Corey Schwab, Brendan Shanahan and Petr Sykora.
The moral of this story is: If you set a Poni free and he comes back to you, then he loves you.
Dan Rice can be reached via Twitter: @DRdiabloTHW or via Email: drdiablo321@yahoo.com