A look at the best players to ever suit up for the New Jersey Devils:
PATRIK ELIAS: Heading into the 2013 season he is the franchise leader in points (894), assists (533), goals (361) and power play goals (99) while holding the franchise record for the most points in a season (96) and the most career game-winning goals (78); not too shabby for a second-round draft pick in 1994 selected 51st overall.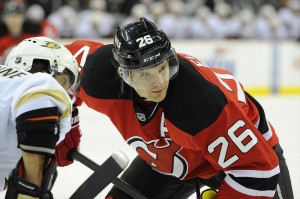 During the 2000-01 season when Elias recorded his 96 points, he was easily considered a top-5 player in the NHL (as part of the lethal A-Line with Jason Arnott & Petr Sykora), a lofty status that a Devils' skater had never attained before or since. He's been selected as an All-Star three times, has won an Olympic Bronze medal (2006) also leads the franchise in hat tricks (8), playoff points (125), goals (45) and assists (80).
For New Jersey's fans the two most memorable moments featuring Elias came during the 2000 run to the Stanley Cup:
1) His two-goal, Game 7 performance in Philadelphia completing the Devs improbable comeback from being down 1-3 in the series.
2) His brilliant backhand pass to Arnott in the slot in Game 6 of the Stanley Cup Finals in Dallas.
KIRK MULLER: He was known as "Captain Kirk" with the Devils, after they selected him second overall in the 1984 NHL Draft. He was officially named Devils captian in 1987 and was easily the heart and soul of the franchise during his time in New Jersey, but was never able to lead them to the Promised Land. In 556 games with the Devs he racked up 520 points before being traded to Montreal prior to the start of the 1991-92 season and finally got his name etched on the Stanley Cup in 1993; he also became captain with the Canadiens from 1994-95. After retiring at the end of the 2003 season he took up coaching and in 2011 he earned his first NHL head-coaching gig, replacing Paul Maurice in Carolina; in 57 games he led the 'Canes to a respectable 25-20-12 record and should be able to get that franchise back into the postseason.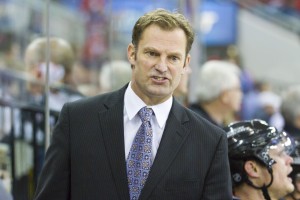 His 520 points is still good enough for third on the all-time franchise list.
Here's a look at one of the 185 goals he scored as member of the Devils:
JOHN MacLEAN: He was the franchise leader in most categories until Elias came along and in the early days of success in New Jersey, MacLean was the most dangerous player on the team. He compiled three consecutive 40-goal seasons during his time with the Devils before missing the entire season of 1991-92 due to a serious knee injury. He was a Devil from 1983-1997 and when his playing career was over in 2001 he began his coaching career with… the Devils. First as an assistant from 2002-09 and then as head coach of New Jersey's AHL affiliate for one season before taking over behind New Jersey's bench. A 9-22-2 start got him fired and now he is an assistant with his old buddy & former teammate Kirk Muller. His 701 points is still good enough for second on the all-time franchise list.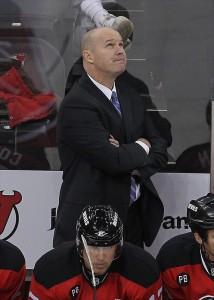 His defining moment is easily when he clinched the first playoff berth in team history on April 3, 1988 when he scored an OT goal on Blackhawks netminder Darren Pang.
http://www.youtube.com/watch?v=y_1m-aAYrBg
SCOTT STEVENS: Was there ever a more feared defender than Stevens? Probably not, but if you doubt this statement just ask Slava Kozlov, or Ron Francis, or Shane Willis, or Daymond Langkow, or Eric Lindros, or Darcy Tucker or Paul Kariya, or any other unfortunate soul to cross paths with him on the ice during his career. His #4 was the first number retired by the franchise on February 3, 2006 after 14 brilliant seasons in New Jersey that saw him captain three Stanley Cup champions. Stevens did not have a negative plus/minus in any of his 22 NHL seasons, and has the most penalty minutes of any player enshrined in the Hall of Fame, with nearly 2,800 PIMs. He won the Conn Smythe Trophy in 2000, but somehow never won a Norris Trophy during his 22 NHL seasons. He was a 13-time All-Star, and "Captain Crunch" stayed with the Devils franchise as a special assistant/assistant coach since he retired after the NHL lockout in 2004-05. His 430 points ranks him eighth on the all-time franchise list.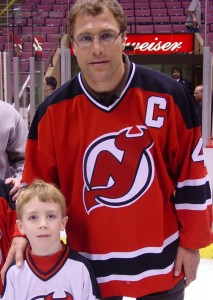 Here is a collection of some of Stevens' most bone-rattling body-checks:
SCOTT NIEDERMAYER: If Stevens was the Devils' tank; Niedermayer was their stealth bomber. One of the best skaters during his career, Niedermayer was silky smooth and made the most difficult plays look so simple. He was one of the pillars of the Devils' three Cups and even went on to win another with Anaheim when he left New Jersey for less money as a free agent to play alongside his brother Rob. He was a six-time All-Star, won the Norris Trophy (2004), won two Olympic Gold medals with Canada (One as captain) and he ranks fourth on the Devils' franchise points leaders (as a defenseman). He was the third player to have his number retired in New Jersey when they retired his #27 on December 16, 2011. His 476 points is still fourth on the franchise's all-time list.
This is probably Niedermayer's most memorable goal, doing it all against the Red Wings in Game 2 of the 1995 Stanley Cup Finals; by the way that is Hall of Famer Paul Coffey who lost his jock strap on that play:
MARTIN BRODEUR: Besides Elias, Brodeur is the only other active player on this list. When the NHL resumes he will suit up for his 22nd season, and holds nearly every record that a goaltender could have. Some of the highlights: most wins (656), most wins in a single season (48), shutouts (119), playoff shutouts (24), 40-win seasons (8), 30-win seasons (14), most saves (27,312), minutes played (70,028), games for a goalie (1,191) and he's the only goalie to ever score a GWG.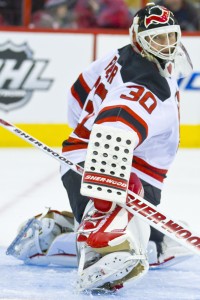 The only major awards he has never won: Hart Trophy & Conn Smythe Trophy (robbed in 2003). His resume includes two Olympic Gold medals, four Vezina Trophies, five Jennings Trophies, the Calder Trophy (1994) and he is a 10-time All Star. They even made a rule after the 2004-05 lockout to hamper his puck-handling skills by putting a trapezoid (or idiot box if you will) behind the net.
One of my favorite Brodeur moments is when he became the second goaltender to score a goal in a playoff game:
Dan Rice can be reached via Twitter: @DRdiabloTHW or via email: drdiablo321@yahoo.com