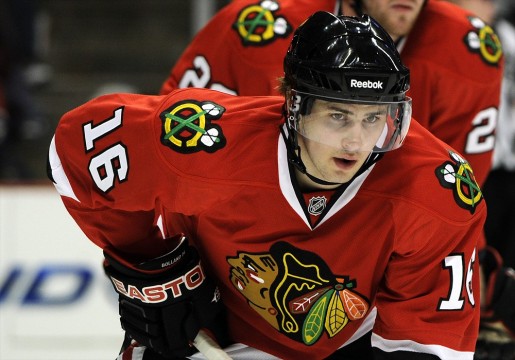 If things continue to look up in the way that they have for the past few days, then we could be on the cusp of seeing some NHL hockey in the very near future (fingers crossed).
When the NHL does officially return, whether it's next week or this summer, the center situation for the Chicago Blackhawks will immediately return to the forefront of the discussion with this team. And just as the case was last season, this team is still without one on their second line.
The Blackhawks were unable to swing a deal prior to the lockout beginning this past summer, and we're not really sure if they actually tried to make a move for one. Names like Tomas Plekanec were thrown out there, but nothing really came to fruition as far as trade talks.
If a deal is reached within the next couple of days, and we do see a season, the Hawks are unlikely to make a move for a center. There simply isn't time, and if the salary cap is going to come down, they're not going to want to add a pricey player and then have a whole mess of contract dumping again this summer.
Which means that the center spot on the second line is going to be filled by an in-house solution, which was essentially the expectation anyway. When it comes down to it, there are only three names that are realistic there, with a fourth potentially joining the mix at some point.
Patrick Kane obviously tops the list of players likely to play there. He's the biggest name and we saw him log a ton of minutes in the middle last year. However, he proved the concerns over his size and lack of defensive ability to be true and was eventually removed until the postseason. Even if Kane moves back to wing in the long-term, it's hard to imagine the Hawks not at least giving this another run at the beginning of the season.
Then you get into the young guns. Marcus Kruger is a favorite there, and Brandon Pirri could be a possibility as well. There's a reason many refer to Kruger as sort of a lighter version of Dave Bolland. As intelligent as he is, and as strong as he is as a defensive forward, does he really have the offensive chops to keep up with the second line? That remains to be seen, but he could see the longest look there.
Brandon Pirri is kind of a wild card. He's having a very nice season with the Rockford Icehogs, and could end up getting a look there. He had a nice camp with the Hawks prior to last season and saw a bit of a look early on as a result, but was unable to crack the regular lineup with the Blackhawks. He's a solid playmaker and could be given an opportunity to stick if Kane/Kruger falter.
Brandon Saad is a possibility, since the Blackhawks threw his name into the fire as a potential solution at center, but it's highly unlikely we see him log too many minutes there, assuming he does end up with the Hawks at some point this season. One of the trio of Kane, Kruger, and Pirri will likely begin the season as the no. 2 center for the Blackhawks. But which one will it be?
Joel Quenneville and Stan Bowman seem to have differing opinions on the performances of Kane and Kruger, which is not at all surprising. But while the latter thinks that Patrick Kane could be in the middle in the long-term, Quenneville doesn't seem to share that opinion.
Moving Patrick Kane back over the wing, next to Jonathan Toews, would give him the best opportunity for him to succeed. Which would leave Marcus Kruger in line to begin the season as the team's no. 2 center. And that makes sense. He has the tools to succeed there, it's just a matter of whether or not he is physically mature enough to shoulder that type of role.
Of course, a lot of it will depend on what happens in a brief training camp. Someone could step up and grab that job. Regardless of who ends up getting it, it's going to be a discussion point throughout the season for the Chicago Blackhawks.