Ever since Willie O'Ree broke into the NHL with the Boston Bruins in 1958, there have been many heralded players of African descent in the National Hockey League.  From Grant Fuhr and Anson Carter, to present day players like Jarome Iginla, Wayne Simmonds and P.K. Subban, it is a list that adds to the diversity of nationalities and ethnicity's spanning across the league.
When it comes to players of African descent, there have been six players who have laced 'em up for the New Jersey Devils.  With this being Black History Month, we take a closer look at these players and their contributions to the Devils.
Bryce Salvador: (2008 – Present).  Salvador is in his sixth season of action with the Devils.  This season marks the first of his captaincy and the first player of African heritage to be named Captain of the Devils.  As of this writing, the sturdy and gritty defenceman has logged 251 games in a New Jersey sweater, since being traded over from the St. Louis Blues.  In those games, "Sal" has seven goals and 33 assists, 220 penalty minutes.  During the Devils run to the Stanley Cup Final in 2011-12, the Brandon, Manitoba native registered four goals, ten assists and racked up 26 penalty minutes in 24 playoff contests.  That season also saw Salvador reach a career best +/- rating of +18.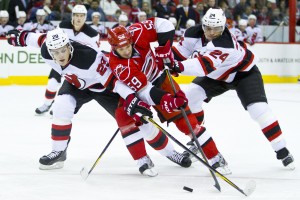 Mark Fraser: (2006 – 2012).  Sticking on defence, Fraser, the Ottawa, Ontario native, played parts of four seasons in New Jersey.  In 98 games with New Jersey, Fraser scored three goals and added five helpers, while logging 86 penalty minutes.  Currently Fraser is a member of the defence corps for the Toronto Maple Leafs.
Johnny Oduya: (2006 – 2010). Yet another defenceman, the Stockholm, Sweden native Oduya, skated for the Devils for four seasons.  The puck moving defenceman Oduya got on the board quite frequently from the blue line during his tenure in New Jersey.  In 273 games with the Devils, Oduya notched 17 goals, 53 assists, 155 penalty minutes and a +/- rating of +45.  Involved in the Ilya Kovalchuk trade with the Atlanta Thrashers, Oduya is presently manning the blue line for the Chicago Blackhawks.
Kevin Weekes: (2007 – 2009). Backing up Martin Brodeur for the final two years of his career, the Toronto, Ontario native Weekes wore a Devils mask for 25 games in net.  Weekes made 510 saves, logging 1,138 minutes.  Additionally, Weekes sported a record of 9-7-1, with a goals against average of 2.69.  Currently, Weekes is an analyst for NHL on the Fly and Hockey Night In Canada.
Sean Brown: (2003 – 2006). Back to the blue line, Brown, the Oshawa, Ontario native, played 74 games across parts of two seasons with New Jersey.  Over that time, the rugged defenceman scored one goal and had 14 assists, compiling 71 penalty minutes.  In 436 NHL contests, Brown totaled 907 penalty minutes.
Claude Vilgrain (1989 – 1993).  Finally, we end with the first player from Port-Au-Prince, Haiti, Vilgrain.  Vilgrain played right wing for the Devils in parts of three seasons.  During that time frame, Vilgrain lit the lamp 20 times and added 31 helpers, along with 78 penalty minutes.  In eleven playoff games for the Devils, Vilgrain registered a goal and an assist and 17 penalty minutes.
.