This article was originally published in March, 2013.
As the New Jersey Devils honored legendary goaltending coach Jacques Caron, while hosting the Montreal Canadiens, a lot of Caron's pupils were on hand.  Most notable up in the luxury box of course was the sidelined Martin Brodeur.  Also in attendance though were former netminders like Chris Terreri, John Vanbiesbrouck and Peter Sidorkiewicz to name a few.  Which got me to thinking, if you're a Devils fan under 25 or so, chances are you've never known a number one Devils goalie other than Brodeur.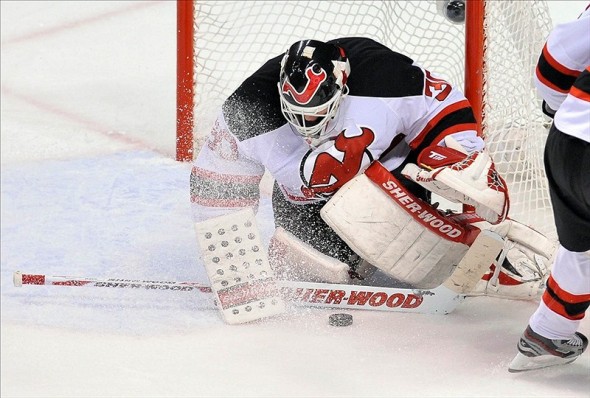 Myself at 28, I can remember back to when Terreri was the starting keeper.  That is until Brodeur's epic run in the 1994 Stanley Cup playoffs, when he never looked back.  Oh sure they've had guys carry the load in recent years when Brodeur got injured, Johan Hedberg this season and Scott Clemmensen winning 25 games in 2008-09, come to mind.  Plus all the guys I saw in Albany who were blocked by Brodeur, from Corey Schwab and Mike Dunham to Jeff Frazee and Keith Kinkaid and everyone in-between.  Yet there's never been any doubt or controversy as to what goalie was number one in New Jersey.
So what did the Devils look like in net before Brodeur?  Well, let's take a look from the start.
Before Brodeur: Glenn "Chico" Resch (1982-1986)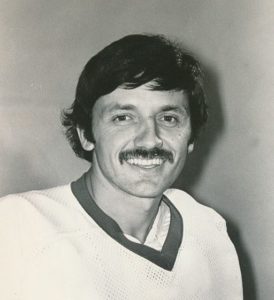 Most young Devils fans know "Chico" as the team's lovable
longtime color commentator
for MSG+ broadcasts of Devils games. In the inception of the franchise though, "Chico" was the man between the pipes. In fact, "Chico" joined the team from their Colorado Rockies days, as the club
moved operations to New Jersey
.
During the Devils inaugural season of 1982-83, "Chico" posted a record of 15-35-12, along with a goals against average of 3.98 and a save percentage of .875, over 65 games.  The 1984 season saw "Chico" named to the Wales Conference All-Star squad.  "Chico" registered 49 wins in a Devils sweater.  Needless to say, those were not easy years to be in the cage for the Devils.
Before Brodeur: Ron Low (1982-1985)
While mostly backing up Resch, Low did carry a good bulk of the work in net during the 1983-84 campaign.  On that season, Low posted a mark of 8-25-4, with a goals against average of 4.36 and a save percentage of .858 in 44 contests.
Before Brodeur: Alain Chevrier (1985-1988)
In New Jersey they love hockey, hot dogs, apple pie and Chevrier.  From 1985 to 1988, Chevrier played 140 games in a Devils uniform.  In 1986-87, Chevrier became the first Devils goalie to win 20 games, winning 24, while going 24-26-2, with a goals against average of 4.32 and a save percentage of .873.  During the first year the Devils qualified for the postseason in 1987-88, Chevrier went 18-19-3, with a goals against average of 3.77 and a save percentage of .867.  Chevrier won 53 games during his time with New Jersey.
Before Brodeur: Bob Sauve (1987-1989)
During the Devils first run to the playoffs, the 1979-80 Veznia Trophy winner with the Buffalo Sabres, Sauve helped pitch in a good deal for New Jersey.  In 1987-88, Sauve registered a mark of 10-16-3, a goals against average of 3.56 and a save percentage of .870.  Additionally, Sauve posted the first playoff victory in Devils franchise history, turning away 24-of-26 shots in a 3-2 win over the New York Islanders, in Game Two of the 1987-88 Patrick Division Semifinals.
Before Brodeur: Sean Burke (1987-1991)
As the Devils made that initial playoff run, one of their emerging young stars through it all was Sean Burke.  Down the stretch that season, Burke boasted a ledger of 10-1-0, with a shutout, a goals against average of 3.05 and save percentage of .883.  That season, Burke helped backstop the Devils all the way to the Campbell Conference Finals and within a game of reaching the Stanley Cup Finals for the first time ever.  In that run, Burke won nine games and recorded the first playoff shutout in franchise history.  Burke was also named a Wales Conference All-Star in 1989.  Playing 162 games in a Devils jersey, Burke won 62 games in total.
Before Brodeur: Craig Billington (1985-1993)
Craig Billington played parts of five seasons with the Devils.  Billington had a couple representative seasons in helping the Devils reach the playoffs.  In 1991-92, Billington went 13-7-1, with a pair of shutouts, a goals against average of 3.04 and a save percentage of .892.  Perhaps his finest season with New Jersey was 1992-93.  That year, the Wales Conference All-Star Billington played 42 games, going 21-16-4 with two shutouts, a goals against average of 3.67 and a save percentage of .876.  Across 111 games, Billington won 43 for the Devils.
Before Brodeur: Chris Terreri (1986-2001)
Perhaps the most statistically successful Devils netminder not named Brodeur, Terreri, the current Devils goalie coach, handed the torch to his successor.  Terreri had two stints with New Jersey and was a part of two Stanley Cup winners.  Terreri won 118 games in a Devils sweater, along with an additional 12 playoff victories.  Plus Terreri registered five winning seasons in New Jersey and three 20-win campaigns.  Over his career with the Devils, Terreri also earned seven shutouts.
Michael Gwizdala covers the New York Islanders for The Hockey Writers. Michael is also an Associate Producer at WNYT NewsChannel 13. Additionally, Michael was once a Media Relations intern for the AHL Albany River Rats. Michael is a graduate of The College of Saint Rose in Albany, NY.