We're a week into training camp, and the New Jersey Devils have yet to sign restricted free agent Jesper Bratt. According to Elliotte Friedman, the two sides don't seem to be close to a deal. One phone call could change things, but there appears to be a wide enough gap that's led to a stalemate. 
Bratt got off to a slow start last season, but he was one of the Devils' best forwards after the team fired head coach John Hynes. Bratt finished the season with 25 points over his final 39 games — a 53-point pace over 82 games. He would've likely played a significant role for the 2020-21 Devils, but he's all but sure to miss the start of the regular season with quarantine rules in place due to the ongoing COVID-19 pandemic.
That's sure to impact the Devils' plans as they begin games. But Bratt's absence could open up an opportunity for one of the team's younger players to take advantage of the void left on the roster. Here's how his contract stalemate will affect the team and who may replace him.  
Bratt Is a Crucial Top-Six Forward
Bratt's absence will be missed based on how he closed out the 2019-20 season. He played with Nico Hischier and Kyle Palmieri once Alain Nasreddine took over for Hynes, which seemed to light a fire under him. The trio played close to 150 minutes together at five-on-five, and the Devils thrived, outscoring their opponents 10-2 at that game state. They also controlled over 59% of the expected goals with them on the ice. 
Bratt's time with Hischier and Palmieri did not last for the rest of the season. After Nasreddine moved him around the lineup, he found himself paired with Pavel Zacha and Nikita Gusev, but that had no adverse effect on him. He played close to 120 minutes with Zacha and Gusev at five-on-five, with the Devils outscoring their opponents 9-4 and controlling just a touch over 50% of the shot attempts with them on the ice.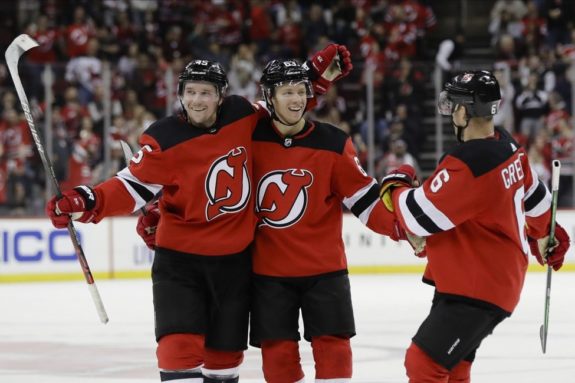 But with Bratt now missing time, new head coach Lindy Ruff will have to find a way to replace him until he signs a new deal. So far, Ruff has paired Miles Wood with Zacha and Gusev. Zacha and Gusev showed chemistry in the team's first scrimmage of training camp. But that would've been Bratt's spot to have over Wood were he in camp. 
And it's not hard to imagine that Bratt could've replicated his success with Gusev and Zacha (or Nico Hischier when he returns from an injury). Bratt was the Devils' second-most efficient five-on-five scorer in 2019-20, just behind Gusev. His two-way game improved markedly at the end of last season and would've helped stabilize a line with Gusev, who's weakness is on defense. 
Related: Devils Should Expect a Breakout From Hughes After a Strong Offseason
So what should Ruff do until Bratt signs a new deal? Obviously, Wood is getting a chance for the moment. He has the speed to play a top-six role, but his goal-scoring ability has been a question mark over the last two seasons. Fortunately, there are some other combinations worth trying, though none are exactly proven. 
Devils' Options to Replace Bratt Are Limited
Given the Devils' roster, it won't be easy to find someone to eat Bratt's minutes while he's missing. They're not the deepest team at forward, and the options they do have come with limited NHL experience. 
If Wood doesn't work out in a top-six role, the best option to move up with Zacha/Hischier and Gusev would be Jesper Boqvist. The Devils used a second-round pick on Boqvist at the 2017 Draft, and he slowly worked his way into becoming one of the team's prospects since then. He had 35 points in 51 games for Brynäs IF in the SHL in 2018-19 as a 20-year old. That doesn't happen very often with a player his age in a league as good as the SHL. 
As far as his makeup, Boqvist's skill set comes closest to Bratt's. He's a strong skater and a creative playmaker who has a pretty decent shot. He also seems like the type of player who needs linemates that match his offensive ability. Boqvist struggled mightily on a line with Kevin Rooney and John Hayden in 2019-20, but when he got minutes with Palmieri, Hischier, or former first overall pick Jack Hughes, he held his own.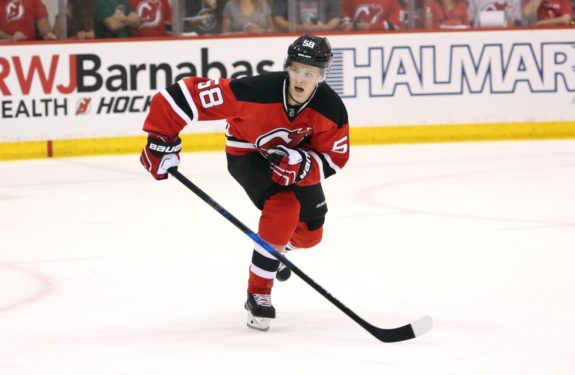 For the time being, it seems like Ruff wants to give Boqvist a shot at center. If that's the case, he might not be a fit with Zacha and Gusev unless Zacha moves out to left wing. With that said, Boqvist has played plenty of left wing dating back to his time in Sweden. That's where he played all of the 2019-20 season in the NHL and AHL, so it's certainly an option to place him at left wing in a top-six role. It might suit him better since he'll be playing with more offensive-minded players than he would centering a bottom-six line. 
After Boqvist, the options to fill in for Bratt are even more unproven. Nick Merkley has looked quite good in the early goings of camp, but he seems to be playing well with Travis Zajac and Janne Kuokkanen, so there's no need to break up that unit. 
Related: Devils 2020-21 Training Camp: News & Notes From Opening Days
Nolan Foote is also an intriguing choice, but he barely played competitive hockey in the calendar year 2020 due to injuries and the COVID-19 pandemic canceling hockey seasons. He could get minutes in the NHL later this season, but it'd be a surprise if he started there, especially in a top-six role. 
This is why the Devils need to get Bratt signed as soon as possible. Their roster isn't deep enough to make up for his loss, and they're going to miss his two-way presence and scoring prowess in a big way. As Friedman said, one phone call can change everything, and he could get signed in a matter of hours. But for now, the Devils will have to figure out how to win games without one of their top players. 
* * *
Advanced stats from Natural Stat Trick
---
---