Sports in general are impossible to predict, but the New Jersey Devils have taken it to another level. Simply suggesting what would take place in Newark just three seasons since the Stanley Cup run would have been unfathomable in 2012.
New Jersey went from having all of the necessary components to compete, including three 30-goal scorers, to lacking consistency and struggling to produce. When a team goes from the top to missing the playoffs three consecutive years in a row, people look for someone to blame and a reason why. Nevertheless, the Devils simply fell victim to a chain of events that led them to this point.
Kovalchuk's Retirement
Whenever anyone discusses the state of the Devils, Zach Parise and Ilya Kovalchuk's names are almost unavoidable. Parise's exit combined with Kovalchuk's "retirement" unequivocally damaged the Devils. Both players are virtually irreplaceable and losing two athletes of their caliber so closely together would bury most teams. A person can sit and debate which exit hurt more but the fact is each player's absence affected the team differently. The Devils potentially could have withstood losing one of them but not both.
BREAKING: Ilya Kovalchuk has announced his retirement. #NJDevils #NHL

— NJDevilsPR (@NJDevilsPR) July 11, 2013
Kovalchuk's departure completely blindsided everyone. There were always a lot of questions surrounding him but no one could argue his talent. Once Parise left, Kovalchuk instantly became the franchise's most important player. His presence supplied the one thing New Jersey now desperately needs, which is scoring. He also would have been the core offensive player to build around. Kovalchuk's untimely departure came right after the free agency frenzy, which meant the Devils had no chance of making up for his absence that season. However, while the team's struggles may not have lasted this long, there were signs even with Kovalchuk that New Jersey was starting to falter.
During the team's first year without Parise, the Devils had a fantastic start and did not look like a team that needed anyone else. Kovalchuk missed time that season due to an injured shoulder but even with him in the lineup, the team collapsed and missed the playoffs. The way Kovalchuk left caused outrage and solidified New Jersey's path. However, July 4, 2012 was the start of it.
Parise's Departure
It would sound like a cliché to say that Parise embodied the Devils but it was true. Parise had every right to go home. Unfortunately it came at a price for the Devils. He was the captain and one of the team's best players. His value on the ice cannot be understated. He played in every situation and hustled as if every shift was his last. It was obvious that New Jersey was going to miss Parise's production and role. However, his departure did not just hurt the team on the ice.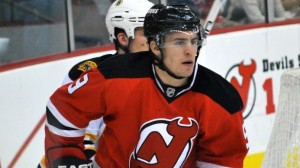 He was the cornerstone of the franchise. His exit would have been easier to grasp for Devils fans if New Jersey had not just been in the Finals or if the Wild had been a good team at the time. Instead Minnesota had just come off of a dismal season, opposite of New Jersey's. The team was a project in the making while the Devils were a finished product. Even if it was all about going home for Parise, there is no denying that the decision set a negative tone in New Jersey and damaged the franchise's morale.
People have argued that New Jersey got what they deserved. That former general manager and vice president Lou Lamoriello should have shown his loyalty to Parise instead of Kovalchuk and re-signed him sooner. But what is Lamoriello guilty of by signing Kovalchuk first? Realistically he went out and secured a tremendously talented top liner to play alongside Parise for years to come.
He established New Jersey's duo by signing Kovalchuk even though he was dealing with strapped finances and unstable ownership. The concept he built a Cup contender with those issues deserves praise not criticism. Parise being given the captaincy displayed what the Devils thought of him and what he meant to the team. The Devils also supplied Parise with the talent around him to help achieve his goal of winning the Cup. The decision was Parise's to leave. The team placed the ball in his court, gave him an offer and he turned it down. Lamoriello could only do so much in that scenario. He could not force Parise to stay.
Lamoriello and Conte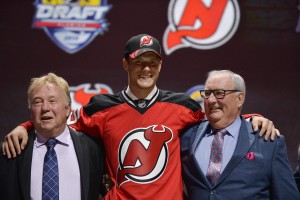 Lamoriello and former director of scouting David Conte were major reasons for New Jersey's success in the past. However, in recent years some of the decisions such as draft picks and free agency signings raised questions. Forwards Travis Zajac, Adam Henrique and defenseman Adam Larsson are Conte's most successful recent draft picks and fans are hoping that forward Pavel Zacha can be added to that list. But the shadows of selections such as Mattias Tedenby linger. The Devils' defensive prospect pool is deep and New Jersey never passed up an opportunity to take a skilled defenseman. In contrast, the offensive pool is weak and it is showing now as the team lacks scoring and depth.
Additionally, several signings by Lamoriello raised eyebrows. When David Clarkson left the Devils only a few days before Kovalchuk's exit, New Jersey lost scoring and grit. Clarkson was one of the Devils' 30-goal scorers in 2012. It would not have been realistic to expect that kind of production from Clarkson every year even though his contract offers begged to differ. Lamoriello smartly let Clarkson walk and get his market value.
However, he then went out and replaced him with forward Ryane Clowe. Clowe was a productive player for the San Jose Sharks but that was not the version New Jersey was getting. Instead the Devils signed a player who had a history of serious concussions to a five-year, $24.25 million contract. Since then Clowe has yet to play a full season with New Jersey due to ongoing concussion symptoms and his career is in doubt.
While Lamoriello did trade for goalie Cory Schneider and signed forward Mike Cammalleri, he has also brought in players that did not produce. Whenever a team struggles the general manager at that time shoulders some of the responsibility. The Devils aged, the coaching staff should have been looked at sooner rather than later, and by the time Lamoriello seemingly realized some of the issues it was too late.
DeBoer, Personnel, and Moving Forward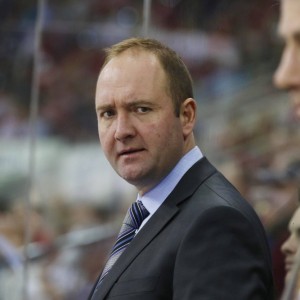 Former Devils and current San Jose head coach Peter DeBoer was an enigma in New Jersey. During the 2011-12 season he looked like the right man for the job. His system resonated with the Devils. That changed though last season when Lamoriello officially let DeBoer go. Arguably DeBoer should have been on the hot seat earlier.
The lackluster shootout record and the departures of Parise and Kovalchuk bought DeBoer extra time. Players also defended him including Jaromir Jagr who often vocalized his support for his former head coach. It is not to say that DeBoer is a bad coach or that he will not have success in San Jose but his system grew stagnant in New Jersey. Regardless of what players said, the team looked unprepared for games and DeBoer looked like he was lost and did not have an answer for some of the problems such as the team's scoring woes. Moreover, he made questionable personnel choices, particularly dealing with Larsson and his development. Larsson has previously hinted at issues without directly coming out and saying it.
Furthermore, the players have to take some responsibility in a situation like this as well and many of them have. Ownership, coaching, and general managers can only do and say so much. It is up to the players to perform and do their jobs and certain players did. Other players made a valiant effort and then there were some players who simply appeared to take nights off, which is unacceptable.
When news broke on Thursday that Lamoriello accepted a job as the general manager of the Toronto Maple Leafs, reality finally set in. The New Jersey Devils of old were gone. It was one thing to claim there was a new era in New Jersey when Ray Shero took over as general manager but Lamoriello was still in the background. Now he, Martin Brodeur and Scott Stevens, three Devils' icons, are no longer with the organization. No one knows what the Devils will look like come October nor does anyone know how the team will perform this upcoming season.
A lot has happened to lead the Devils to this point. Looking back over the last several seasons, the recent events are not overwhelmingly shocking. Change can be a good thing and Devils fans just have to hope that is the case. Shero brings a fresh vision and while one event or person did not lead New Jersey into this mess, fans have to hope that Shero can help them get out of it.