First year Sharks head coach Peter DeBoer has mentioned multiple times this offseason that the Sharks will have a captain before the season starts. In one of his more recent posts, Mercury News' Curtis Pashelka included the following quote from DeBoer's interview on local radio station 95.7 The Game:
"I feel very confident by the first game of the season, we'll have a captain and it's not something that [sic] we're going to drag around as a distraction this year."
The word distraction is interesting to note from DeBoer. If going without a captain last year was such a distraction, then the Sharks should do the simple thing and give the captaincy back to Joe Thornton. Jumbo Joe is the alpha dog on this team and captained the club through seven playoff series over four years. There is absolutely zero evidence that taking the symbolic C from one player and giving it to another will make a team any more successful. Only recent time where a team won the Stanley Cup with a former captain still on the roster was the 2004 Tampa Bay Lightning. The role of captain is incredibly overrated by older hockey folk that overrate leadership as a root cause for team's success.
Frequently messing with the captains only generates more distractions. If the Sharks name somebody else captain, that player is going to be looked at with more scrutiny and more media attention. Comparisons will be made between his performance as captain versus Thornton's. Chances are one of the following three Sharks will have the C on their chest this season. The Sharks won't be any more successful by naming one of them captain instead of Thornton. All the Sharks will be doing is risking continued distractions. General manager Doug Wilson claims he's smoothed over last season's feud with Thornton but giving him back the C would put an end to all that drama for good. No more distractions. That should be the goal, to get rid of the outside noise. Thornton is just as much a leader (despite what critics outside the room say) as Logan Couture, Joe Pavelski or Marc-Edouard Vlasic.
Joe Pavelski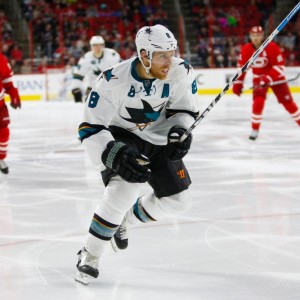 Pavelski is without a doubt the favorite among the media and fans to become the next Sharks captain. You can't deny his qualifications for the role. He is a dynamite player that plays in all situations and can do everything on the ice. Not only is he consistently among league leaders in power-play goals, but he is also consistently among the top scorers overall, top faceoff men, and eats up minutes on the penalty kill. He blocks shots, he makes plays (underrated set up skills as a natural centerman), he knows where to be defensively, he rarely cheats to the offensive end. There is nothing Pavelski can't do on the ice. If he had been blessed with Patrick Marleau's speed, he would probably be the best player in the league. With the Sharks skating without a captain last season Pavelski basically took over the role unofficially from Thornton. As captain, Thornton always made himself available to the media after every game. Pavelski did the same thing last season even without the C on his chest.
Logan Couture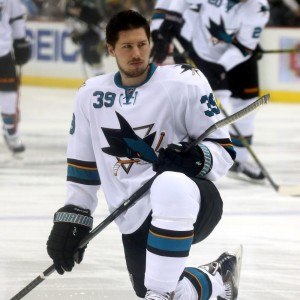 There is arguably nobody who comes across as harder on himself and the team in the Sharks dressing room than Couture. That type of internal criticism is something that has a significant portion of the Sharks fan base pulling for Couture to be named captain. Over the years Couture has faced shut-down minutes and typically fared extremely well. Prior to last season, Couture was a dominant force at even strength despite facing tough minutes. He is money in the bank for 27-33 goals per year, often on the higher side of that range. Like Pavelski, Couture blocks tons of shots, sacrificing his body on the regular, particularly on the penalty kill. Some were surprised when Couture wasn't named one of the four alternates last season. He is certainly worthy of the role but he is still second fiddle to Thornton. They both share the same agent, one who happens to be Thornton's brother, John. However, the dynamic of the second line center being captain seems a bit odd with Thornton still around as No. 1.
Marc-Edouard Vlasic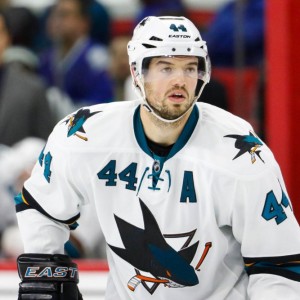 Last season former Sharks head coach Todd McLellan wasn't completely pleased with Vlasic's "performance" as a leader. At one point last year McLellan noted Vlasic had "work to do in that area" when asked about Vlasic's leadership. Whatever that means. Was he supposed to play better? Give more pep talks? Patrick Marleau was a soft-spoken captain for a number of years and has always been a fan favorite. Is he a bad leader because he isn't a big talker? Motivational speeches like the famous Miracle speech by the late Herb Brooks always make for great stories. However, there is no way to measure how big of an impact raw-raw speeches have on the outcomes of games. When it comes to leading by example, the only form of leadership actually measurable, Vlasic is as solid as they come defensively. He puts his body on the line every night against bigger opposing forwards, and he shuts the top tier opponents down on a regular basis. For those who love to equate "clutch" goals with "leadership," well, three of Vlasic's nine goals last year were game-winners and a fourth tied a game with less than 30 seconds remaining to force overtime.
The Sharks can't go wrong with any of these guys on paper. Therefore, the choice should be obvious.  Give the captaincy back to No.19. With Thornton as captain in 2013-14, the Sharks were an extremely confident club. They were one of the top-3 possession teams in the league and were drama free. That's the type of team they should want to be again.
Andrew has been credentialed to cover the Sharks since 2010 and the 49ers since 2012. He graduated with his BA in Broadcast Electronic Communication Arts in 2013 from San Francisco State University.