Last season was one to forget for the New Jersey Devils. The past five seasons could all fall under the 'forget' category but last year stands out the most. The Devils finished last in the Eastern Conference with 70 points and third to last in the NHL in goals scored with 183. After years of circling around it, the team officially hit rock-bottom. 
A lot of rumors began circulating around head coach John Hynes and his job security due to the team's poor performance. Hynes has been the head coach in New Jersey for the past two seasons. Since that time the Devils have gone 66-76-22, good for a .402 winning percentage — not a great start, so it's easy to see why those rumors started. Alas, I do not think Hynes is on the hot seat and I do not believe he deserves to be there either. Let me tell you why. 
Why Hynes Is Safe for Now
At first glance, it is easy to see why Hynes could be on the hot seat. The Devils have not made the playoffs in his first two seasons and have not looked good trying to do so. There are several reasons that Hynes' job is safe at the moment, though.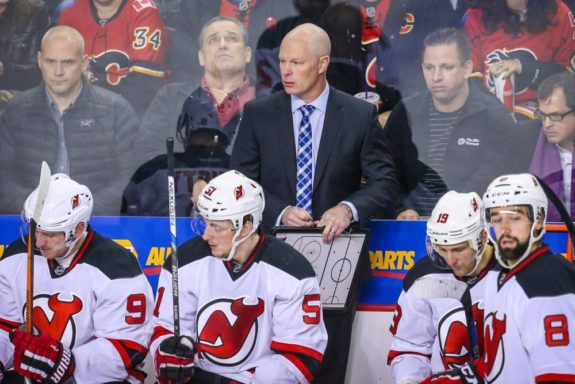 The first reason is obvious — the Devils did not give him much to work with. When he became the head coach the roster was made up of under-performing veterans and career AHLers. He was not brought in to make miracles happen with the roster he inherited. He was brought for the long haul, to coach when they had come out of their rebuild. With all the additions this offseason, Hynes may finally be able to work with a talented roster.
The second reason is Hynes' biggest plus as a coach — his players love playing for him. He has been pegged as a players' coach and he seems to be fitting the bill. He was even one of the main reasons that Will Butcher joined the Devils.
🏒 @WillButcher4 joins @NHLNetwork to discuss the impact that Coach Hynes had during his recruiting process, which landed him in Jersey. pic.twitter.com/4CzAxxymHd

— New Jersey Devils (@NJDevils) August 30, 2017
When a coveted free agent mentions a coach as a primary reason for joining a team, it is a great sign for that team. Butcher adds smarts and skill to a defense in sore need of repair and Devils' fans have their head coach to thank for it. Butcher bookends the end of a successful summer for the Devils which will present Hynes with his first real coaching challenge in 2017-18.
2017-18 Season Is First Real Test
It has been a fantastic offseason for the Devils. The Hockey Writers' Leah Dyck went in-depth on all the great moves if you don't believe me. General manager Ray Shero has injected a lot more skill and youth into the lineup and prospect pool. Finally, the Devils looks like a legitimate NHL team again.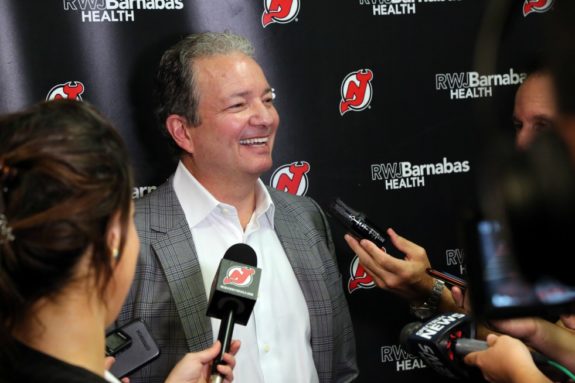 The offense has added Nico Hischier, Marcus Johansson, Drew Stafford and Brian Boyle. The defense has added Mirco Mueller and Butcher. Now, it is up to Hynes to utilize his new players efficiently and effectively. I still believe he is a good coach and I think he will prove that this season. It will be tough to make the playoffs in the vaunted Metropolitan Division but the Devils should at least be in the race this season.
Final Thoughts on John Hynes
Hynes is not on the hot seat. He was given two of the worst rosters in the NHL in his short tenure with the Devils. However, all of that changes this season.
With the additions of Hischier, Johansson, Stafford, Butcher, Mueller and Boyle the Devils should be better than last year. They may not make the playoffs but they should be in the hunt for a wild card spot for a good chunk of the season. If they fail to meet even that expectation then some of the blame will rightfully fall on their coach. The 2017-18 season is the first real test for Hynes and we'll have to see how he handles it.
I am a graduating senior at Marist College where I majored in sports communication. I played hockey for 13 years and have been an avid fan all of my life. I am honored and excited to write for the hockey writers!