'Injury is just another word for opportunity.' At least it is when it relates to the 2017-18 New Jersey Devils who announced on August 17 that center Travis Zajac will miss four-to-six months after surgery to repair a torn pectoral muscle. Whether you had Zajac penciled in as the Devils' top line center or third line center, the void is there, as is the opportunity for someone else to step up and make a name for themselves.
Enter Pavel Zacha, the Devils first round pick (sixth overall) in the 2015 NHL Draft. After spending the entirety of last season in New Jersey (24 points/8 goals in 70 games) the 20-year-old was expected to contribute a tad more this season and now the Zajac injury has created that opportunity. Zacha should very well be one of the candidates in training camp to fill that void along with others than can play center: Adam Henrique, Nico Hischier, Marcus Johansson, Brian Boyle, Michael McLeod.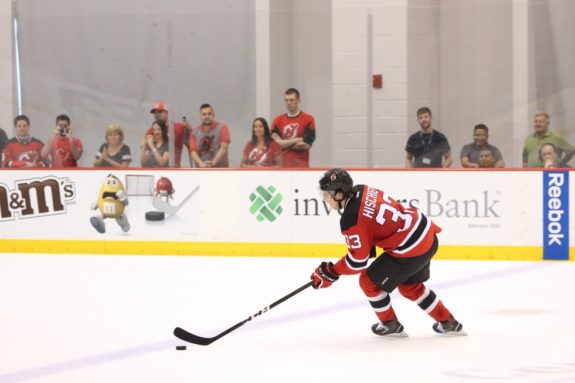 Imagine the speed of a line with Zacha in the middle with Taylor Hall and Nico Hischier on his wings? "Nico's really skilled as I saw today, it'll be great for him as a wing," Zacha said after his first week on the ice in July with the first overall pick in the 2017 NHL Draft. "I played wing too last year, so we'll see how that's going to work out. I'm just really excited for us young players on this team together this season."
Lots to Learn
Zacha spent his initial NHL campaign learning from veteran pivots like Zajac and Vern Fiddler; he admitted during July's Development Camp that the latter had quite the impact on him on – and off – the ice. He also mentioned that he was excited about now having another veteran centerman, Brian Boyle, on board in New Jersey to continue his learning of the position.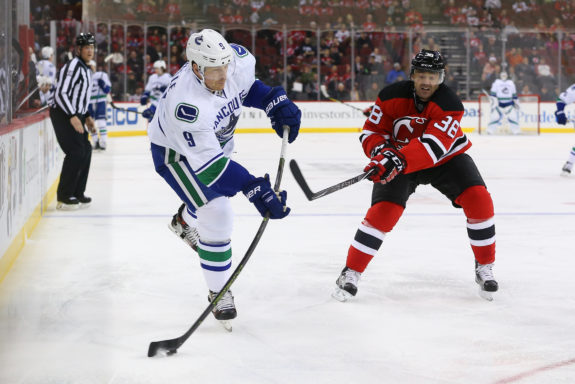 "I stayed in the same building as him (Fiddler) so we talked about everything. The mentality (of being a pro), the face-offs – we practiced them after every practice, doing a lot of face-off drills," said Zacha of the unexpected father figure. "He taught me a lot about how to play in the defensive zone because he's a really good defensive player, and he was really my good friend too during the season. It was great to have him on the team and he was really like a dad to me here."
"I talked to him during the playoffs, for him, I think it was his last season so I think he wanted to end it on top but unfortunately that didn't happen," he added. "They (Nashville) had a really good run, I was cheering for them."
It can be a tough education for younger players of how the NHL is a business sometimes. Your teammates become family, your closest friends. Devils and Montreal Canadiens' fans surely remember Devante Smith-Pelly in tears after learning he was traded to New Jersey at the 2016 trade deadline.
A New Tomorrow, That Starts Today
"We changed some players and for me this is the first time, my first offseason being with a team," said Zacha, "so seeing some guys go who are my friends is kind of hard. This is the first time this has happened to me, but bringing in Boyle and Johansson, I think they are going to be the guys we need. Especially Boyle for me, as a centerman, he can help me a lot like Fiddler did last year. It's going to be exciting for us, and especially having the first overall pick too, I think we are on our way to the playoffs and I personally want to get ready for next season as much as I can."
So he definitely wants to play center right? "It doesn't really matter where I'm going to play, center or wing, that's up to the coaches," he replied, leaving the door open for anything. And that could be a source of strength for a team that many pundits won't be expecting much from. Their versatility within the lineup could help them throw different dynamics at different teams at different times.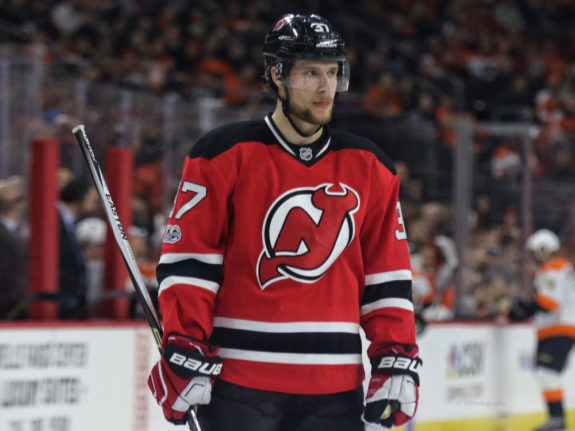 But we'll see. That's what training camp is for. That's what the coaching staff's task will be. Putting together the best lineup that gives the team the best opportunity on that night. We joked with Zacha during his third Devils Development Camp that he was a veteran now. A veteran. At twenty-years-old. But in a way it's true. The new era NHL is a young man's game now and players are making names for themselves when given opportunities and ice-time.
"Yeah, it's kind of funny that I'm the veteran now," Zacha said with a boyish grin. "Every year you get more comfortable, I came here (this year) and have all friends around already, not like the first year where I didn't talk to anyone that much. I know the coaches, I've stayed here the whole summer so I've been around so I can be more comfortable in this locker room, and the whole season last year. I definitely am more comfortable than the few camps before."
A New Core-Four?
Zacha will be that bridge now to the next generation of Devils players who will be making their NHL debuts this upcoming season. He will be there to answer any questions from McLeod, Hischier and Will Butcher about things that he experienced over the course of his rookie campaign. What were the most challenging aspects? What did you do to conserve your energy? Questions of that ilk.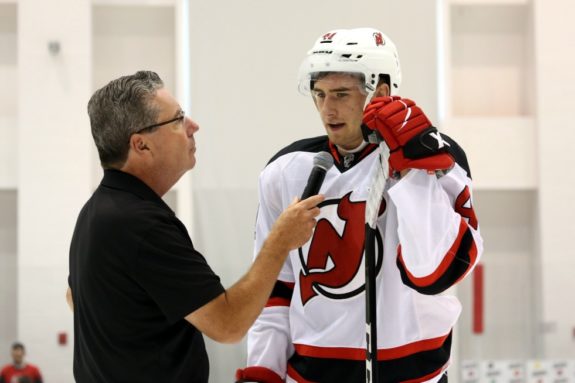 So what was the toughest part of the 2016-17 season for the Czech kid who grew up idolizing all-time Devils great Patrik Elias? "Probably the travel, especially when we were in November – we were traveling and had a lot of games in a row. Last year because of the World Cup there were a lot of games in a few weeks, a lot of back-to-backs," he admitted "It's tough for younger players, I never played that many games before in my life in one season. The toughest part was probably all of the games and all of the traveling."
This season the schedule is less compressed with no World Cup or Winter Olympics to disrupt the flow of an 82-game season that stretches over five and a half months. New Jersey doesn't have to worry about their top goalie or top draft pick hurting themselves in a non-NHL game.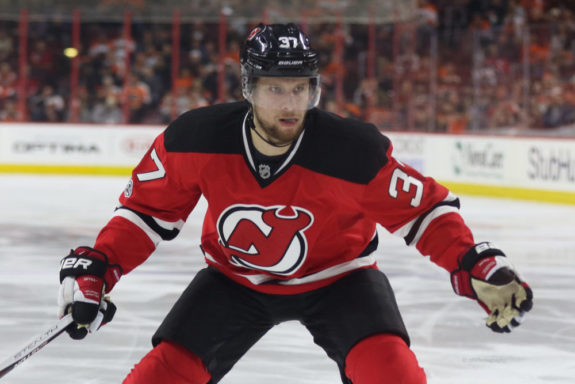 Injury = Opportunity
Even if Zajac hadn't gotten hurt and likely out of the lineup until January or February, there would have likely been another injury or slumping player that could have provided Zacha with a chance to step up and solidify his position on the team and in the league. And that's not to say this is a make-or-break season for Zacha, but a solid season will go a long way in determining the path of his career, be it with New Jersey or another franchise if he was to be dealt in a package for the top-4 defenseman that the Devils are currently craving.
#NJDevils announce Travis Zajac had surgery on pectoral muscle. Expected recovery time 4-6 months. Press release: pic.twitter.com/IAiTjIcdA0

— Dan Rice (@DRdiabloTHW) August 17, 2017
'Injury is just another word for opportunity.' Devils fans should know this well from 2003. When Joe Nieuwendyk went down with an injury in the playoffs it created an opportunity for Mike Rupp to be a hero in Game 7 of the Stanley Cup Final. Let's see who seizes the opportunity in front of them now. Our money's on Zacha.
Dan Rice is in his 9th year of reporting for THW & has covered NJ Devils home games for 15+ years at various websites. He began his journey working for legendary broadcaster/writer Stan Fischler from 2002-04 & completed an internship at the ECHL; he also has been writing features for the NWHL (nwhl.zone) website since 2016.