Backup goalies have one of the toughest jobs in professional sports, it's right up there with a backup quarterback. If you have a successful team with a star goaltender or quarterback, your backup may play very sparingly, if at all. Fans of the New Jersey Devils who lived through Martin Brodeur's legendary career are well aware of this, as his backups sometimes played less than ten games in an 82-game season.
Since Brodeur's departure from the franchise, Cory Schneider has assumed the title of New Jersey's number one netminder and his backup since the 2014-15 season has been Keith Kinkaid. With three more wins this season Kinkaid will surpass his season-high of wins (9), and for his career, the 28-year-old has played in a total of 83 games (68 starts) with a record of 30-31-10 and three shutouts.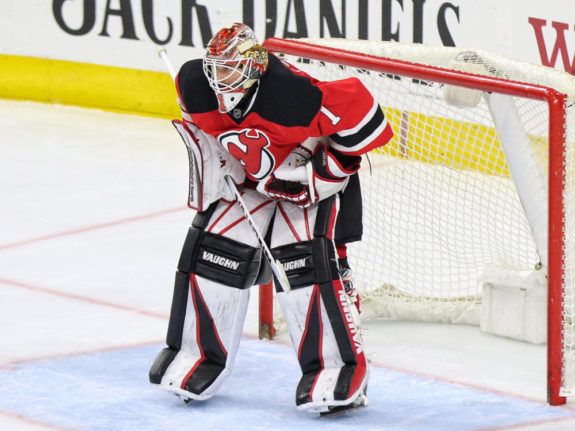 Recently the Union College grad started three games in a row, all against Metropolitan Division rivals, as Schneider was out with an illness and he rattled off two consecutive wins over the New York Islanders (4-1) and Washington Capitals (4-3 overtime), before surrendering three goals in the first period and leaving with a lower-body injury against the Philadelphia Flyers (3-1 loss).
This season in addition to beating the Caps and Isles, Kinkaid has also beaten Ottawa (2x), Detroit, the New York Rangers and the Chicago Blackhawks. His downfall sometimes is allowing an early goal. Like really early. Imagine a goaltender's nerves when he doesn't play for three weeks or a month. But as he mentions later on, this Devils team knows how to score and it's not a deathblow if they surrender a goal in the opening minute(s).
Confident Keith
Following the win over the first-place Capitals you could almost hear the confidence in his voice, and how could he not be feeling confident? This is a guy that sometimes can go a month in between starts that just won two games in three days, and in the home win over Washington, he wasn't exactly busy which can make a win a bit more rewarding.
"I felt maybe the best I've felt confidence-wise and aggressiveness this game," Kinkaid said after his seventh win of the season. "Three goals on 19 shots, I have to bail them (my teammates) out a little bit, so there's stuff to work on. But a win's a win."
Especially when it's a win against the team you are directly behind and chasing for the Metropolitan Division lead (the Devils climbed to four points behind the Caps). "We'll have more (divisional games) in the second half and the Metro is so tight, getting those two points – no matter how you get them – is key," added the fourth-year pro.
Hallsy capped of his 100th point in a #NJDevils uniform in style, delivering the GWG in OT presented by @TheNJLottery! https://t.co/p45Z6oRENW

— New Jersey Devils (@NJDevils) January 19, 2018
"We have total confidence in him. He's a gamer, a guy that relishes that opportunity," said Taylor Hall, who netted the overtime winner against Washington. "It's hard as a backup goalie; you don't get that rhythm of playing every second day, facing shots every day. When he does come in, it's huge when he plays like he has."
Clutch Kinkaid
Getting a surprise start is sometimes the best thing because there's no time to think, just react and play. Kinkaid wasn't originally scheduled to play against the Islanders but with Schneider down with the flu he got the late call. He also gave up a goal on the first shot he faced – an Anders Lee breakaway – putting his team in the earliest of 1-0 holes. But that was the lone goal the New Jersey goaltender would give up as he turned aside the final 25 he faced in Brooklyn.
He played well enough to maybe earn another start, but as if the life of a backup if Schneider was healthy enough to play against the top-dog Caps, he'd likely get the nod. The Devs no. 1 told the coaches that he wasn't feeling 100% yet and Kinkaid would start back-to-back games, which is pretty uncommon in the NHL when teams have healthy goalies. "He played really well tonight, again," New Jersey captain Andy Greene would say after the home win. "He was square to the shooters and didn't give up second chances. He was good, we needed that tonight. It's good to see it and it's good for him."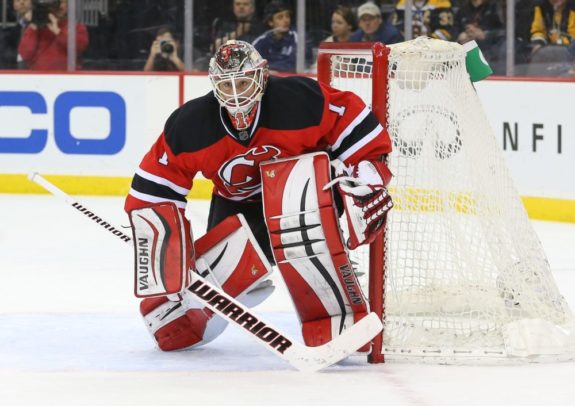 Waiting For the Call
In some situations it could be awkward being the backup goalie, not seeing much live action, getting thrown into the fire and getting lit up by an opponent in a groove. In past seasons Kinkaid seemed almost too nervous, and its hard to blame him for that. He's averaging 18 starts a season/per six months over the first three NHL seasons of his career, but for some reason, he seems in more of a comfort zone now. Maybe it's maturity. Maybe it's just the natural evolution of an NHL goaltender.
His personality has started to surface more now, on social media, and with the media following practices and games. "Coming into the league, you're kind of shy and now I can get to my personality and feel comfortable, and the guys are comfortable with me. It's all about having fun and we're definitely having fun," Kinkaid told The Hockey Writers in October.
#njdevils win just in time for Xmas! 🤡 was stellar w/39SVs. 🎅🏽&🤠on the naughty list this year. 💪🏽stays 🔥w/ another G. 🇨🇿gettin on the board w/ 1G. 🌴also adding a tally. 🏨adding to his team leading points w/1G-1A. 🔪w/2🍎&👃🏼+🚪also adding 🍎. Merry Xmas to all!

— Keith Kinkaid (@Blockaid1) December 24, 2017
"Obviously letting up one late is not the best thing, but I was determined to keep them off the board from that moment on and then Hallsy with a beautiful finish there," the goaltender said grinning. He was asked what was he thinking when he saw no. 9 streaking in on the Capitals goaltender all alone. "I was watching it on the scoreboard…I have a better view on that," he said grinning. (The scoreboard at Prudential Center is the largest in the league). "I was really pumped and then you see him celebrating, it was just a great team win and a great team effort tonight."
"I feel really confident. I feel like if I see the puck I'm going to stop it. Whether it's my conditioning, how I work in practice or my mental state – all of those things have come a long way since I first became a pro," he added. "It's a learning process for anyone and I feel really good right now."
He's also earned the trust of his coach John Hynes, that when he does turn to Kinkaid in a pinch, he's confident that not only will his goalie play well, but so will the team in front of him. "He's been a big part of our team. You have to have two goalies that can help you win and it's nice when you put Keith in and your team feels confident in the goaltender," Hynes said following the overtime win.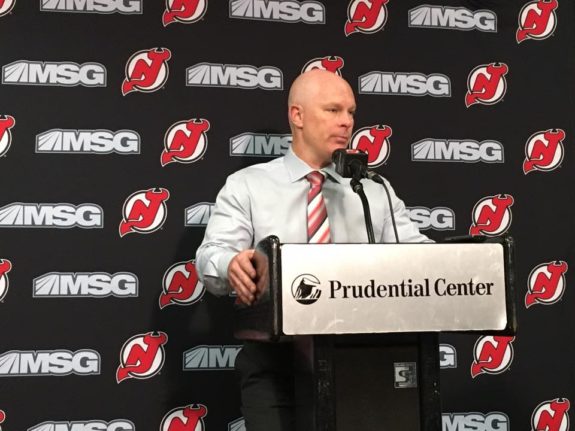 "I think everyone believes he gives us a chance to win every night and I know he's a very confident kid. It's nice to see him get rewarded. Sometimes as the backup goalie, you can go long stretches without playing, but the way that he's practiced and worked with Rollie (Melanson) – he's been able to come in and play the way he has, he's a big part of our team. We're going to need a bunch more performances from him in the second half of the year like he's done the last two games."
Battling For Brothers
It's no secret around the Devils this season that they have formed a brotherhood culture as opposed to the neighborhood culture that existed in recent seasons. There haven't been many games this season where they looked completely out of it. The effort is almost always there on a nightly basis, and no matter what, they have always had each others' back on the ice.
The two previous games against Washington were lopsided against the Devils, and to a man they all admitted they let the Caps take the game to them. That changed in their most recent encounter at the Rock. "They were very successful against us the past two games and (tonight) I think we gave them nothing; blocking shots, sacrificing the body's a big part of it."
"Our commitment to defense has led to our offense (the last two games), that gives us energy," Kinkaid explained. "Everyone is sacrificing their body, stepping up for each other; (Brian) Boyle with a big fight (against antagonist Tom Wilson) out there."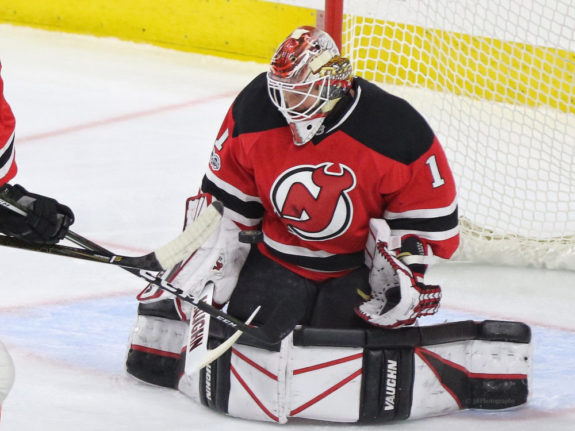 Kinkaid has also given his team energy and a boost, like Hynes, pointed out. "He's done a nice job of finding ways to come up with saves when we need them, he's certainly worked on his game. He's been good in tight, he's been aggressive on the shooters but he's been able to keep himself in a good position – so if there's a second chance or backdoor plays he's in position to make saves," the Devils' third-year coach said.
"I think his mental focus has been pretty consistent and that's nice to see. It's been great for a guy like him to come in; it's been a struggle for him to find a way to get in some games (as a backup goalie) but he's making a real strong case for himself to get more opportunities than he has."
Hopefully, the injury that forced him from the game in Philadelphia is nothing serious, as the Devils will need to really rely on him in certain spots when they have to give their no. 1 Schneider a rest.
Dan Rice is in his 9th year of reporting for THW & has covered NJ Devils home games for 15+ years at various websites. He began his journey working for legendary broadcaster/writer Stan Fischler from 2002-04 & completed an internship at the ECHL; he also has been writing features for the NWHL (nwhl.zone) website since 2016.