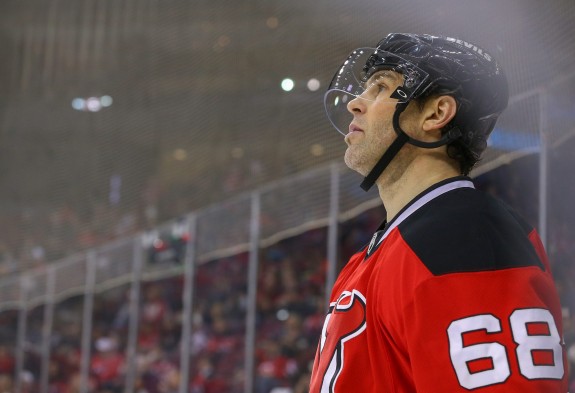 Jaromir Jagr has rung the bell and now it's time for the New Jersey Devils to check him out. Jagr has been a great teammate and a positive influence on the club. Yet Jagr's ice time has diminished recently and he is pointless in eight consecutive games. Couple those frustrations with his recent comments and now would appear the right time for a mutual parting.
While Jagr doesn't have the speed he once did, his puck possession and strength around the boards, enable him to create on the offensive end. A trait, along with his Hall of Fame resume, that a good handful of teams will find attractive. Not only does Jagr want to play for a Stanley Cup contender but if he wants to keep playing, one would believe a great Playoff would do him wonders in catching on with a new team next season.
So with the Devils potentially angling for another helpful young player or a mid-round draft choice, which teams might be a fit for Jagr?
Chicago Blackhawks – Not an Eastern Conference team but a Cup contender nonetheless. Their power play is hovering just outside the top ten but with Patrick Kane out for the foreseeable future, Jagr could fit here.
Pittsburgh Penguins – Everything comes full circle. Jagr is familiar with Pittsburgh and if this is it, maybe he goes out on top where he started. Pittsburgh ranks seventh with the extra attacker.
New York Islanders – Yes they're right in the Devils backyard but unlike the Rangers, the Isles are like "hockey cousins" to New Jersey. Jagr has traditionally been an Islander killer, so why not have him help you this time around? Plus Jagr could join the Pat Conacher and Sergei Nemchinov club in playing for all three metro area teams. With Kyle Okposo and Mikhail Grabovski both sidelined and the Isles in the middle of the pack on the power play, Jagr could be a match.
Montreal Canadiens – Sitting atop the Eastern Conference, the Canadiens were on the cusp of the Stanley Cup Final last season. Jagr has yet to play for a Canadian team in his career but his acquisition could go a long way toward helping Montreal's 25th ranked power play.
New York Rangers – No chance the rivals would trade right? Well, figure this, if you're the Devils, you're getting an asset from a team in your division, for a player who is 43-years-old and one whom you're probably not re-signing next season. Jagr has played with the Blueshirts before and could help their middle of the pack power play. Just a thought.
Boston Bruins – If you're of the opinion that the Devils are still in the Playoff race (mathematically they are), then what logical sense would it make to trade Jagr to the club you're chasing for the final Wild Card spot? Well, if the Devils fall to the B's on Friday, they're back to a double digit point deficit in the race and that may change some thinking. Jagr was just with Boston a couple of years back and would fit right in. Plus with David Krejci out and the B's ranking 21st on the power play, Jagr's addition could be a welcome one.

Jaromir Jagr. (Eric Hartline-USA TODAY Sports)
Michael Gwizdala covers the New York Islanders for The Hockey Writers. Michael is also an Associate Producer at WNYT NewsChannel 13. Additionally, Michael was once a Media Relations intern for the AHL Albany River Rats. Michael is a graduate of The College of Saint Rose in Albany, NY.