Nico Hischier is really good at a lot of things pertaining to hockey. But according to his New Jersey Devils teammate (and linemate) Kyle Palmieri there's one thing the Swiss star is not very well polished at. Speaking English. Which he has to do to communicate with his linemates Palmieri (an American) and Taylor Hall (a Canadian).
When we asked Palmieri if he's amazed at what Hischier has been doing at the NHL level and he hasn't even turned 20-years-old yet he replied, "He makes me feel old, that's for sure. He's 19-years-old. Looking back my first-year pro was at 19 and it's tough. He's done a great job adjusting. I think the slowest thing coming for him is his English," Palmieri said with a grin. "I think the hockey part of it is natural and he's such a gifted player, the way he works on and off the ice is what's setting him up for success; and we'll just keep working on the English."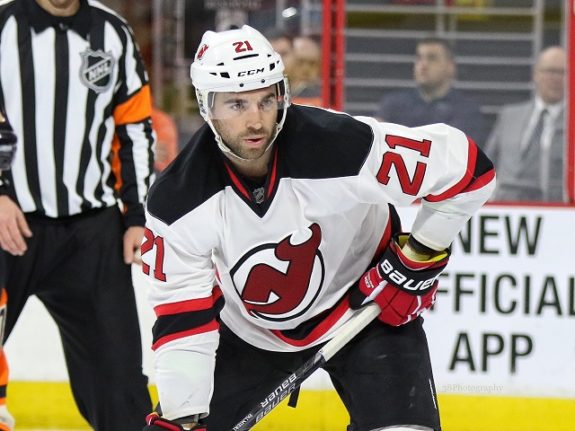 Now in his second season, the first overall pick in the 2017 NHL Draft is showing no signs of any sophomore slump with the Devils as he continues to center their top line and has put up ten points (3g-7a) over the first 11 games. Last season Hischier was New Jersey's only player to appear in all 82 games and finished with 52 points (20g-32a).
Living the Life
The Swiss star is well aware that having a player of Hall's caliber by his side makes life easier for him as he navigates his way through the NHL. "I feel really comfortable with him. I mean, who's not feeling comfortable with him?," Hischier responded with a grin when we asked if last season's chemistry with the league MVP has carried over to this season.
"He's a great player. I'm fortunate to play with him and I try my best each night to get our line going. Just work as hard as I can in my own zone to get the puck as quick as possible on offense and create some chances there too."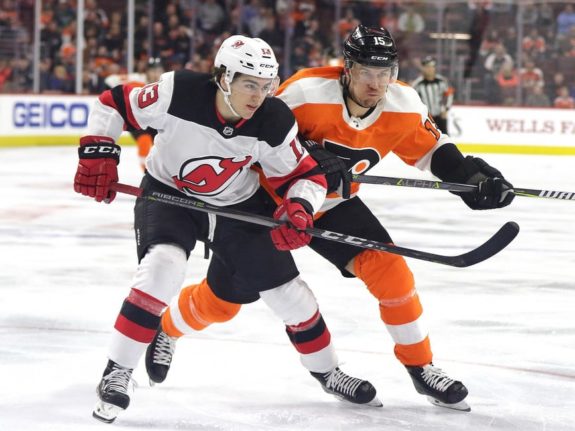 His percentage of winning face-offs has taken a bit of a dip through the first part of his second season but Palmieri was quick to point out that those numbers aren't really all about Hischier. "I think right now he's struggling a little bit with the face-offs, and me and Hallsy – I think both of us can look at video and try to do a better job at getting in at some of those 50-50 pucks, getting him some wins in that way," said the Devils' current leading goal scorer.
High Praise for Hischier
"He's gotten stronger, and you saw on Hall's goal (against Florida) – he put on a clinic protecting the puck and I was able to get some space off of him drawing two guys to him. We got a little 2-on-1 break there in front of the net. It shows the way Nico's rounded out his game. Obviously, he has that world-class skill level, but he plays in the dirty areas and is able to play a heavy game. Even though he's not the most physically gifted as far as muscle goes, he's way stronger than he looks and he's incredibly hard to get off the puck."
Hall keeps the point streak alive with a beaut #NJDevils pic.twitter.com/eWTJBYgFlY

— MSG Networks (@MSGNetworks) October 27, 2018
He has added about five pounds of muscle since last season, and early on it's showing in the teenager's game. "We try to work hard and go to those areas where it hurts sometimes, and we get rewarded. We just have to keep going like that," said Hischier.
It's something that his coach John Hynes has noticed and obviously is hoping Hischier continues to round out his game as the season goes on. "The last few games Nico's really taken a step in his game and looks like he has lots of energy and speed," Hynes said after the win over Florida. "I think those guys bring energy to our team, and to the building particularly when we're at home."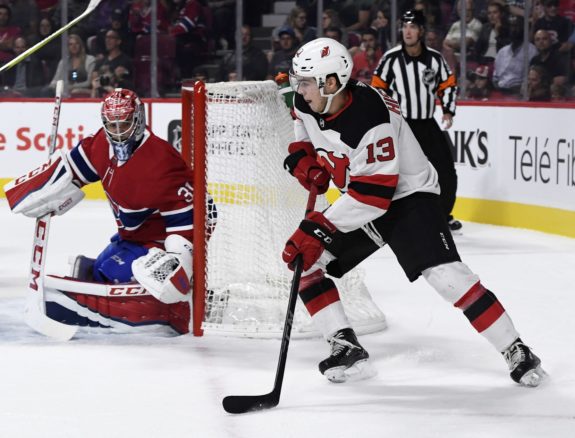 Palmieri was also a first round pick, just not first overall like Hischier and Hall. But that hasn't stopped his productivity, particularly since he was acquired by the Devils from the Anaheim Ducks at the 2015 NHL Draft. He's put up 89 goals in three-plus seasons with his hometown team, with a high of 30 and a low of 24.
High Flying Trio
"Those are two world-class players," Palmieri said of playing with Hall and Hischier. "They create space for you, they set you up. For me, it's just about playing my game and I think we fit well together. That's something that has resulted in some scoring chances and they're going in for us right now, hopefully, that continues."
Hynes could have split the trio up at the start of this season to try and balance the scoring throughout his team's lineup, and he still may at some point – but so far he hasn't felt the need to. Over the Devils' first 11 games all three are atop the team's scoring leaders: Palmieri (9 goals/14 points), Hall (11 assists/13 points) and Hischier (10 points).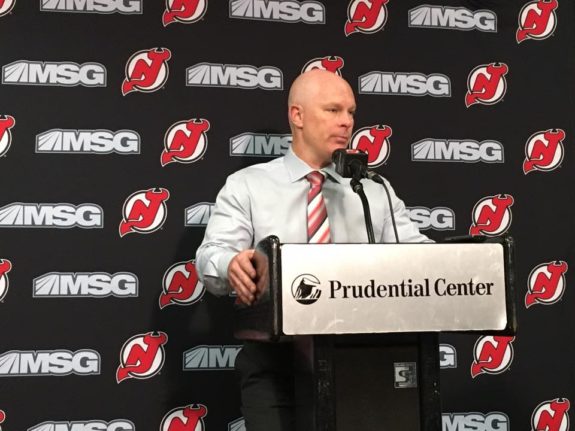 "We put them together, I think it was the Rangers game (in preseason) and I think you could see the chemistry going. Sometimes the lines click and it's something that clicked right away in training camp, so we decided to stay with it," explained Hynes. "It doesn't mean that it's going to click for all 82 games. If it starts to get stale and something doesn't work then you can always make a change. But because the chemistry was there right away, again this year, we just felt like it was the best thing to keep them together and hopefully, that continues for a long time here."
He Loves to Hockey
His English may not be perfect, but one aspect that Hischier has seemingly gotten better at is drawing penalties. Through the first eighth of this season, he has been taking the puck with more authority, more confidence towards the slot and towards the net, forcing defenders into a no-win situation. Hischier, who won't turn 20-years-old until January 4, downplayed it, saying he's doing what he loves – playing hockey.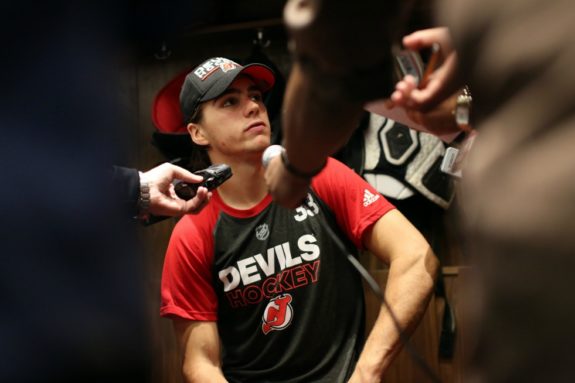 "I just try to play the game," he told The Hockey Writers. "I try to go to the inside and that's where a player has to make a decision if they want to take a penalty or let you go in there. I just play the game, sometimes they hook me but sometimes they hook other players too."