Not since the departure of forwards Ilya Kovalchuk and Zach Parise has the New Jersey Devils' offense held the potential that it does entering the 2016-17 season. Following a year where the team showed glimpses of their offensive capabilities, the future should excite Devils fans who have endured a four-year postseason drought.
After struggling to overcome injuries and an inconsistent offense, New Jersey's roster currently possesses offensive depth, which should ultimately reflect a more balanced attack. The biggest question now surrounding the offense is, who will play where? The addition of forward Taylor Hall will undoubtedly have a domino effect on all of the lines but also provides head coach John Hynes with some flexibility.
Talented Top Six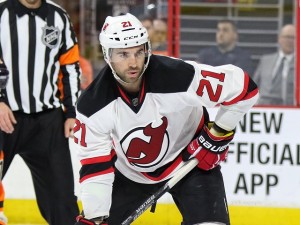 It would make sense to assume that the season will open showcasing a reunion between former Windsor Spitfire line mates Hall and Adam Henrique. Additionally, some people have also suggested that Kyle Palmieri would join Henrique and Hall on the top line. Just thinking about the entertainment value and skill the first line would hold is enough to bring a smile to any New Jersey's fan's face. If Hynes did go with this line combination, the Devils' top line would have the potential to be one of the better units in the NHL as it would encompass three pure playmakers, goal scorers, and speed.
Nevertheless, it would also be wise to consider whether or not Hynes should put his three potential 30-goal scorers on one line together or spread them out throughout the top six. If Palmieri does not play on the top line, forward Devante Smith-Pelly could find himself back on Henrique's right side or the Devils could potentially switch forward Michael Cammalleri to right wing. By switching Cammalleri or playing Smith-Pelly on the top line, the Devils would then keep Palmieri with Travis Zajac and likely Reid Boucher. The line combination of Boucher, Zajac, and Palmieri had a great deal of success last year. Hynes would not need to wait for them to develop chemistry or learn each other's playing styles.
Some people may be hesitant to put Boucher into a top six position again. Last season he was originally placed into that role because of injuries, but as time wore on Boucher outwardly earned it. Playing with skill helped Boucher and removed some of the pressure he previously encountered. He appeared to be more comfortable with Zajac and Palmieri and was embracing a shoot first mentality.
Scoring Depth
However, regardless of who plays with who, New Jersey's top six will consist of four players, Henrique, Hall, Palmieri, and Cammalleri, who should all score 25-35 goals next season. Hall has never hit the 30-goal milestone before. But between the change of scenery, a new system and a new coaching staff as well as the fact that he is a very motivated player, the 30-goal mark should be realistic this year.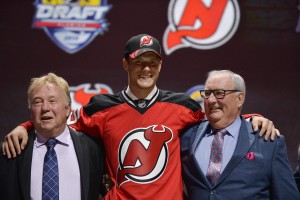 The bottom six has also been revitalized to add secondary scoring with the addition of forwards Beau Bennett and Vernon Fiddler. Bennett will be looking to make an impact and prove that his acquisition was a smart and under the radar move. Nevertheless, many eyes will be focused on the team's anticipated third line center, rookie Pavel Zacha, who in his NHL debut showed fans what they could look forward to. Zacha displayed speed and plenty of skill.
For the first time in years, the Devils' offense should not be an area of concern for New Jersey fans coming into the season. General manager Ray Shero is creating a deep team, one that is going to be strong up the middle and embody that fast, attacking, and supportive style that the Devils have been striving to achieve.
Amanda Rosko is an avid hockey fan. This is her second year covering the New Jersey Devils for The Hockey Writers. She graduated with honors from Rutgers University in 2014 with a B.A. in Journalism and Media Studies.