The Flames off-season has been an eventful one. While they solved their goaltending problems and added a top six right-winger in Troy Brouwer, they still have some work to do with Gaudreau and Monahan needing new contracts. The team also lost some depth up front with Josh Jooris and Joe Colborne finding new homes. While Jooris isn't a huge loss, Colborne finished the year on a hot streak producing over a point-per-game clip in the last 20 games.
With their tight salary cap situation, the Flames will not add any more free agents but instead look within the organization to fill out the lineup. This will give prospects like Poirier, Pribyl and Jankowski a chance to compete for a spot on the opening night roster. It might also provide new prized possession Matthew Tkachuk an opportunity for a nine-game stint. Will this be enough?
Brouwer should offset the loss of Jiri Hudler but the Flames will need scoring from other sources if they wish to duplicate an offense that finished in the top 10 in the NHL last season. This means a consistent secondary scoring threat that will capitalize on easier match-ups but also makes up for lost production Colborne provided and improve a power play that finished 22nd in the league. There's only one player on the Flames roster with the ability to turn Calgary's two-pronged attack into a three-headed monster: Sam Bennett.
Where Does He Play?
This is the great debate and mystery surrounding Bennett next season. Like former high draft picks Seguin and MacKinnon, Bennett spent a lot of time on the wing during his rookie campaign with the two Michaels, Frolik and Backlund. While this is a common strategy to take pressure off rookies, Bennett is a natural center and will need to play there full time to fulfill his long-term potential. The problem is, the Flames already have a very solid second line center in Backlund; which is Bennett's logical future roster spot on the team. Of course, it's a good problem to have, but Glen Gulutzan will have some difficult decisions to give Bennett the ice time he needs to thrive.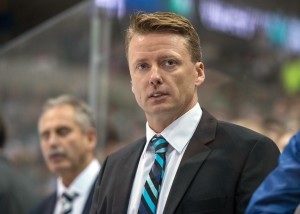 Though most of Sam's production came while playing with Backlund, instincts and logic dictate that he will start centering the third line. Without Bennett, Matt Stajan, Hunter Shinkaruk and Linden Vey are options at center for the bottom two lines. That is just plain not good enough to compete in the Western Conference. Bennett at center this gives the Flames depth up the middle and the ability to shelter Shinkaruk at wing while he gets his feet wet at the NHL level.
This allows Bennett the opportunity to benefit from easier match-ups against the opposition's second and third defense pairings, giving the Flames an advantage almost every time his line hits the ice. The big challenge for Gulutzan will be getting Sam the ice time he deserves, which should mean an increased role on both the power play and penalty kill.
Great Expectations
So, what will Bennett's sophomore season look like? Expect to see more of this:
Well, maybe not. But you will see more of those sweet hands he displayed on his fourth goal. Let's look at some numbers. He finished eighth on the Flames in scoring last season, posting 18 goals and 18 assists in 77 games. He finished seventh among Flames forwards (with over 10 games played) with 15:09 of average ice time per game and tied for sixth in the league in penalties drawn per game. His most telling stat of all might be that he went through two different slumps that saw him register just one assist 18 games from the end of November to the start of January.
Power Play Provider
Consistency is the most difficult aspect of being a rookie in the NHL; look for that to improve in his second season. His ice time should rise, though not dramatically, which will lead to more chances to contribute all over the score sheet. The intensity Bennett plays with should continue to give the Flames plenty of power play opportunities, but capitalizing on these opportunities is where he needs to help the team.
Twelve of the top fifteen teams in power play percentage made the playoffs last year, so even a slight improvement could have dramatic effects (along with improving a league-worst save percentage by adding Brian Elliott). All things considered, look for Bennett to finish with close to 50 points while giving opponents headaches with his physical play and net front presence.
Leading By Example
What will really test Bennett's steel is how he deals with the pressure of being one of Calgary's leaders up front at such a young age. With players like Shinkaruk, Poirier, and Jankowski in the fold he will be relied on to anchor the third line or be a regular contributor in the top six. If Johnny Hockey is Calgary's swagger and Monahan their psyche, Bennett is the team's heartbeat. Look for him to have a letter on his chest before long.
The young Flames have become even more youthful, but expectations remain high. Both Flames management and fans have their sites on returning to the playoffs next season, and if they are successful Sam Bennett's will play an integral part.