Houston Hynes, we have a problem here.
Not too long ago, we took a closer look as to what the Devils bottom six forward group might look like this season. Forwards such as Vernon Fiddler, Pavel Zacha, Beau Bennett, Jacob Josefson, Devante Smith-Pelly, and Sergey Kalinin will all make up this newly improved group. And yes, this group includes the talented youngsters, Reid Boucher and Joseph Blandisi.
Both Boucher and Blandisi made strides last season, establishing themselves as building blocks for an exciting new Devils team. Unfortunately, both will go into training without a guaranteed spot on John Hynes' roster given the logjam at left wing. What's a training camp without a little friendly competition?
The newly acquired Taylor Hall and, barring he's healthy, Michael Cammalleri will fill top six roles on the left wing for the Devils this season, which means there will be an open competition between Boucher and Blandisi, along with others, for a spot on the third line left wing. Whoever does not win this job will likely be heading to Albany, as playing more minutes would be better for their development than seeing minimal playing time on the fourth line.
While some think it's Reid Boucher's job as of now, let's take a closer look at the two youngsters and decide for ourselves who will be on the ice come October.
Reid Boucher
It seems like forever ago that Reid Boucher playing junior hockey, and breaking Steven Stamkos' single-season goal scoring record in Sarnia. Since that milestone season, it's been a difficult road to the NHL for the young sniper.
Boucher, who was more known for his shot than his skating, appeared to have a tough time adjusting to the professional level after leaving Sarnia. Scoring goals was his key attribute and when that did not happen, the rest of his game stood out and it was not in a good way. Like many of New Jersey's young players, he never seemed to earn the trust of former coach of Peter DeBoer, but he did earn the trust of John Hynes.
Under Hynes, Boucher enjoyed somewhat of a breakout season. While his defense and skating are still a work in progress, Devils fans finally got to see the offensive ability that they have been hearing about for years. In 39 games, Boucher scored eight goals and 19 points, with four of those goals being game-winners. With more talented forwards such as Hall and Zacha coming to New Jersey this season, those numbers could see a boost.
On what could be a devastating power play for the Devils, Boucher figures to be one of those deadly snipers that penalty killers will need to pay close attention to when he is on the ice. His hard, accurate shot, combined with his lightning quick release could make as dangerous as any of the elite goal scorers in the NHL. The most important factor that will make him reach new heights is his confidence, which seemed to grow more and more every game with the trust of John Hynes. If he's here come October, look out for Reid Boucher.
Joseph Blandisi
The young man that is affectionately known as "Blender" has been a remarkable story thus far in his brief NHL career. After overcoming a strange illness that almost caused him to quit hockey altogether, Blandisi received a second chance from former Devils general manager Lou Lamoriello, and he ran with it.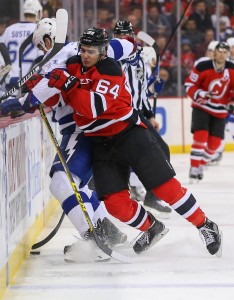 Blandisi, who can play both left wing and center, dominated in his final year at juniors, finishing fourth in scoring with 112 points behind the likes of top draft picks Connor McDavid, Dylan Strome, and Mitch Marner, turning every head in the New Jersey area along the way. While it was during an overage season, it's hard to discredit those kind of numbers.
After beginning the last season in Albany, Blandisi was not there for long, earning a call-up to New Jersey because of injuries. However, he looked outmatched and was sent back down, but it was not the last Devils fans saw of him. He worked on his game in Albany and returned to New Jersey a new player, scoring 17 points in 41 games while being a feisty, gritty two-way player.
Joseph Blandisi defines more as a "jack-of-all-trades", who will work hard every shift and do anything on the ice, from scoring goals to laying the big hit. The one negative is that is his hard-working gritty style tends to get him into trouble, such as taking a bad penalty or over skating the puck. Still, he has versatility and gives the Devils a true grinder, or "Blender", which is always an important element to have on any hockey team.
Who Will It Be?
It's a shame that the young duo both can't stay in New Jersey and receive respectable minutes, but unless Pavel Zacha falters early on and the Devils feel comfortable with Blandisi at center, that appears likely. It is also unlikely that Blandisi would be considered for the third line center job over Josefson, Kalinin, or even Patrik Elias should he choose to return. One of these two will likely be heading to Albany to continue their development, but who will it be?
One thing that gives Boucher the edge over Blandisi at this point has nothing to do with the game of hockey, but rather the business of it. As of today, Boucher is still an unsigned restricted free agent for New Jersey, and it appears that he wants his next deal to be a one-way NHL contract. If that happens (and it likely will), the Devils will have to expose Boucher to waivers if they want to send him to Albany, and it is highly unlikely that he will clear.
Blandisi on the other hand is still playing on his rookie entry-level contract and can be sent to Albany at any given moment without having to go through waivers. That may ultimately decide who wins the job, but if the "Blender" immensely outperforms Boucher in training camp and the preseason, then John Hynes will have a tough decision to make. After all, do you keep a guy or do you want to win?