Through the NHL's first half of the season, we all can agree that the Vegas Golden Knights are by far the biggest surprise in the standings. The expansion team is first in their division (by seven points), first in their conference by three points, and their 60 points are good enough for second in the league behind the Tampa Bay Lightning at 65 points.
But after that, which other teams have been a surprise? The New Jersey Devils, Winnipeg Jets, Colorado Avalanche and Boston Bruins are all teams that come to mind as teams that currently sit in a position that not a lot of us predicted. The Devils have hovered around the top of the juggernaut Metropolitan Division for the majority of the first half, and with 52 points in 41 games played (22-11-8) it's safe to say this is no fluke. Conveniently, they hit their bye week after playing their 41st game on January 7.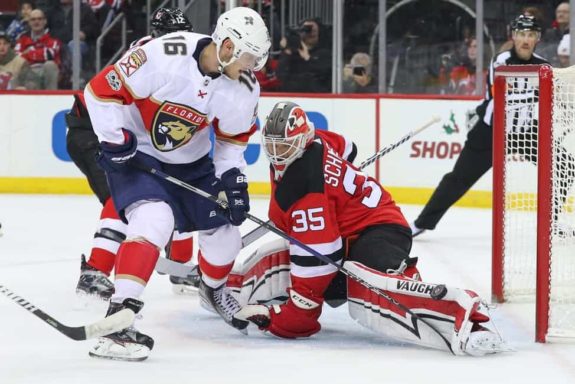 Only three teams have fewer regulation losses than New Jersey – Tampa, Vegas, and Boston and the eight 'loser' points that they have been able to acquire have given them the boost in the standings over the Rangers and Penguins – who have together combined for eight losses past regulation. If the Devils can accumulate another 52 points over the final 41 games, that should be more than enough to secure their first playoff berth since the 2011-12 season.
Last season was a complete disaster for the Devils as they finished dead last in both the Metropolitan Division and Eastern Conference. This season, they could surpass last season's win total (28) and points (70) by Valentine's Day; and with 130 goals already they should be able to leap past last season's conference-low total of 183 goals. Let's examine the biggest reasons for the turnaround and why it is sustainable.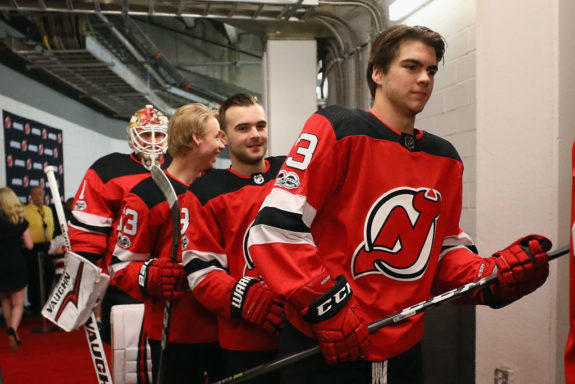 Four Fresh Faces
New Jersey has four rookies in their lineup and the four of them combined have missed one game this season. One. That was Jesper Bratt, the team's second-leading scorer (26 points) and one of their five forwards with at least ten goals. He was one of the biggest surprises in training camp, and the 162nd overall pick in the 2016 NHL Draft has earned every minute he's played this season — often on the top line, killing penalties, and on the power play.
Blake Coleman is the one rookie on the team that played last season with the Devils (23 games) and was also somewhat of a surprise in making the NHL club out of training camp. His speed has terrorized the opponent throughout the first 41 games, and his penalty kill prowess has given the franchise it's biggest shorthanded threat since John Madden was in town. The 26-year-old has been a dependable player amongst the bottom-6, has been in the face-off circle, and has chipped in a respectable 11 points (5g-6a).
The Devils won two lotteries this offseason – first with Nico Hischier, and then with Will Butcher – and each of them has not only paid immediate dividends, but they've also given the franchise a fresher outlook for the future with these two studs as a part of their program now. Hischier has been as good as advertised, and the respect he has already earned from his peers in the locker room speaks volumes. Like Bratt, he also has 26 points and the two have often played on the top line with Taylor Hall.
Butcher's offensive acumen was on display early and often for New Jersey and he was an enormous part of their early success that propelled them to the spot they are in now. Perhaps most impressive though is that despite the drop-off in offensive production, his defense hasn't regressed — also he has only two penalties all season, the last one coming on November 1. Keep in mind that at 5'10" and 190 lbs. the 23-year-old reigning Hobey Baker Award winner is defending against much larger players just about every night. 14 of his 25 points (2g-23a) have come via the power play.
Taylor's Team
He doesn't wear the C on his jersey, but this team is all aboard on the Taylor Train – as he goes, so go the Devils. Hall has only missed two games this season (knee bruise) and in 39 games he leads the team in points (42), goals (15), assists (27), shots on goal (142), power play goals (5), and power play points (15). The 26-year-old star winger has really looked more at ease this season and it shows: he's nine points away from the 53 he had over 72 games in his first season with New Jersey.
Hall has had four games with at least three points, highlighted by his four-assist performance in Ottawa on October 19 when Hischier netted his first two pro goals. The two no. 1 overall picks have been dynamic together and combined with Bratt they have consistently been the Devils best scoring threat, turning defense into offense and making teams pay for turnovers instantly.
🎄 Deck the HALLs. 🎄#CHIvsNJD pic.twitter.com/Ry2WUJOZpL

— New Jersey Devils (@NJDevils) December 24, 2017
The two rookies have given the team more talent that can play at Hall's pace, and the trio could make the team a formidable opponent in the Eastern Conference for the foreseeable future if they can continue to grow together. Barring any major injuries, this line should be able to keep the Devils afloat in the insanely good Metro Division.
Three of a Kind
Three players have yet to find their stride this season for New Jersey, each for different reasons.
Last season Kyle Palmieri played in 80 games and led the team in goals (26) and was tied with Hall for the team-lead in points (53). This season he's missed 19 games and has just 14 points (6g-8a), but he's played in the last nine games and we've seen over his tenure with the Devils that he can be a streaky goal scorer. It's not out of the realm of possibility to expect that Palmieri could chip in close to 20 goals over the final 41 games.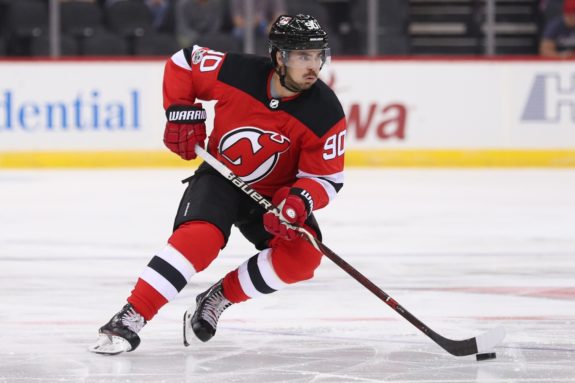 Marcus Johansson was acquired by the Devils this offseason, one of GM Ray Shero's deft thefts, and unfortunately, he has only played one more game than Palmieri has as he also battled through a variety of injuries. Over the past four seasons with the Washington Capitals Johansson had only missed a total of ten games. Also like Palmieri he has played in all of the past nine games and is looking to find his…MoJo…as the second half gets back underway on January 13 against Philadelphia. With only a total of 11 points (5g-6a), if he can reach 40 this season and help get New Jersey back in the postseason, that would be a silver lining in his inaugural campaign with the Devils.
On November 30 the franchise traded Adam Henrique for defenseman Sami Vatanen and the newest Devil has had his ups and downs over his first 17 games wearing red and black. It took him eight games to record his first point with the team, but over his final six games he's added five points (1g-5a) and in only one of the 17 games has he played under 20 minutes. He's added a bit of a different dimension to the Devils blueline and should be a big boost to that group going down the stretch as he has oodles (40 games) of postseason experience.
How Sami Vatanen has impacted evolution of Devils' defense https://t.co/IVRq8ZdUuF pic.twitter.com/lR9Y51UOBt

— NJ.com Sports (@NJ_Sports) December 27, 2017
He recently had eight shots on goal in a game against Buffalo, the rarest of rarities from the New Jersey defense corps since the departures of legends like Scott Niedermayer and Brian Rafalski. Vatanen will have to cure his penalty issues that have plagued him of late, but his addition to that group is better for the long-term and the emergence of some talented, young forwards made Henrique expendable.
One thing important to note is that when they return from their bye week, New Jersey will have played fewer games than everyone in the East except for Boston. However the final 41 games play out, a few things are certain: the Devils have been more exciting than they've been in quite some time, and they're playing better than you expected/predicted they would.
Dan Rice is in his 9th year of reporting for THW & has covered NJ Devils home games for 15+ years at various websites. He began his journey working for legendary broadcaster/writer Stan Fischler from 2002-04 & completed an internship at the ECHL; he also has been writing features for the NWHL (nwhl.zone) website since 2016.