Much was made during the regular season of the New Jersey Devils potent penalty kill unit. The group logged a record 89.6 percentage, shutting down opponents with a smothering, suffocating style of play. Overlooked in the shadow of the penalty kill unit's excellence was their power play. Registering a slightly above-average 17.2%, the power play unit, stocked with offensive firepower, was capable of breaking a game open with a key goal, despite being somewhat inconsistent.
In the playoffs, the special teams equation was reversed, with the p kill sliding to the bottom quarter of the league (74.2%) and the power play good for fourth best of all playoff teams (18.2%). New Jersey's poor power play showing in the Eastern Conference Finals vs. the Rangers is concerning though, as the unit went 3-for-23 in the six-game series win, despite showing occasional flashes of brilliance, such as Ilya Kovalchuk's beautiful goal in Game 6.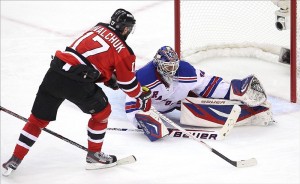 When the Stanley Cup Finals begin on Wednesday night in Newark, the Devils will have to contend with a Los Angeles Kings team that has been airtight on the penalty kill, notching an incredible 91.2% while also scoring five shorthanders. The Los Angeles penalty kill unit, combined with the goaltending of Jonathan Quick, is perhaps the biggest reason they have stormed through the Western Conference in just 14 games on the way to a date with the Devils.
Head coach Peter DeBoer, addressing the media on Monday, stressed that the power play is just one of the things his team must do well to beat Los Angeles.
"They've got multiple things we're going to have to deal with. Obviously, the goaltender (Jonathan Quick) had been if not the best then one of the top two or three guys all year, the size and skill of their forwards, Drew Doughty – it's a three or four-headed monster."
This is not to say that New Jersey's power play is definitely going to be ineffective against the Kings. The personnel the Devils put on the ice with the man advantage, including Kovalchuk, Zach Parise, Patrik Elias, Adam Henrique and Travis Zajac, to name a few, is impressive to say the least. But if the Devils expect to hoist the franchise's first Stanley Cup in almost ten years, the unit will have to be better than it was against the Rangers.