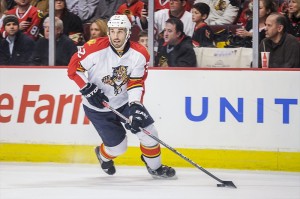 With the Florida Panthers season now fully behind them, and the NHL season about to culminate with the Stanley Cup Finals, it's as good a time as any to look forward to a couple of key decisions that must be made this summer in Sunrise.
First up, what to do with Jason Garrison?  The 27 year old defenseman is coming off of a career year, and he will be looking to cash in.  Now an unrestricted free agent, he's been giving out all the right vibes, saying he wants to stay in Florida.  But make no mistake, his $700,000 seasons (what he was paid this year) are behind him.  So are the Panthers ready to add another $3 million blue liner?  The team is already committed to Brian Campbell for 3 more seasons at $7+ mil, Ed Jovanovski is under contract through 2015 at $4 mil per, and Erik Gudrbanson will be making $3 mil next season (capgeek.com).  While Florida certainly has room under the cap to add another salary like Garrison's, there are more pressing issues than filling the blueline.  Florida tied for dead last in the eastern conference in goals scored last season.  Granted, Garrison placed 5th on the team in points (33) and goals (16), but moving forward, the Panthers are clearly going to have to add offense to continue the success they found this season.  There may be offensive help coming in the form of youngsters like Jonathan Huberdeau, but even if some prospects mature ahead of schedule, they will still be young, inexperienced NHL rookies.  Free agency may be the place to go if Florida wants to add scoring help, even if it comes at the cost of losing Garrison.
A second issue with signing Garrison to big money is the pipeline of blueline prospects that will be coming through south Florida.  Tyson Stratchan played 15 games during the regular season, and added a couple playoff games to his resume with Florida.  He also made a few NHL appearances with the St. Louis Blues before coming to Florida, and may finally be ready to join the roster on a permanent basis.  In his short time with the big club this season, he filled in adequately enough, and with his size (6'3", 215 lbs), passed the proverbial eye test.  Throw in 6'4", 2010 2nd round draft pick Alex Petrovic, who registered 12 goals and 36 assists with the WHL's Red Deer Rebels last season, along with 2012 AHL All-Star Colby Robak, there appear to be options ready to step in next season should the Panthers decide to let Garrison cash his checks elsewhere.
http://youtu.be/rOuXmkv45-Y
The other looming decision this summer is what to do in the crease.  Scott Clemmensen played the role of backup last season, and did so quite well posting a 14-6-6 record with a .913 save percentage.  Clemmensen is now a free agent, and could try to parlay his solid backup performances into a starting role this season (although the goalie market could be flooded with starters this summer).  The reason Florida would let "Clemmer" go is that Jacob Markstrom, the goalie of the future is waiting in the AHL wings.  But Markstrom may have to continue to be "of the future," if assistant GM Mike Santos has his way.   He wants Markstrom to spend another season in the AHL.
"He was OK," Santos told the Sun-Sentinel.  "I don't know what else to say. If you look at his numbers they were good.  They could be better and I think they will get better."
At some point, though, Markstrom has to make the move up.  Jose Theodore has one more year on his contract, so it would make sense to bring Markstrom in to backup Theodore next season and let the Swede ease his way into the NHL season.  Of course, that would come at the price of game action for Markstrom.  There's no guarantee that Clemmensen would re-sign with Florida even if they wanted him to stay as the backup and let Markstrom stay in San Antonio, but it's something Florida will have to figure out sometime in the next month.
With free agency fast approaching, Florida has two key decisions to make.  Attempt to sign Garrison to a large, albeit deserved contract?  Should they bring Jacob Markstrom up next season and let Clemmensen go?