WHL defenseman Damon Severson was one of two New Jersey Devils prospects signed to an entry-level contract on Thursday. The Saskatchewan native was drafted by the Devils in the second round of the 2012 NHL draft.
Here is some more information on one of New Jersey's newest prospects.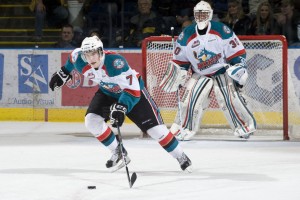 Vital Statistics
Height/Weight: 6'2", 195 lbs.
Hometown: Melville, Saskatchewan
Drafted: Second round, 60th overall by the Devils in 2012
2011-12 Team: Kelowna Rockets (WHL)
Junior Career
Severson has spent the last two years with the Rockets. After posting 17 points in the 2010-11 season, he doubled his total to 34 points this past year. He has also played in 14 playoff games for Kelowna and finished with four goals.
He played for the Canada Western team at the 2011 U-17 Challenge and had two assists in five games. In addition to playing in the 20102 CHL Top Prospects Game, he represented Canada at the U18 World Championships. There, he had two assists and tied for a team-high plus-seven as Canada won the bronze medal.
What He Brings
After being drafted, Severson told Rich Chere of The Star-Ledger that he considers his skating and strong shot his biggest assets. He likes to put the puck on net as much as possible, and he feels his all-around game can benefit New Jersey.
In an interview with the media at the draft, Severson said he was "pumped up" to be chosen by the Devils and was hoping the team would choose him. He further told Chere, "Going to New Jersey, I've never been there yet, but I'm definitely excited. I can't wait to get things started with New Jersey."
As one can see, Severson is already embracing the opportunity to be in the Devils' system. This enthusiasm can only help as he continues to develop his game and compete for an eventual spot in the NHL.
Severson's NHL role model is Shea Weber, a Kelowna alumnus and the current captain of the Nashville Predators. He likes Weber because he has been in the Rockets system already and knows what it's like to be an upcoming NHL blueliner.
What's Next
Severson likely will not enter the Devils' system for another two to three years. Until then, he will go back to Kelowna for his third WHL season. The team opens its preseason schedule this weekend with two games against the Victoria Royals