With well over a couple months to assimilate the results of the 2012 NHL draft and subsequently recover from NDWS (NHL Draft Withdrawal Syndrome), here are my projected top five prospects selected in each of the seven rounds.
I say projected because one will inevitably require three to five years or more to reflect back and truly ascertain whether or not the prospect was indeed a valuable pick at the place where he landed in the draft.
This ranking is based on perceived value for the selections made, influenced by THW's The Next Ones Draft Guide and Final Rankings.
The order of prospects listed is simply in order by which they were drafted. That is, the prospects are not ranked within each round. For instance, in round one I would actually have Teravainen followed by Grigorenko as the most valuable selections based on where they were selected and the upside in terms of potential that they possess.
Round 1
7. Minnesota, Mathew Dumba, D, Red Deer (WHL)
11. Washington (from Colorado), Filip Forsberg, C, Leksand (Sweden)
12. Buffalo, Mikhail Grigorenko, C, Quebec (QMJHL)
18. Chicago, Teuvo Teravainen, LW, Jokerit (Finland)
22. Pittsburgh, Olli Maatta, D, London (OHL)
The Minnesota Wild are poised to turn the page and become one of the most dangerous teams in the coming seasons. Mat Dumba is going to be undoubtedly a key part of that. With all eyes on Ryan Suter on the blueline when we do get back to playing hockey, Dumba will be the X-factor and difference-maker Wild fans will come to love. He is an explosive athlete who can change the tide of a game with a devastating hit or timely offensive play.
The fall of Forsberg was one of the big stories from the first day of the NHL draft. Most thought Forsberg would be a top five or six pick, with some thinking he could easily go second overall. He will require some seasoning, but the Capitals get an all-around high-end forward prospect.
When it's all said and done, Grigorenko may very well be the most offensively talented forward in this draft class – not too bad for a twelfth overall selection by the Sabres. While that may be a bold statement with the likes of Yakupov, Grigorenko has a Malkin-esque quality about his game when he comes to the rink and gives it all (when being the operative word). The dreaded Russian Roulette Factor obviously played a role in his descent out of the top ten.
Next to Forsberg, Teravainen was perhaps the biggest surprise slider in the first round. This is slightly shocking, as on most draft boards he was the huge riser on many lists as the hockey season played out. He might very well be the third or fourth most offensively gifted player in this draft. The Blackhawks could have an offensive dynamo on their hands.
The Penguins surprised everyone by taking quarterback defenseman Derrick Pouliot at eighth overall. Pouliot was still a good value pick even if he went off the board earlier than projected. The rich get richer, however, as Maatta joins the Penguins ranks of an outstanding stable of defensemen prospects. Maatta made an excellent transition to the OHL and the North American style of play this past season. Already solid defensively, his offensive game is also continuously developing. More than one scouting outfit had him going as high as the top ten.
Round 2
33. Montreal, Sebastian Collberg, RW, Frolunda (Sweden)
35. Toronto, Matthew Finn, D, Guelph (OHL)
49. Detroit, Martin Frk, RW, Halifax (QMJHL)
50. Nashville (from Philadelphia through Tampa Bay), Colton Sissons, C, Kelowna (WHL)
51. Montreal (from Nashville), Dalton Thrower, D, Saskatoon (WHL)
The Montreal Canadiens may as well been drafting at PNC Park in Pittsburgh (home of the Pirates) as they hit almost each and every draft pick out of the park – especially in the second round. Collberg may have struggled with limited icetime in the SEL, but he was lights out in international play. The Habs should have a shiny new speedy sniper on their hands in a few seasons. Dalton Thrower is a nothing short of a true warrior on the blueline. He's feisty, passionate, dedicated, with an offensive flare to his game. He's going to log a ton of minutes. I personally ranked both as solid first rounders.
You may want to sit down for this: in a shocking development, the Detroit Red Wings may have a second round gem on their hands. Frk-like prospects always seem to fall in the lap of GM Ken Holland and scouting crew. Frk was highly touted for quite some time, but has not quite lived up to all the initial hype in recent times. He has had some injuries, which have not helped his case. The highly skilled forward possesses a lot of offensive upside and will be likely given plenty of developmental time by the ever-patient Red Wings.
The Predators did not have a first round pick, but more than made up for it with the selection of Sissons (as well as Pontus Aberg). Sissons may have some work to do with respect to his skating, but there is no denying his nose for the net and fearless desire to succeed.
Round 3
64. Montreal, Tim Bozon, LW, Kamloops (WHL)
70. Winnipeg, Scott Kosmachuk, RW, Guelph (OHL)
72. Colorado, Troy Bourke, LW, Prince George (WHL)
82. Ottawa (from Nashville), Jarrod Maidens C-LW Owen Sound (OHL)
91. Edmonton (from Los Angeles), Daniil Zharkov, LW, Belleville (OHL)
The Habs strike gold again with Bozon, who had a brilliant year in the WHL, his first season in North America. The Jets selection of Kosmachuk was a savvy one. The two-way forward was projected as an early second rounder. The Avalanche might have a Parise-lite in Troy Bourke. Read my detailed profile on Bourke here. Concussion issues are undoubtedly what caused Maidens to drop to the third round. If he can trudge through his health issues, the Senators will have a solid offensive forward who can elevate his game when the situation calls for it. Zharkov is a big, speedy winger with a sniper's mentality. He has some work to do, especially when it comes to defensive play and consistency. The Oilers add further depth to their already impressive array of young gun forwards.
Round 4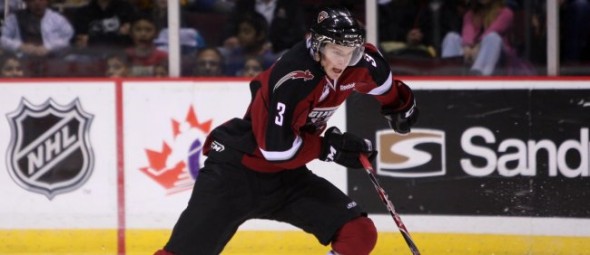 94. Montreal, Brady Vail, C, Windsor (OHL)
104. Dallas, Gemel Smith, C, Owen Sound (OHL)
105. Calgary, Brett Kulak, D, Vancouver (WHL)
118. Nashville (from Phoenix), Mikko Vainonen, D, Hifk (Finland)
119. N.Y. Rangers, Calle Andersson, D, Farjestad (Sweden)
The Habs are at it again to lead off the fourth round. Vail is a solid two-way forward and deemed second round talent. The fall of Gemel Smith was quite curious to me. He is somewhat undersized, but is an absolute ice warrior. Well in for the Stars to land him this late in the draft.
I have been raving about Brett Kulak for some time and I went as far as saying he is a first round talent. He's a subtle, silent ice assassin. At this point, he plays a quiet, but super-efficient game. Under the tutelage of Don Hay and the rest of the Vancouver Giants staff, Kulak should continue to develop nicely. He also seems poised to break out offensively as well.
The Predators and Rangers both find very good value in the fourth round with a pair of Scandinavian defenders – Vainonen a more defensive defenseman and Andersson providing more of an offensive spark. 
Round 5
122. Montreal (from Columbus), Charles Hudon, LW, Chicoutimi (QMJHL)
131. Boston (from Tampa Bay), Seth Griffith, C, London (OHL)
136. Ottawa, Robert Baillargeon, C, Indiana (USHL)
148. Phoenix, Niklas Tikkinen, D, Blues (Finland)
149. Chicago (from N.Y. Rangers), Travis Brown, D, Moose Jaw (WHL)
It should come as no surprise to find Charles Hudon at the top of the fifth round in terms of value picks. Hudon has first round skills, but because of size he was pegged by most to be a second or third rounder. His play in the summer Canada-Russia series was spectacular and gives hints of what he can bring to the rink for the Canadiens in the future.
Second-year eligible Griffith was a surprise non-selection in the 2011 draft. He came in and had a really solid OHL campaign this past season to ensure he wouldn't get overlooked this draft year. Many thought he would land in the third round.
Robert Baillargeon is a good skating pivot with solid puck skills and a high hockey IQ. Niklas Tikkinen possesses good vision from the blueline coupled with his very good skating ability. He is still learning the defense position having only switched over recently in his career from being a forward. Travis Brown is a good-sized, mobile blueliner with a nice shot. He had somewhat of an underrated season in the Dub, notching 31 points as a rookie.
Round 6
161. Tampa Bay, Jake Dotchin, D, Owen Sound (OHL)
165. Calgary, Coda Gordon, LW, Swift Current (WHL)
167. Washington, Riley Barber, RW, USA U-18 (USHL)
173. Pittsburgh, Anton Zlobin, RW, Shawinigan (QMJHL)
180. New Jersey, Artur Gavrus C, LW, Owen Sound (OHL)
Mark Edwards and HockeyProspect.com ranked Dotchin as a first rounder which should signify good value for the Lightning. The Flames get another very good value pick with the selection of Coda Gordon. Gordon is an offensively talented sniper who has to work on his skating. The Caps landing of Barber in the sixth round was well worth the pick. Barber was considered a third round talent by most scouting services.
The Penguins selected the dangerous Russian forward and Memorial Cup hero Zlobin in his second year being draft eligible. The Devils may have a gem on their hands in Gavrus. The native of Belarus had a solid first season in the OHL. He is an excellent skater with slick puck skills.
Round 7
186. Calgary (from Toronto), Matthew Deblouw, C, Muskegon (USHL)
191. Chicago (from Tampa Bay through San Jose), Brandon Whitney, G, Victoriaville (QMJHL)
197. Washington, Jaynen Rissling, D, Calgary (WHL)
202. Tampa Bay (from Nashville), Nikita Gusev, LW, Cska 2 (Russia)
211. Los Angeles, Nick Ebert, D, Windsor (OHL)
The Flames have yet another crafty pick in Deblouw. He projects as a bottom 6 forward, but his solid defensive acumen and all-out work ethic bode well for him to achieving his big league goals. The Blackhawks landing the second ranked North American goalie by NHL Central Scouting has to be considered a small victory for the club. The 6'5" netminder is a bit of a project, but to nab him this late in the draft had to be a bonus for Chicago.
Rissling could prove to be another astute pick by the Capitals. The 6'4" forward had a solid year in the WHL for the Calgary Hitmen and should play an even bigger role on the blueline for the squad this season. His 23 points in 55 games was very solid.
Gusev could not have scripted it much better in landing with the Lightning. Tampa Bay also owns the rights to fellow countryman and sometimes linemate Nikita Kucherov. If any team could lure the puck magician out of Russia, it is Steve Yzerman and the Lightning.
Mr. Irrelevent. Nick Ebert gets his chance to prove all naysayers wrong after being the last overall selection of the 2012 draft. Once slated to be even a top ten potential pick, oh how the mighty have fallen. His plunge seemed a little too drastic, however, and the Kings look to have made a shrewd selection to close out the draft in 2012.  
***
Christopher Ralph is THW's lead prospect/draft analyst as well as a Managing Editor.
***
Follow ChrisRalphTHW on Twitter as he infiltrates, dissects and analyzes happenings of hockey prospects and the NHL entry draft.