The New Jersey Devils have a lot of things to improve upon, and their blue line is one of them. It's a deep free agent class up front, but aside from Erik Karlsson and Jake Gardiner, the group lacks depth on defense. That means general manager Ray Shero will have to look to a trade to improve his roster.
One name that should be of interest is Tyson Barrie of the Colorado Avalanche, who has found himself in the rumor mill as of late. In a recent mailbag in the Denver Post, Avs' beat writer Mike Chambers stated there is a very good chance Barrie is traded by the Feb. 25 deadline or this summer (from 'Avs Mailbag: Goaltending woes, Tyson Jost resets with Eagles, Connor Timmins update and more,' The Denver Post – 2/6/19). Barrie has 40 points in 50 games this season and would be a perfect fit for the Devils. Here's why.
What Barrie Would Bring to the Devils
Barrie may not get the attention that he deserves, but he is one of the better offensive defensemen in the NHL. Since the start of 2016-17, he's averaged 1.15 points per 60 minutes (P/60), ranked 14th in the NHL (min. 500 minutes played), which is better than names such as John Carlson, John Klingberg, and Shea Weber.
One of the biggest problems for the Devils' blue line is their inability to pass the puck. Damon Severson and Will Butcher excel in this area, but they can't be on the ice all the time. That leads to them getting hemmed in the defensive zone more than they want. Barrie would help mend that situation in a big way, as the following tableau shows.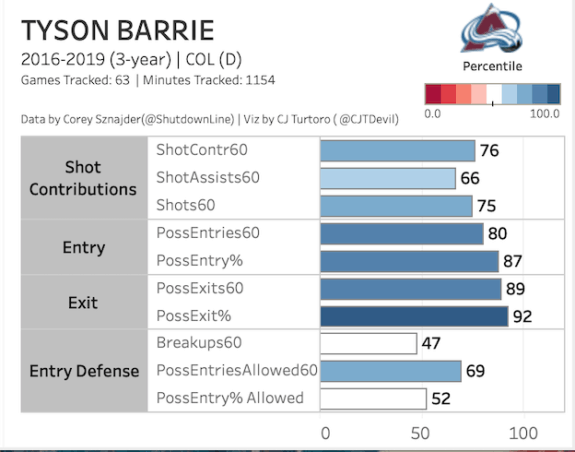 Barrie's biggest strengths are exiting the defensive zone with possession and entering the offensive zone with possession. He'd help the Devils break out on the rush and get their offense started by getting the puck to their forwards through all three zones. That's why he'd be a great fit for the attacking style they want to play.
As great as Barrie is on offense and transitioning the puck, the Devils shouldn't expect to be getting a shutdown defenseman. Since the start of 2016, he has the most offensive zone starts on the Avalanche for a defenseman. Avalanche head coach Jared Bednar has sheltered him quite a bit. And even then, Barrie has a Corsi For of 49.64 percent and an expected goals of 46.49 percent.
The Devils would have to be careful with his deployment. They can't force him into something he's not, and he's not a shutdown defenseman. If they're able to play him to his strengths, such as the Avalanche, then they'll able to get the most out of him too.
Barrie's Price Will Be High
Barrie would fill a big need for the Devils, but what would they have to do to make a trade work? The Avalanche have a nice group of defense prospects that includes Cale Makar and Conor Timmins, two right-handed shots. That would make for a crowded situation on the right side of the Avs' blue line.
However, if the Devils acquired Barrie, they'd be faced with a similar scenario — with Barrie, Severson, and Vatanen on the right side. The Devils' left side needs more help than their right, so someone could move over to the left. Vatanen has played on his off hand before, so that's an option that makes sense.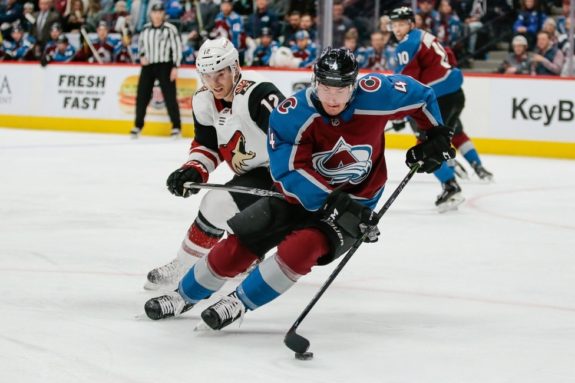 As for what it'd take to acquire Barrie, I doubt he'd come cheap. He's a high-end offensive defenseman, and he has one season left on his contract. I'd imagine the Avs would want a high pick, but there's no chance the Devils are giving up their 2019 first-round pick. They'd probably want a top prospect or two from the Devils also.
If a high pick and two top prospects seem like a lot to give up, you'd be right. The Toronto Maple Leafs gave up a first-round pick, and their third and fifth-best prospects to acquire Jake Muzzin. For the Devils, that would be trading Michael McLeod and Mackenzie Blackwood, and you can bet Blackwood isn't going anywhere. That'd be a lot to give up, and unlike the Leafs, trading that many futures wouldn't be best for a team that's still rebuilding.
Another option would be trading a roster player, which the Avs may prefer. The Devils did so when they swapped Adam Henrique to the Anaheim Ducks for Vatanen. The problem is they aren't ripe with high-end scorers in the NHL, at least ones they'd be willing to trade, so that only complicates matters.
Related: The Best NHL Defensemen Ever
Barrie is What the Devils Need
There's a high price to pay for improving your roster, whether it's in free agency or a trade. At some point, the Devils will have to pay that price to get out of the basement. Regardless if they end up with Barrie, he is the type of defenseman they should be looking to get.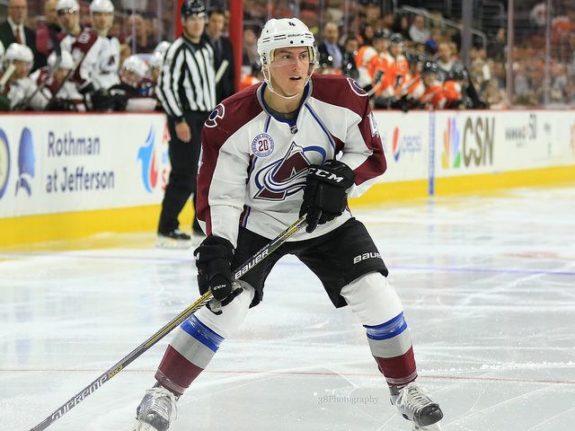 He'll provide offense, and he's great at transitioning the puck through all three zones, which is what has hindered the Devils on the back end for quite some time. He has to come at a cost that won't mortgage their future. If they're able to find such a deal, then he'll be worth what they'll have to pay for him.
*    *    *
Advanced stats from Corsica Hockey, except where noted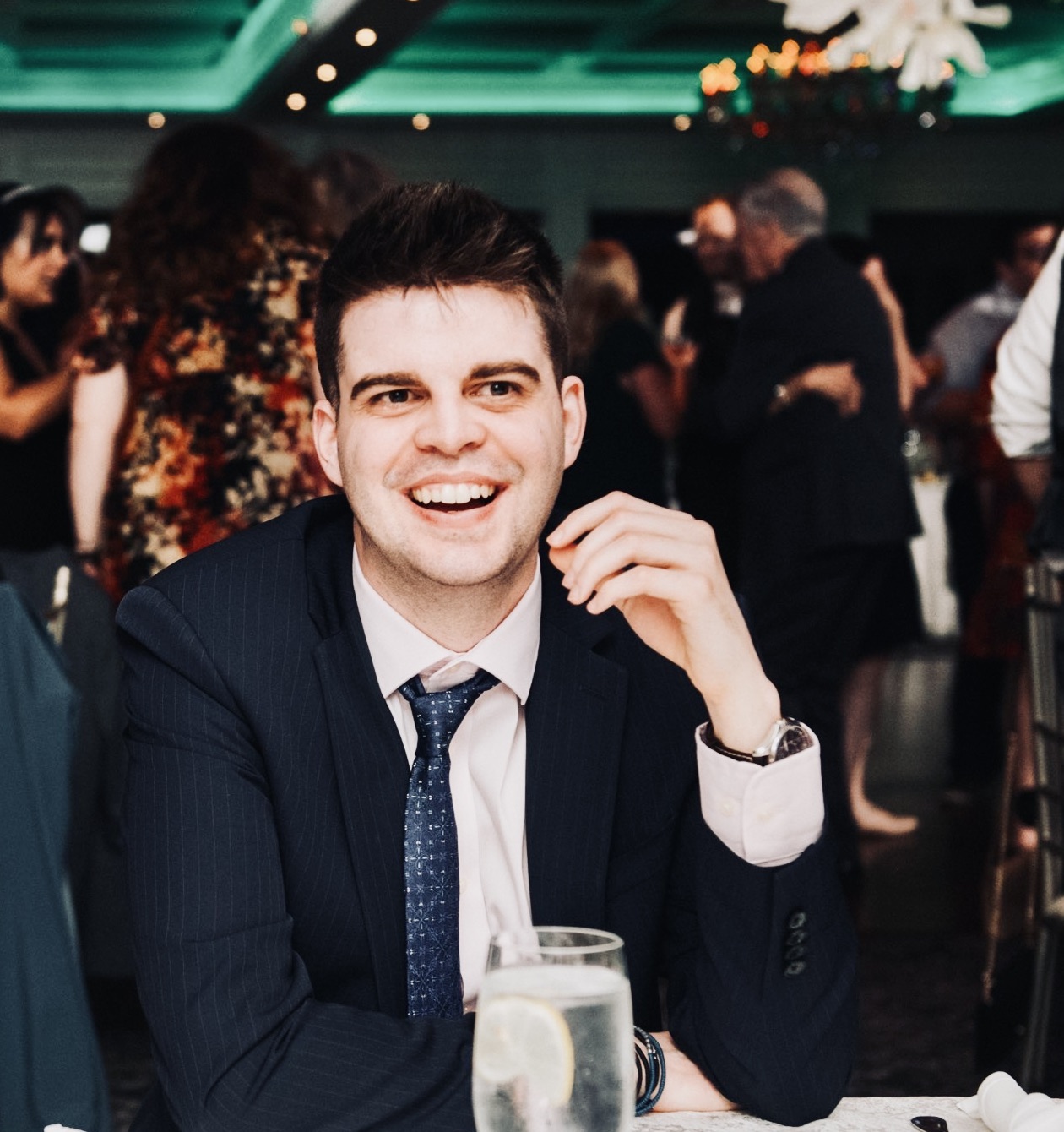 Alex Chauvancy is a New Jersey Devils writer for The Hockey Writers who has a penchant for advanced stats, prospects, signings and trades. He previously wrote for Devils Army Blog, a New Jersey Devils fan blog, from 2015-2017