Vancouver Canucks head coach Travis Green did not divulge whether he would play on Monday night or not, but that didn't stop Canucks fans from expressing their excitement when they heard 22-year-old prospect Zack MacEwen had been called up to the big club.
Everyone is excited about the MacEwen recall, except Goldobin

— Satiar Shah (@SatiarShah) February 10, 2019
The Stratford, P.E.I., native is one of few Utica Comets prospects that have made significant strides this season in the American Hockey League and could provide some much needed secondary scoring for the Canucks if given the right linemates.
Here are a few things you need to know about MacEwen ahead of his (probable) National Hockey League debut this week.
MacEwen Was on Fire for the Utica Comets
It was quite an eventful weekend for MacEwen, even before Sunday's news.
During two home games, the 6-foot-4, 211-pound winger tallied a goal and five assists, giving him 13 points in his last 10 games. His lone goal of the weekend started a comeback for the Comets on Saturday, as they were down to the Rochester Americans 2-0 early in the second frame before this laser of a shot cut the lead in half.
WHAT A SHOT! @zmacewen11 rips one short side for his 17th of the year! @EvanMceneny2 has the assist!#ROCvsUTI pic.twitter.com/EwjW2hmrIe

— Utica Comets (@UticaComets) February 10, 2019
The Comets would add two more goals in the second and then two in the third to win the game 5-2. MacEwen assisted on three of those additional four goals. On Friday, Utica was down 2-1 to the Lehigh Valley Phantoms entering the third period. MacEwen then assisted on the game-tying and eventual game-winning goal in another 5-2 win.
On the season, MacEwen is third on the team in scoring with 42 points in 49 games. That total is tied for 17th in AHL scoring. He is also second on the Comets in penalty minutes, with 49. His points-per-game has nearly doubled from his rookie campaign, jumping from 0.5 last season (33 points in 66 games) to 0.86 this season.

His style of play is a combination of many things: speed, skill and as Brian Burke would say, "truculence." He finishes his checks on the forecheck and wins puck battles, but his hands also aren't bad for someone of his size and his shot is a weapon.
MacEwen Went Undrafted
MacEwen is the definition of a late-bloomer. He was eligible for the NHL Entry Draft in 2014, but at the time had just completed his first season of Junior A hockey in the Maritimes (tier II junior). Playing for the Amherst Ramblers of the Maritime Jr. A Hockey League, he recorded just 14 points in 50 games in his first season.
He spiked to 52 points in 46 games as an 18-year-old in his second season for the Ramblers, while also adding 103 penalty minutes. His strong play earned him a six-game stint with the Moncton Wildcats of the Quebec Major Junior Hockey League halfway through the 2014-15 season, plus another three games in March, before suiting up for nine playoff games.
Related: Canucks' Sutter Needs Need to Be Traded
He scored 41 goals and add 73 assists the next two seasons in the QMJHL, split between the Wildcats and the Gatineau Olympiques. After his first full QMJHL season, MacEwen was invited to the Anaheim Ducks' training camp but was released.
MacEwen Was a Sought After Free-Agent
At the tail-end of his final season of major junior, the Canucks signed MacEwen to a three-year entry-level contract. He responded by finishing the regular season with 12 points in his final seven games, before adding six goals and three assists in seven playoff games.
At times, MacEwen dominated the QMJHL as a 20-year-old because of his size and underrated skill. Look at this highlight with the Olympiques, where he goes through the entire Halifax Mooseheads team.
À voir! Séquence incroyable de Zack MacEwen hier soir! #LHJMQ pic.twitter.com/6xjlX1n5a7

— Olympiques Gatineau (@OlympiquesGAT) November 3, 2016
If only he had scored on either of those miraculous chances.
A few weeks before the signing, Sportsnet's Elliotte Friedman reported that three other NHL teams were also interested in his services: the Ottawa Senators, the Tampa Bay Lightning, and the Toronto Maple Leafs. The above clip explains why.
No Word Yet on When MacEwen Will Play
During a Sunday afternoon press conference, coach Green was asked, "Will [MacEwen] play on this call-up?" His answer: "We'll see. I'm not committing to anything." He did preface it by saying MacEwen is a player the Canucks have been hoping to get a look at.
"He's progressing and he's a good character guy. A big body that has decent hands at that level and I'd like to get a look at him. You're always looking for size and guys that can play the game and skate," Green said. "He's well-deserving of the call-up. He's a guy we've liked from day one. He works hard at his game. Like I said, he's a high character guy that competes hard and wants to become a better hockey player and does whatever it takes. I just think it's the right time with all the games and we have a roster spot to bring him up."
Related: Markstrom Is the Canucks' Second-Biggest Surprise
While last week was a busy one for the club with four games in six nights, this week is more of the same. The Canucks face the San Jose Sharks at home on Monday night, before flying south to face the Ducks on Wednesday and the Los Angeles Kings on Thursday. Then on Saturday they face the Sharks yet again, this time as the visitors.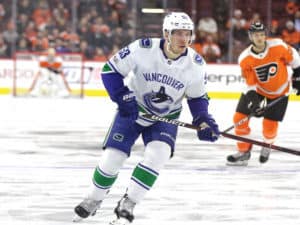 As Green said, the schedule factored into the decision to call up MacEwen, which means he's almost guaranteed to play at some point. Could it be Monday? Perhaps, but my guess is Wednesday or Thursday so he can get in a few practices with the team first and bring some fresh energy during back-to-back contests.
His linemates are also anybody's guess. Markus Granlund played just over eight minutes on Saturday, and some are speculating he will be the one to come out of the lineup to make room. Others believe Nikolay Goldobin will be scratched. While either one is a good guess, it still doesn't tell us who MacEwen will line up beside. It could be Bo Horvat as his centre, it could be Brandon Sutter, and it could be Jay Beagle.
No matter when he debuts and who he plays with, that first NHL game will be a memorable one for the 22-year-old Maritimer and his whole family.