Author's Note: As part of the New Jersey Devils' 30th anniversary season, we will be looking back at the careers of several prolific Devils players and coaches. We hope the Devils are able to play this year and celebrate their time in New Jersey, but in the meantime, enjoy catching up with your former favorite Devils figures.
Aaron Broten
Position: Forward
Height/Weight: 5'10", 175
Drafted: Sixth round, 106th overall by Colorado Rockies in 1980
Pre-NHL Squads: University of Minnesota (WCHA), Fort Worth Texans (CHL)
Devils Career
Broten joined the Devils for their first season in New Jersey in 1982-83, but had played in the NHL when the Devils were the Colorado Rockies in 1981-82. He had 39 points in 58 games prior to the team's relocation.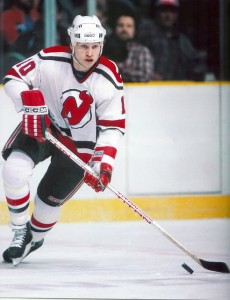 He led New Jersey in scoring in that inaugural season, putting up 55 points in 73 games. He was second on the team with 16 goals as well. In his time with the team, he played a full 80-game season every year but once, 1985-86. But still, he managed 43 points in 66 games that season.
In 1988, Broten tallied a career-high 83 points and tied his personal best in goals with 26. He had 26 goals in the season prior to go with 79 points. The Devils also made their first run to the playoffs that year, and Broten helped lead the way with 16 points in 20 games. New Jersey made the Eastern Conference Finals, but fell to the Boston Bruins in seven games.
But after 1988, things fell off for Broten. He had 59 points in 80 games in 1988-89, but the team ended up missing the playoffs. In the 1989-1990 season, he had 18 points in 42 games before being traded to the Minnesota North Stars.
Post-Devils
Broten did not last long with the North Stars, moving on to the Quebec Nordiques for the 1990-91 season. He had nine points in 20 games before being traded to the Toronto Maple Leafs. His 10 points in 27 games gave him just 19 points on the season.
He concluded his career with the Winnipeg Jets in 1992 and had nine points in 25 games. Despite low regular season production, however, he was one of the better postseason players on his post-Devils teams. He had five points in seven games with the North Stars in the 1990 playoffs, and with the Jets, he had four points in seven games in 1992.
Broten retired after the 1991-92 season.
Did You Know?
Aaron is a brother of two other NHL-ers, Neal and Paul. Neal played for the Devils from 1994 to 1996. Paul played for the rival New York Rangers for 32 games in 1989, then rejoined the team from 1990 through 1993.
Where is He Now?
Aaron Broten was inducted into the US Hockey Hall of Fame in 2007; he joined his brother Neal, who was inducted in 2000. He is an investment advisor in his hometown of Roseau, Minnesota and continues to volunteer with high school and youth hockey.
Broten is also active with Hockey Ministries International, an Ottawa-based organization that hosts hockey camps and meets the spiritual needs of hockey players and their families.