He is the one who stayed. When other players have sought greener pastures or hopped across the Hudson River, he has remained in the Garden State. Since 1995, Patrik Elias has been a vital member of the New Jersey Devils. Now, Elias is a member of the 1,000 point club. You're not really supposed to root in this business but having followed Patty since he was a 19-year-old on the Albany River Rats, I couldn't be any more proud.
1,000 NHL points. pic.twitter.com/qooSgxdF65

— NHL (@NHL) January 7, 2015
Elias has eclipsed many a milestone in a Devils sweater. A look at the franchise record book will tell you all you need to know. In addition to winning a pair of Stanley Cup titles, Elias is at or near the top of virtually every notable category in club history. As career totals go, Elias ranks third in games played, first in goals, assists, points, goals created, even strength goals, power play goals, game-winning goals, shots, adjusted goals, assists, points, goals created, total goals on ice for, power play goals on ice for, hat tricks and offensive point shares. Elias is also second in plus/minus rating and short-handed tallies. Where single-season records are concerned, Elias' 96-points during the 2000-01 campaign, are a team best.
Congratulations to Patrik Elias on registering his 1,000th career @NHL point! #BUFvsNJD

— New Jersey Devils (@NJDevils) January 7, 2015
Yes, Elias has been racking up the points for quite some time. Whether you go back to his Albany days with Scott Pellerin and Steve Sullivan or New Jersey with the "A-Line" of he, Petr Sykora and Jason Arnott or the "EGG-Line" of he, Scott Gomez and Brian Gionta, Elias has been part of a lot of point production with the Devils organization.
#StickTaps to former #AHLAllStar Patrik Elias on recording his 1,000th career #NHL point tonight! #Legend pic.twitter.com/EUw7ucGDwO

— American Hockey League (@TheAHL) January 7, 2015
Now that Elias has reached the 1,000 point plateau, here's a look at some of those points along the way.
1 – December 5, 1996. On a Bobby Holik goal, Elias records an assist for his first career point, as the Devils edge the Calgary Flames, 2-1, at New Jersey.
100 – December 9, 1999. Elias adds a secondary helper on an Arnott power play goal in the third. New Jersey blanks the Chicago Blackhawks 4-0 at Chicago.
200 – December 27, 2000. Elias registers the primary assist on a game-tying, power play goal by Arnott, in the third period. At New Jersey, the Devils tie the Columbus Blue Jackets, 2-2.
300 – January 23, 2002. Early in the third frame, Elias would notch a power play tally, besting Roberto Luongo, which stood up as the eventual game winning marker. The Devils defeated the Florida Panthers, 3-1, at Florida.
400 – December 10, 2003. Yet another game winning marker for Elias. This time in overtime, Elias pots the lone New Jersey goal, beating Garth Snow. At New Jersey, the Devils shutout the New York Islanders, 1-0.
500 – April 16, 2006. It was a big day point-wise for Patrik. Hosting the rival Philadelphia Flyers, Elias recorded three points, amassing points 500, 501 and 502. His 500th came on his first goal in the first frame, putting the puck past Robert Esche, putting New Jersey up 2-0 and up for good, with yet another game winner. Elias picked up a secondary assist on a Jamie Langenbrunner goal in the second stanza. Capping off the scoring for good measure, Elias netted his second of the contest in the third, making it a 5-1 final victory.
600 – January 22, 2008. In a 7-3 victory at Philadelphia, it was a three point effort that garnered Elias his 600th career point. Point 599 came on a primary assist, on a Dainius Zubrus power play goal in the first. During the second, Elias picked up the Devils fourth goal, a power play tally which would stand up as the eventual game winner in the second period, beating Antero Niittymaki for point 600. Placing the cherry on top, Elias scored on Martin Biron in the third.
700 – March 14, 2009. At Montreal, Elias picked up points 700 and 701, in a 3-1 Devils victory over the Montreal Canadiens. During the first period, Elias netted his 700th career point, posting a power play goal against Jaroslav Halak. Point 701 also came in the first, a secondary assist, on a Brian Rolston goal.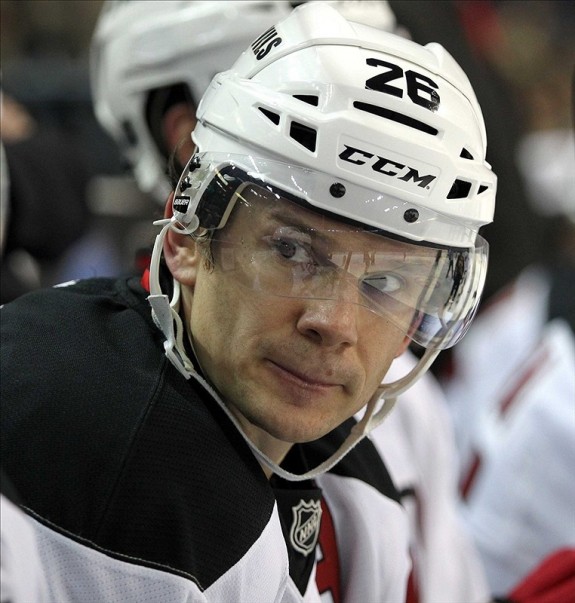 702 – March 17, 2009. On the same evening that Martin Brodeur would record an NHL best 552 victories for a goaltender, Elias became the all-time franchise leader in points with 702, surpassing John MacLean. At "The Rock," New Jersey edged Chicago 3-2, with Elias getting the primary assist on Gionta's eventual game winner in the second period.
720 and 721 – December 12, 2009. Once again hosting the rival Flyers, it was a 4-1 victory for the Devils. In the first period, Elias notched his 720th point or more importantly, his 300th career goal, besting Brian Boucher. Then in the second, Elias capped off the scoring with goal number 301 and point 721.
800 – February 19, 2011. Registering three helpers in a 4-1 New Jersey victory at Carolina, Elias hit the 800 point mark. The magic dish for 800, came on a third period score by Zubrus.
842 and 843 – December 17, 2011. In a 5-3 New Jersey victory at Montreal, Elias ties and passes MacLean for the franchise record in goals scored. Netting a power play tally against Carey Price in the first, gave Elias point 842 and goal 347. Then in the third, Elias posted point number 843 and goal number 348, breaking MacLean's club record with the eventual game winning marker.
849, 850 and 851 – January 6, 2012. This contest marked Elias' 1,000th career NHL game in a Devils sweater. In this one, Elias looked like he was primed for 1,000 more. The hosting Devils rang up a 5-3 win over the Panthers. Early in the second, Elias scored on Jacob Markstrom for point 849. As the game moved to the third, Elias picked up a pair of helpers, on goals by Ilya Kovalchuk and Zach Parise respectively, collecting points 850 and 851.
900 – January 27, 2013. During a 4-3 Devils loss at Montreal, Elias registered points 898, 899 and 900, posting a goal and a pair of helpers. Point 900 specifically occurred on his second assist, a primary dish on a tally by Zubrus in the third period.
1,000 – January 6, 2015. In a 4-1 Devils victory over the Buffalo Sabres, it was a three-point night for Patty, in front of the home faithful. Elias opened the scoring in the first, besting Jonas Enroth. Later in the frame, Elias provided the outlet pass for the primary helper on a shorthanded tally by Travis Zajac. Finally in the third, with an empty net, Elias dished a secondary assist, on a Mike Cammalleri goal, for good measure. Elias is the 82nd player in NHL history to amass 1,000 points.
With his assist on Mike Cammalleri's ENG, Patrik Elias becomes the 82nd player in #NHL history to compile 1,000 points.

— NJDevilsPR (@NJDevilsPR) January 7, 2015
The next milestone on the docket for Patrik, 400 goals.
Patrik Elias with 1000th point stick and puck and 600th assist puck. pic.twitter.com/mS0jXEsmDH

— Tom Gulitti (@TomGulittiNHL) January 7, 2015
.
Michael Gwizdala covers the New York Islanders for The Hockey Writers. Michael is also an Associate Producer at WNYT NewsChannel 13. Additionally, Michael was once a Media Relations intern for the AHL Albany River Rats. Michael is a graduate of The College of Saint Rose in Albany, NY.