The season is over and it's time to take a look back at some player evaluations from the 2022-23 season. The New York Islanders' defense core has been a staple of the organization since former head coach Barry Trotz came to the Island. When general manager (GM) Lou Lamoriello fired Trotz, he made sure to say that they will stick with the same defensive-minded philosophy under new head coach Lane Lambert. "What Lane takes from Barry and what Lane had the opportunity to observe and whatever changes I feel he will make, I feel it will make us a better team. We will be a little more offensive but we will not give up defense (from 'Lou Lamoriello not straying from Islanders' defensive philosophy amid barren offseason', AMNY, 8/22/22).
For the most part, the Islanders' defensive core was strong but depth definitely became an issue later on in the season. They finished fifth in the NHL with the fewest goals against per game (GAPG) with an average of 2.65 per game. The penalty kill was excellent as well finishing in the top ten. One thing they lacked was getting any offensive production from the blue line. Noah Dobson finished with with 49 points and the next person after that was Ryan Pulock with only 26 points. It was clear, especially in the first round series against the Carolina Hurricanes, that the team lacked a true puck-moving defenseman and power play quarterback. Let's take a deeper dive into the evaluation of the Islanders' defensemen.
Noah Dobson
Dobson has untapped potential and the chance to become a top-pairing defenseman in his career. He thrived under Trotz last season with 51 points, including 22 on the power play. He was still first in offensive stats out of all the Islanders defensemen but it was clear he took a step back this season. The 23-year-old averaged more than 20 minutes of ice time per game. There were moments during this season when he struggled to get the puck out of the zone and it was very noticeable in the first round series against the Hurricanes. In Game 5, he was benched for the final ten minutes after being on the ice for a Sebastian Aho goal.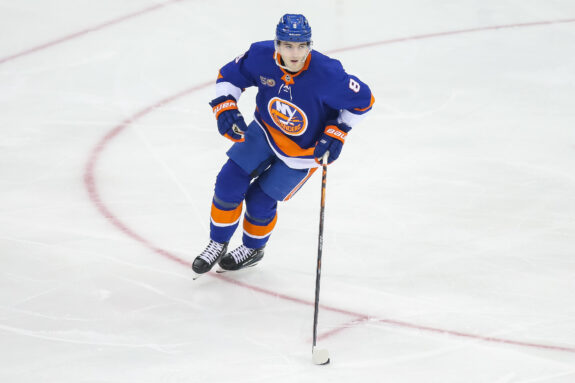 It was a frustrating year for Dobson, especially on the power play. It's not fair to put all of the blame on him for the Islanders' lack of power play success because the entire unit as a whole was bad but he was the one running it for the entire season. They carried that into the playoffs going 1-for-18 in the series against the Hurricanes. The good thing about Dobson is that he is still young and developing. He has the chance to continue to grow his game and improve over the offseason. "I just thought sometimes things came easier or things came harder than different times. There's times where I felt I was playing really well but wasn't getting results and there's times when you weren't playing great but you were getting the results. There's ebbs and flows" (from 'The ups and downs of Noah Dobson's season', Newsday, 5/4/23). He needs to continue to work on his game and take it to the next level. The Islanders are hoping that he will continue to mature and develop into the power play quarterback they desperately need.
Alexander Romanov
When the Islanders traded their first-round pick in the 2022 NHL Entry Draft for Alexander Romanov, many fans were confused as to why they gave up so much for an unproven defenseman. The 23-year-old was a tough physical defenseman in Montreal that had yet to unlock his full potential. He took some time early in the season to get adjusted to the Islanders system but you can see as the season went on he continued to improve. Through the first 40 games of the season, he was the Islanders' leader in giveaways averaging 0.76 per game. As the season went on, he went on to become a key piece on the Islanders' penalty kill. His physical play and ability to clear the puck out of the defensive zone were vital to a team that struggled at getting the puck out already. His season continued to improve and he finished with a career-high 22 points.
---
Latest News & Highlights
---
You can see that when Romanov went down with an injury the Islanders struggled to find someone to take his slot on the left side. The big 215-pound defenseman will be a key piece of the core for the next few seasons after signing a three-year deal with an average annual value (AAV) of $2.5 million. Overall it was a good first season with his new club and based on what we saw in the second half of the season, Romanov is only going to get better. This is one trade that looks like Lamoriello will see a return on his investment.
Ryan Pulock
Pulock has been a mainstay on the blue line for years now. It was a pretty quiet season for Pulock on the offensive side of the puck where he finished with only five goals and 21 points. He averaged about 20:54 time on ice (TOI) per game which was third on the team. Once the playoffs began, he elevated his game significantly. It was especially noticeable during Game 1 as he laid out Jack Drury just one minute into the game. He went on to finish the game with nine hits and was the only goalscorer for the Islanders. "The most physical game I've seen him play," Lambert said. "I thought he played amazing" (from 'Islanders looking to 'feed off' of Ryan Pulock's playoff intensity', NY Post, 4/18/23).
Related: Islanders' Veterans Are Key to Success Moving Forward
Pulock always seems to elevate his game come playoff time. He averaged 23:37 through the series against the Hurricanes which was tied for first with Adam Pelech. He has a track record of elevating his game in the postseason. His 10 points (two goals, eight assists) and 45 shots through 22 games in the 2020 Playoffs led all Isles defensemen. He was the most consistent defenseman all season for the Islanders. It was another strong season for the 28-year-old and he continues to be a very reliable top-pairing defenseman. If he can somehow put together a little more on the offensive side next season, he will be even more dangerous.
Scott Mayfield
This was Scott Mayfield's best offensive campaign of his career. He finished with a career-high six goals and 24 points. The St. Louis native has played his entire career for the Islanders. He is in the final year of a team-friendly deal, signed in January 2018, a five-year extension with an AAV of $1.45 million. He is coming off a strong season where he led the team in blocked shots and takeaways. He is a 6-foot-4 defenseman who brings physicality and an incredibly long reach. It would be a real blow to the Islanders' defense core if they are not able to keep him.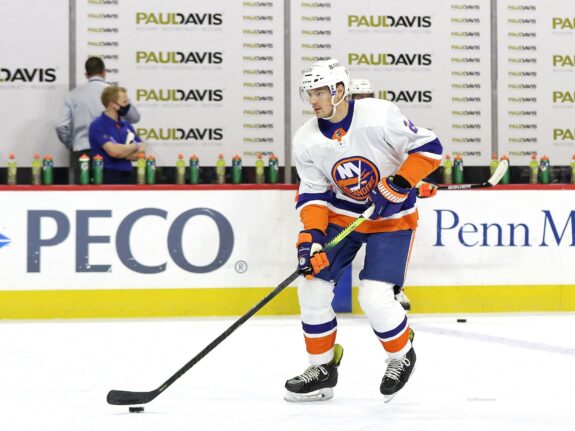 The big question is, can the Islanders afford to keep him? You'd have to expect Mayfield will get a big raise from his previous contract probably somewhere in the area of $3-4 million AAV on a long-term deal. He is coming off a career year and has plenty of playoff experience with this group. There will certainly be a huge market for him if he hits unrestricted free agency (UFA). He has never wavered about wanting to stay, though. "I love it here," Mayfield said. "My wife loves it here. The community is great. The team is great. The ownership is great. We love everything about the Islanders. It's part of the business and now it's all about just playing my game (from 'Scott Mayfield loves the Islanders, but free agency looms', Newsday, 11/26/22). This was the best season of his career and he has earned a big raise. Hopefully the Islanders can clear the cap space in order to keep him. If not, there will be a big hole on the blue line to fill.
Adam Pelech
You can argue that there was no Islander more important than Adam Pelech. When he went down with a concussion in December, the team began to slide. They went 7-9-5 without him and were in danger of missing the playoffs. They struggled to get back on track until he returned. They were a much better team with him in the lineup. They finished 35-22-4 when they had their top defenseman. "Teams have top players for a reason and teams miss top players for a reason," Lambert said. "He's a huge piece of our team. When he's in, we're a better team" (from 'Islanders have been on roll since this Adam Pelech's return', NY Post, 3/30/23).
Related: Islanders Offseason Will Have Unique Obstacles
Pelech doesn't do anything flashy on the ice. He's a model of consistency on the Islanders' blue line. He led all players in plus/minus with a rating of plus-15 and despite his injury, he still led all defensemen in average ice time at 21:39 per game. The one criticism of his game is that he doesn't produce enough offensively, but that's not his role. He is the Islanders' premier shutdown defenseman playing against other teams' top lines and has become one of the best in the NHL at his role. It was another very strong season for him and it is clear when he plays, the Islanders are a much better team.
Sebastian Aho
This was the first full season that Sebastian Aho got a real opportunity to play regular minutes for the Islanders. He played in 71 games and produce 23 points with a plus-9 rating. With an injury to Pelech early in the season, Aho got the opportunity to jump in. One thing that stood out was his exceptional skating ability and ability to carry the puck. He got his chance during the playoffs to move to the power play unit and assisted on the lone power play goal scored by Kyle Palmieri in Game 3. He was one of the few Islanders defensemen this season with any sort of offensive ability. He has the capability to have that first breakout pass and start the rush for the forwards.
As Aho got more playing time throughout the season, you could see the confidence in his game continue to grow. "Just getting into habits, kinda," he said. "Watching a lot of film and trying to analyze what it is that you want to change. And then trying to think about it in practice, first of all, and then translate it to the game. It's not easy, but well worth it" (from 'Islanders-Hurricanes series comes with an odd Sebastian Aho twist', NY Post, 4/17/23). He did a good job of filling a hole on the blue line. It was his first chance at getting a real opportunity to prove himself, and he showed what he could do.
Overall, the Islanders' defense core had a good season. They kept the goals against down, finished fifth in blocked shots as a team, and had one of the best penalty-killing units in the NHL. The thing that hurt them at the end of the year was the lack of depth. Anytime they lost someone to injury, they didn't have guys who could step in. Samuel Bolduc and Parker Wortherspoon did a decent job when they had to jump in but it just wasn't enough. They also need a lot more offensively from the blue line. If Dobson can regain his offensive production from last season and Aho becomes a regular contributor they will improve that aspect. There are a few UFAs they can target if they want to upgrade there. They also need to try and retain Mayfield or else there will be a bigger hole going into next season. The team's true identity is elite defense and goaltending. They have to find a way to get back to that in 2023-24.