According to statistics from NHL.com, only 37 Swedish-born goalies have played a game in the league, accounting for just four percent of all goalies (866). Additionally, only 16 suited up for a playoff game, which interestingly also equals four percent of all netminders to play for the Stanley Cup. 
Historically, no Swedish goalie has led their team to a championship, although Pelle Lindbergh (Philadelphia Flyers) and Henrik Lundqvist (New York Rangers) came the closest in 1985 and 2014, respectively. 
Interestingly, only 11 of the country's goalies have a winning record, with 15 appearing in over 100 games. Additionally, seven netminders have played less than ten games, and only six have appeared in more than ten playoff games. Furthermore, only two have caught with their right hand, meaning left-handed goalies have dominated the country's history. 
Related: NHL Awards History: Sweden Has Seen Success
Even though Boston Bruins' All-Star Linus Ullmark is the odds-on favorite to win the Vezina Trophy this season, Swedish goalies have yet to win a lot of hardware in the NHL. Furthermore, the country has only won five awards at the position: two Vezina Trophies, two William M. Jennings Trophies, and one Bill Masterton Trophy.  
Although there are few accomplishments to discuss regarding the players on this list, every goalie in the top ten achieved something so few people ever do: play in the NHL. 
10. Anders Nilsson (2011 – 2020)
Anders Nilsson was a busy guy during his brief seven-year career in the NHL, suiting up for 161 games for six different franchises. Surprisingly, he had one winning season, going 8-7-2 with the New York Islanders in 2013-14. Despite finishing with a 59-74-15 lifetime record, he is one of eight Swedish netminders to play in 160 games while collecting the ninth most wins.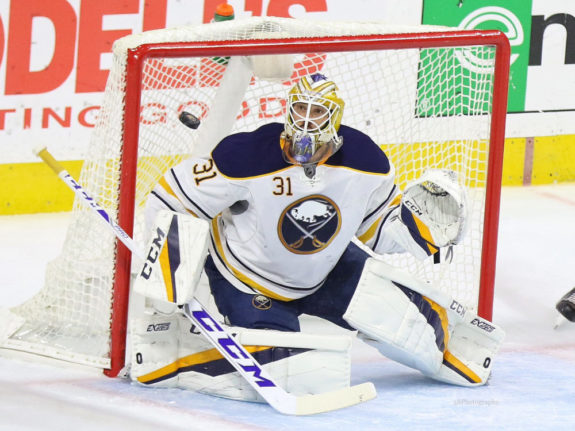 Interestingly, he's tied with Ullmark and Mikael Tellqvist with six shutouts, good for 11th on the country's charts. Additionally, listed at 6-foot-6, he ranks as one of the tallest goalies ever to play the position, standing with names like Ben Bishop (6-foot-7), Devan Dubynk (6-foot-6), and Jacob Markstrom (6-foot-6). 
9. Tommy Söderström (1992 – 1997)
Tommy Söderström is one of only six Swedish-born goalies to register at least ten shutouts in their NHL career, becoming the first netminder to achieve the feat in 1996. Although the 5-foot-7 native of Stockholm had a brief career in North America with just 156 games, his stat line is unique since he played exactly 78 games for the Flyers and New York Islanders.
Although not many fans would recognize him by name, they probably remember his unique goalie mask: a regular white JOFA helmet with an expanded cage attachment. Eventually, Dominik Hasek would become the most famous netminder to wear a combo mask. However, Söderström brought something unique to the game when most goalies were retiring their buckets for masks with personalized artwork. After five years in the league, he returned to Sweden with a 45-69-19 record.  
8. Jonas Gustavsson (2009 – 2017)
Jonas Gustavsson stands 6-foot-4, earning the nickname "The Monster" because he looked intimidating on skates. After going undrafted, he starred in his native Sweden for years before signing with the Toronto Maple Leafs in 2009. Despite all the excitement surrounding his acquisition, he struggled with the franchise, finishing his three-year tenure with a 39-45-15 record. 
---
Latest News & Highlights
---
Statistically, his best season in the NHL occurred during his first year with the Detroit Red Wings, where he earned a 16-5-4 record in 2013-14 before departing the team with a 21-10-6 record over three years. After a winning season with the Bruins, 11-9-1, he played his final seven NHL games with the Edmonton Oilers, going 1-3-1 to finish his career with a 72-67-23 record. Interestingly, he served as Lundqvist's backup at the 2014 Winter Olympics, earning a silver medal. 
7. Johan Hedberg (2000 – 2013)
Johan Hedberg had a long road to the NHL, making his debut on March 16, 2001, after being drafted in the ninth round (281st overall) at the 1994 Entry Draft. Although "The Moose" played all over the globe during those six years, he took the NHL by storm after his first game, going 7-1-1 to help the Pittsburgh Penguins get into the Stanley Cup Playoffs. Eventually, his legacy grew as the "rookie" went 9-9 during that year's postseason helping the team to the Eastern Conference Final for the first time since 1996.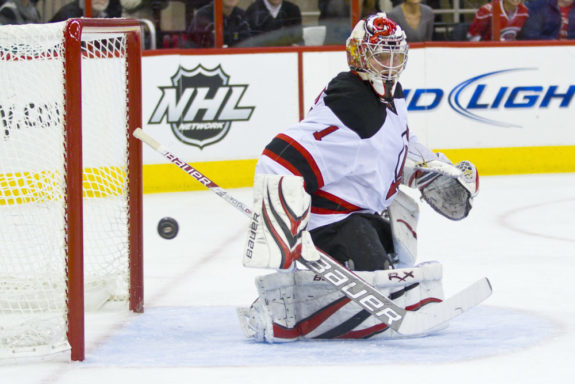 During the following season, he became the number one goalie for the Penguins, appearing in 66 games, the most of his career for a single campaign. However, he could never recapture that first season's magic, eventually bouncing between the Vancouver Canucks, Dallas Stars, Atlanta Thrashers, and New Jersey Devils before retiring after 2013-14 with a 161-143-14 record and 22 shutouts. Interestingly, he played four games for Sweden at international competitions, winning four medals, producing a 2-0 record, and surrendering just four goals.  
6. Jacob Markström (2010 – present)
Jacob Markström has been in the NHL for 13 years and has only five winning seasons printed on his hockey cards. Furthermore, after tenures with the Florida Panthers, Vancouver Canucks, and now the Calgary Flames, he's played in just 26 playoff games, which came during the 2020 and 2022 postseasons.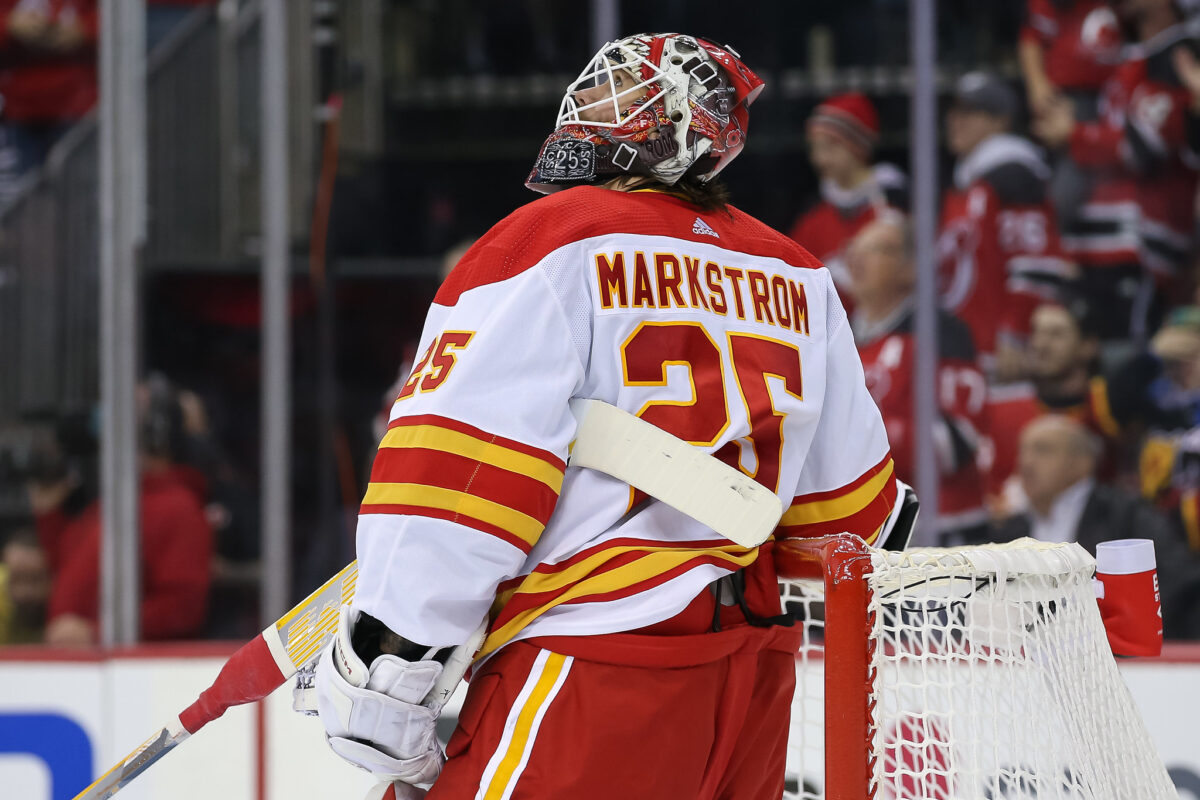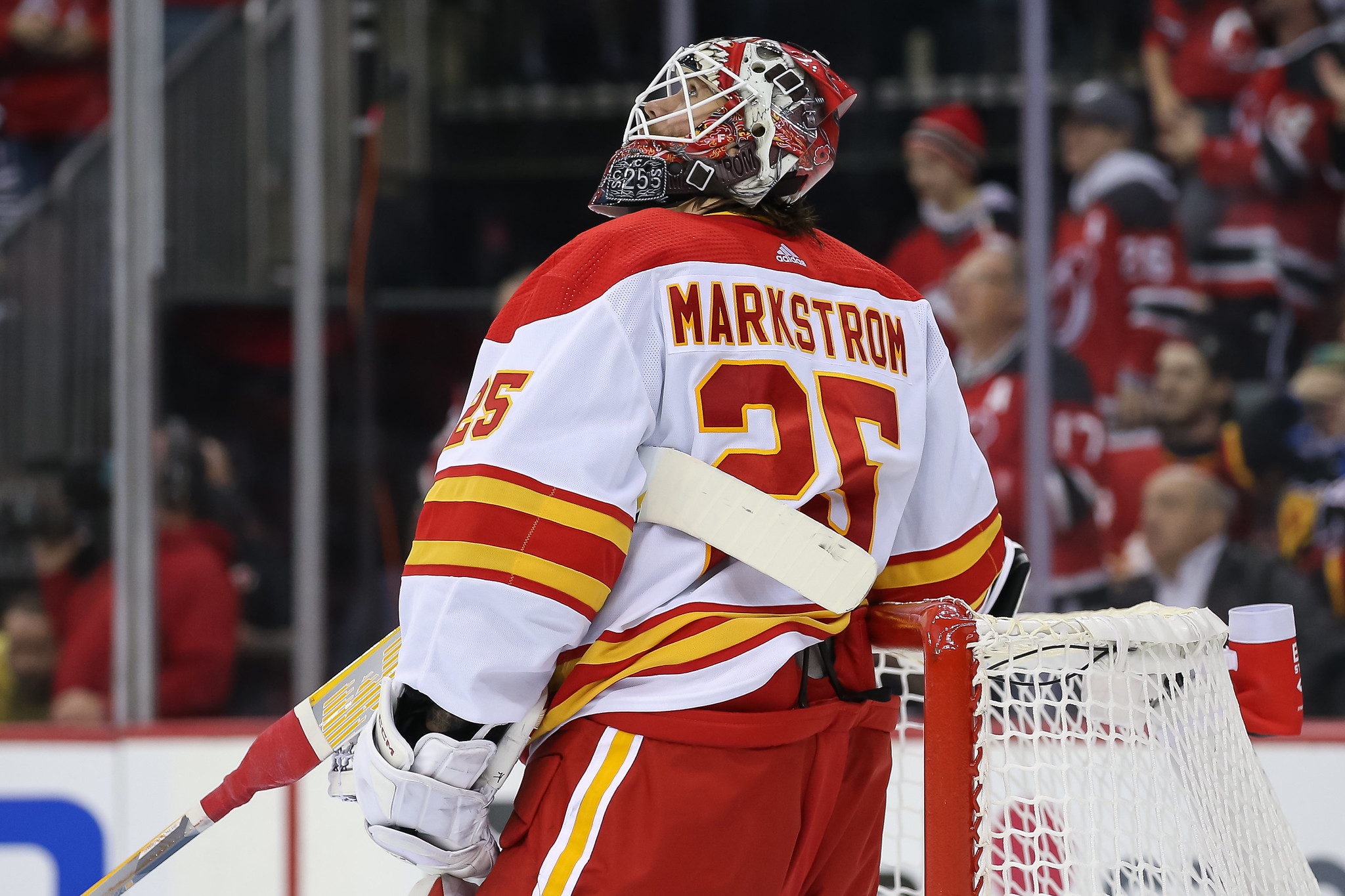 Interestingly, he has 18 career shutouts, with nine coming during the 2021-22 season when he finished second in Vezina Trophy voting thanks to a 39-15-9 record in 63 games, guiding the Flames to a division championship. Even though he's had his fair share of ups and downs in the NHL, he's been a regular between the pipes on the international stage.
5. Linus Ullmark (2015 – present)
Ullmark spent the 2022-23 season putting together one of the greatest statistical campaigns ever, finishing with a 40-6-1 record and a 1.89 goals-against average (GAA), and a .938 save percentage (SV%). Although the Bruins failed to win the Stanley Cup, there's no denying that he had the most remarkable season by a Swedish-born goalie, beating out all of Lundqvist's numbers from 2012, when he posted a 39-18-5 record and a 1.97 GAA and .930 SV%.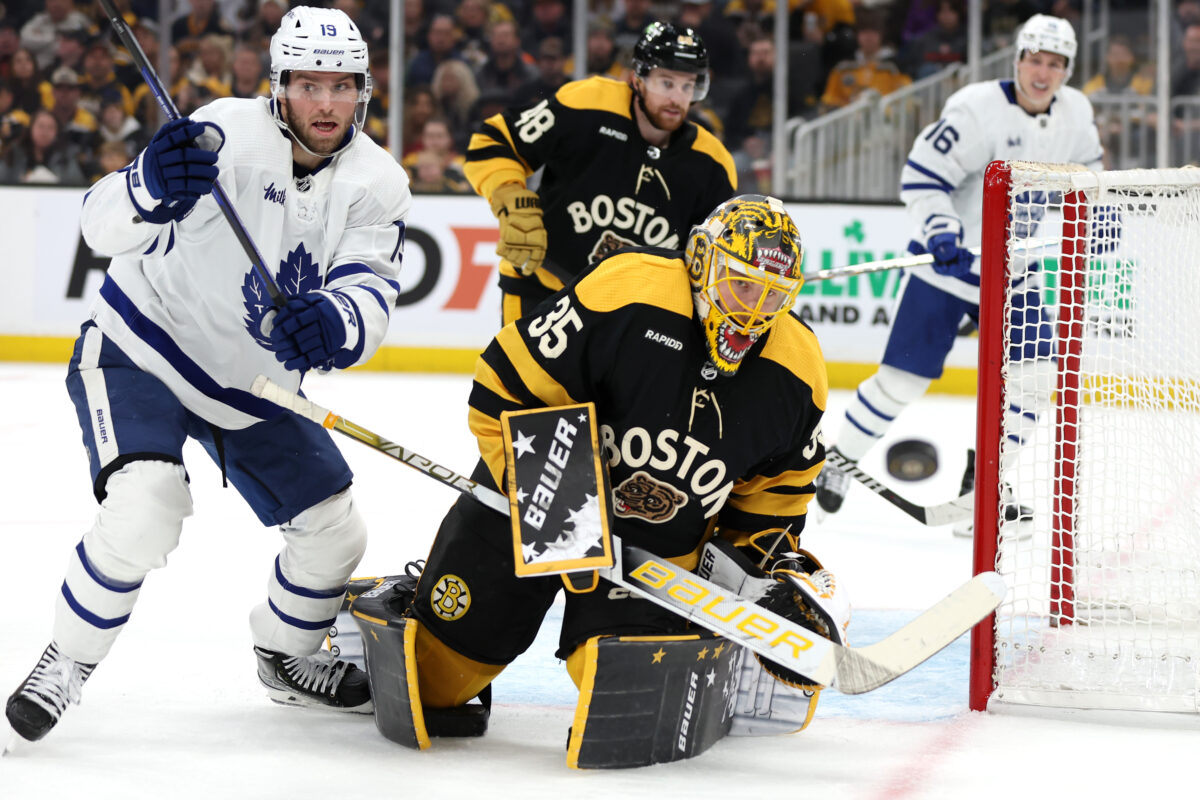 Sadly, Ullmark, like Lundqvist, has a losing record in the Stanley Cup Playoffs (3-5), which speaks to how difficult it is to win in the postseason. Despite those numbers, he's 116-63-16 in the regular season, with only one losing season (rookie year in 2015-16) on his resume. Ultimately, at only 29 years old, he has a chance to continue to build up his legacy, eventually achieving something no one from his country has done before and capturing the Stanley Cup.   
4. Robin Lehner (2010 – present)
Robin Lehner has a unique place in the NHL; not only is he one of the game's most talented netminders, but he's also an advocate for mental health and addiction issues, something he's struggled with throughout his career. Interestingly, he is Sweden's most decorated goalie, owning three of the five awards the country has won, including the Bill Masterton Trophy in 2018-19 for overcoming addiction and having the best season of his career.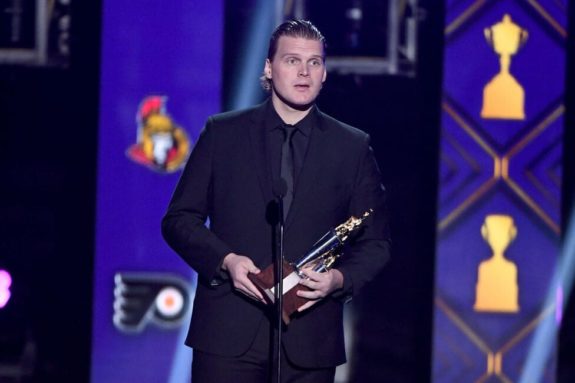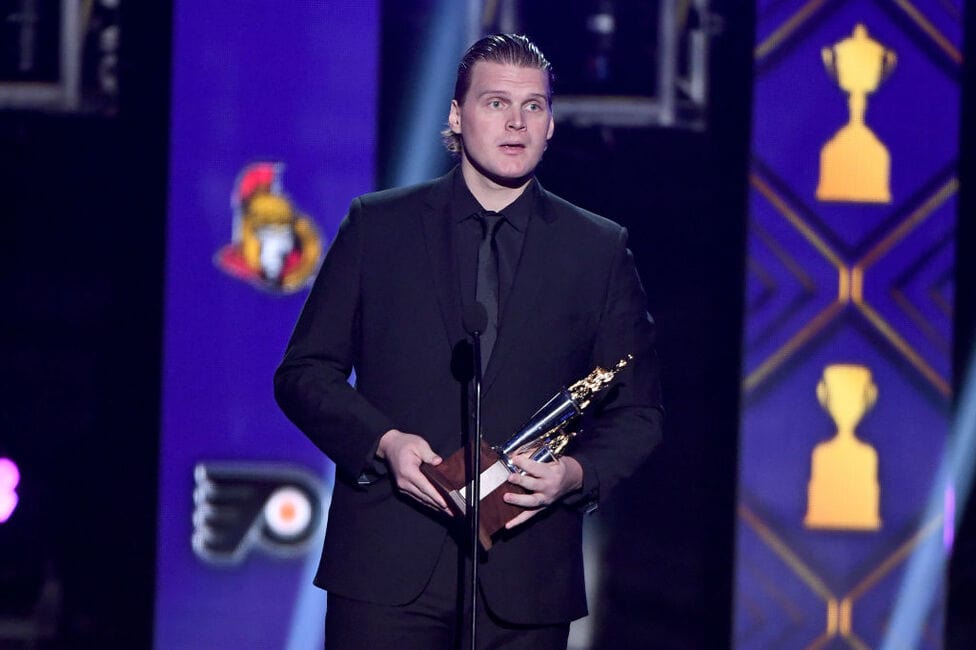 Although Lehner has only represented his home country twice at international events, he is a Calder Cup champion and routinely finishes among the league leaders in save percentage. Despite his successes on and off the ice, injuries have derailed his career as he sat out the entire 2022-23 season, leaving many to wonder what he could accomplish if he were healthy.  
3. Pelle Lindbergh (1981 – 1986)
Pelle Lindbergh was the first Swedish-born goalie to become a star in the NHL, making his debut in 1982. Within two seasons, he led the NHL in wins (40) while finishing within the top three in shutouts (two), save percentage (.899), and goals-against average (3.02). Consequently, he was rewarded with the Vezina Trophy, becoming the first European-born goalie to win the award.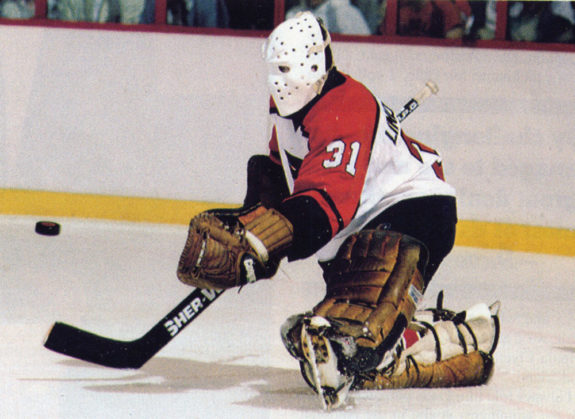 Sadly, he passed away on Nov. 11, 1985, when he crashed his Porsche. Although his time in the NHL was short, he left an irreplaceable mark with the Flyers, who drafted him 35th overall in 1979. Annually, the team hands out the Pelle Lindbergh Memorial Trophy to the most improved player. 
2. Tommy Salo (1994 – 2004)
Tommy Salo was drafted 118th overall by the New York Islanders in the 1993 Entry Draft, months before leading Sweden to their first-ever Olympic gold medal at the 1994 Winter Olympics. Although he had a cup of coffee with the Islanders from 1994-96 (16 games), he won back-to-back championships in the IHL before becoming an NHL regular in 1996-97.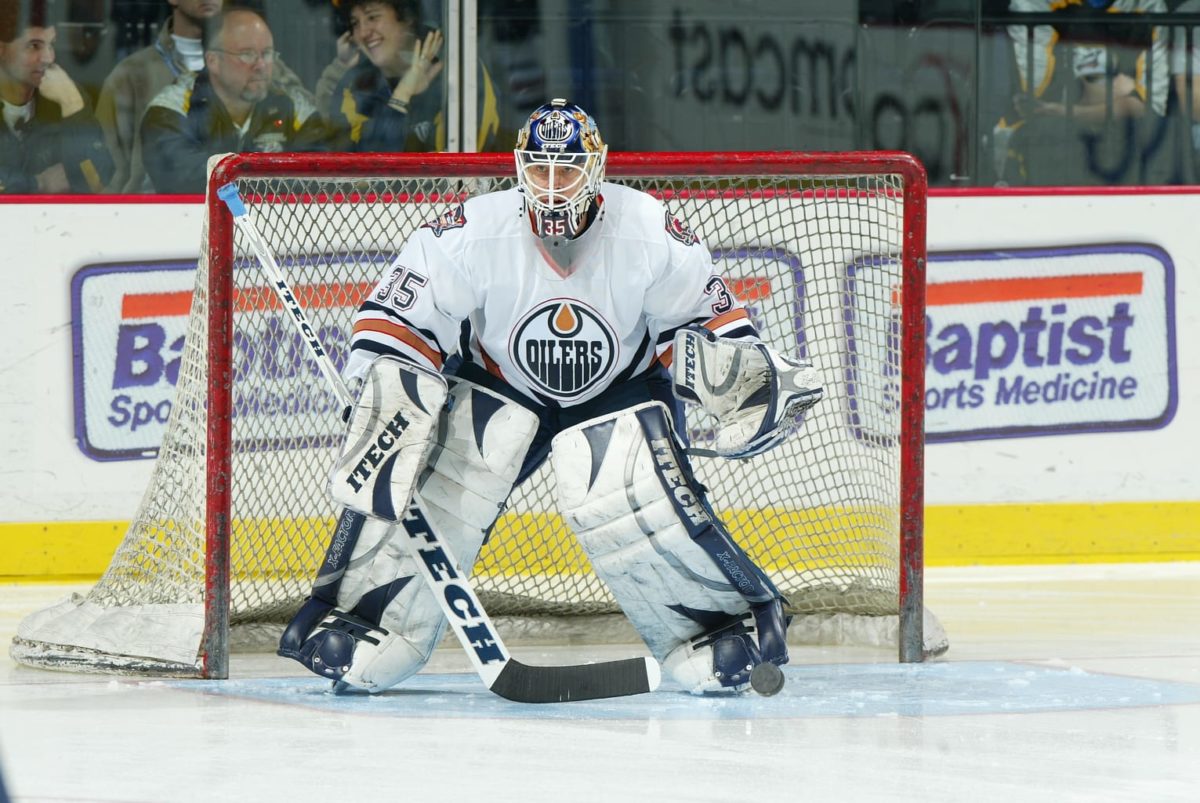 Eventually, Salo ended up with the Edmonton Oilers after a trade in 1999, where he led the team to three straight playoff appearances, his first experience in the postseason. Despite being in Oil Country for only six seasons, he remains one of the franchise's best goalies holding the record for lowest GAA and shutouts. After a brief five-game stint with the Colorado Avalanche in 2003-04, he left the NHL to return to Sweden, leaving as the country's most-tenured netminder at the time of his departure.
1. Henrik Lundqvist (2005 – 2020)
Lundqvist retired prematurely at 37 due to a heart issue, although at that point, he had nothing left to prove in his career. Even though he never won the Stanley Cup during his 15 seasons on Broadway, he rewrote the Rangers record book, surpassing franchise icon Mike Ritcher in every category but one, championships. 
Historically, Lundqvist is sixth all-time in wins and should be a first-ballot Hockey Hall of Fame inductee during the fall of 2023. Even though he produced a 61-67 record in the playoffs, he made up for it in the regular season with a 459-310-96 record and 64 shutouts, which is 17th all-time. 
Related: Swedish Players in the Hockey Hall of Fame
Despite his lack of hardware, one Vezina Trophy win in 2012, he is considered one of the greatest netminders of all-time thanks to impressive totals in the NHL and his international resume, which includes an Olympic gold medal and two World Championships. 
The Future of Swedish NHL Goaltending
After "King Henrik" retired three years ago, the NHL has seen an injection of young Swedish netminders following in the footsteps of their boyhood hero. During the 2019-20 season, ten goalies played at least one game, while 11 have made the list in each of the past two seasons.
Furthermore, the league is waiting for one of the game's top goalie prospects, Jesper Wallstedt, to make his debut. During the 2021 Entry Draft, the Minnesota Wild made him the highest-selected Swedish goalie of all time, making him the 20th overall pick in the first round. Although he plays in the American Hockey League, he made headlines this past season by scoring a goal in his first game.
Meanwhile, the Maple Leafs currently employ Erik Kallgren, who is set to be a big part of the future in the upcoming years, just like Felix Sandstrom in Philadelphia, Filip Gustavsson in Minnesota, and Anton Forsberg in Ottawa.
Overall, one of the game's greatest goalies came from Sweden, whose population is just 10.4 million, and registered hockey players hover at around 61,000. As the game continues to grow in the Nordic country, thanks mainly to an excellent junior program and senior-level professional hockey league, this list should and will change over the years.