With the season coming to an abrupt end, it's time for some report cards, and first up is the rookie turned-veteran goaltender Filip Gustavsson. He came to the Minnesota Wild during the 2022 offseason in a trade that sent Cam Talbot to the Ottawa Senators and brought Gustavsson to Minnesota. It's no lie that many Wild fans including myself were quite worried about what kind of goaltender Gustavsson was going to be.
When Gustavsson showed up in Minnesota, he'd played just 25 games over two seasons and his record wasn't great. To be fair, he's only 24 years old, and for a goaltender that is quite young to be put in the position he was in, there were a lot of expectations. Prior to Talbot's departure, the goaltending tandem was planning on being a 50/50 split but when Gustavsson showed up, that was thrown out the window, at least in the beginning. However, he worked hard to prove everyone wrong and we'll take a look at both his regular season plus the playoffs to determine an overall grade for him.
Gustavsson Becomes "Gus Bus"
Obviously, Gustavsson's transition from backup to the 1A/1B setup didn't happen overnight, it took a lot of work and dedication and earned him the nickname "Gus Bus". The beginning of the season was bad for both Marc-André Fleury and Gustavsson as they both began with some hard losses including three in a row for Gustavsson. However, as time went on they started to put more trust in him and allowed him to play more games, he started to show his true potential.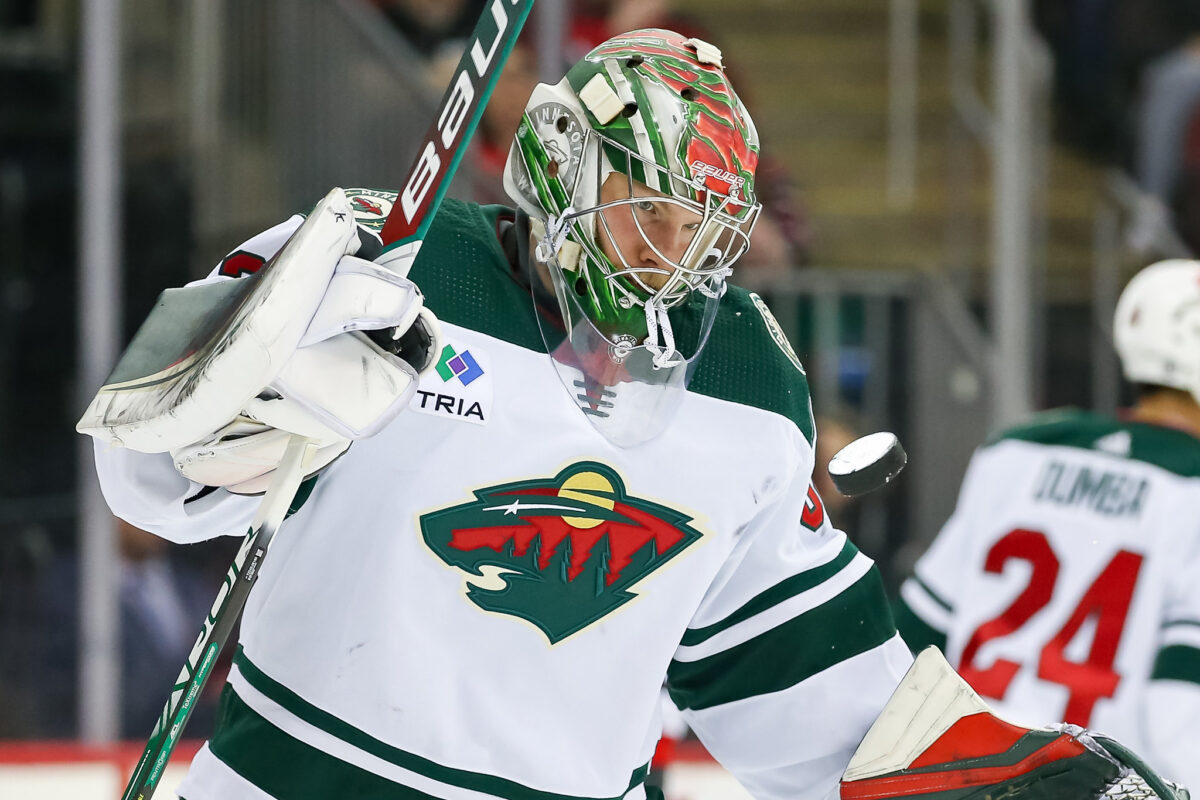 Gustavsson put together a string of wins through the end of November and into December that put him into the conversation of becoming the main starter. He had some trouble throughout the second half of the season but nothing too serious. He struggled at times but also put up some big wins as well. He finished the season with a record of 22-9-7 out of 39 games played and 37 games started. Overall, his save percentage (SV%) was .931 and his goals against average (GAA) was 2.10.
Going just by save percentage and not overall record, Gustavsson was one of the best in the NHL and he proved he is worth re-signing as the Wild need another strong goaltender. While some have reservations about whether he can handle the starting role, they don't have a lot of options. Also since Fleury wants to stick around, they can have a 50/50 split once again.
Gustavsson Has So-So Playoffs
Gustavsson was basically lights out in Game 1 but after that, he did what he could with little help from the defense in front of him. To be fair, it was his first playoffs but he's also an NHL goaltender and has to be ready for situations like the postseason. However, the losses don't fall on his shoulders alone, he did miss some "easy" ones but most of them rested on his teammate's shoulders.
---
Latest News & Highlights
---
Despite the losses, his SV% still stayed quite respectable at .921 but his GAA jumped slightly to 2.33. It's hard to believe the series was that bad looking just at those numbers but in the five games he played, three of them he let in at least three goals. There are times a team needs to step up when their goaltender is having a rough night, but there are also times when a goaltender needs to bail out their team and unfortunately, neither happened for the Wild in the postseason.
Luckily for the Wild, Gustavsson is still a young goaltender and hopefully, he'll just continue to get better as time goes on. Now that he knows what to expect from the playoffs, he'll be ready the next time they come around and if the Wild are lucky, he'll still be wearing their jersey.
Gustavsson's Grade
It's really hard to give Gustavsson a bad grade after all he went through to get here. Not many had faith in him from the start and he worked hard to prove them wrong. He also went from a rookie goaltender to playing starter minutes throughout the season. For the regular season, he earned an A-. While he had a great season overall, he could've done better. However, it's important to factor in his age and experience level from when he joined the Wild.
Related: Wild Have Lessons to Learn From Stars After Round 1 Elimination
Going to the playoffs, he did struggle and there's no denying that but again, he had never experienced the playoffs before. For the playoffs, he earned a C+/B- because he did play decently despite the end result. So for an overall grade, he earned a B/low B+, and while it's not an A, it's still decent for how the regular season ended as well as the playoffs. None of the losses were squarely on his shoulders but there's always room for improvement and hopefully, he'll re-sign with the Wild and continue to improve in 2023-24.