With a 12-14-6 record through their first 32 games this season, the New York Islanders could use a pick-me-up or two this holiday season to ensure a third consecutive playoff birth. With a lacking offense and inconsistent goaltending, the Islanders appear to many as a lost cause. However, just a few presents this season could change their momentum for the better and get them back a lot more than respect. With still more than a half a season left to play, the Islanders' season is far from over, but here are a few things they could use to make sure they are still playing meaningful games in March.
Supporting the Unlikely Heart of the Isles
Anders Lee Continues to Scorch:
Over the past month, Anders Lee has been the Islanders best offensive weapon. From getting in front of the net to shooting more, Lee has rediscovered himself. After an awful start to the season, Lee is back on pace for a 25-goal season. His continued success goes hand-in-hand with any shot the Islanders have in getting back to the Stanley Cup Playoffs.
Greiss Claims Mantle; Halak Gets Dealt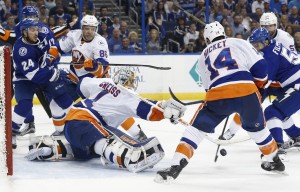 The Islanders need cap space. Jaroslav Halak's salary, mixed in with the fact that he's genuinely not happy in Brooklyn, make him an ideal person to be traded. What the Isles could get in return could even help the offense if they're lucky.
With Thomas Greiss' solid play this season, a 7-5 record, with a 2.61 GAA and a .918 save percentage and his affordable salary, Greiss is the goalie the team needs now. Enough of the season has been wasted already. It's time for the Islanders to make a difficult decision. With JF Berube ready to play more, something needs to get done sooner than later.
Making Sure Money was Well Spent
Strome, Ladd and Chimera Finally Perform
If these three stepped up, the New York Islanders season could be completely different. Combining for just 12 goals this season, Strome, Ladd and Chimera have been an utter disappointment. While Chimera is on pace for a 10-goal, 15-assist season. That's not necessarily terrible, the Islanders simply expected more.
Getting an opportunity to play center again, Strome was expected to help ease the burden of Frans Nielsen's departure and has failed miserably.  But while the performances of Chimera and Strome have hurt the Islanders, Ladd has looked out of place and even lost on the ice at times. He's not the player this team needs. And now they're stuck with him now for six more seasons. If Ladd could get back to the 25 goals he scored last season, the Islanders would have a heck of a lot more punch up front.
Special Teams "Click"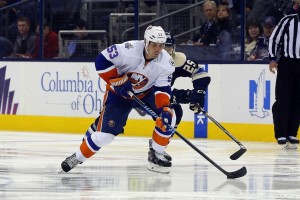 The Isles' power play has been downright awful this year, currently ranked 28th overall. Why the penalty kill is so bad is a shocker too, especially considering the personnel they have in Cal Clutterbuck, Nikolay Kulemin and Chimera (all costly players brought in to fill roles) killing penalties.
With Casey Cizikas out now, don't expect things to get better quickly in that regard either. If they could get both to somewhere in the middle at some point this season, they'd at least not be considered a complete afterthought on special teams.
Tavares Finally Gets Help
It hurts to see that PA Parenteau is on pace for a 20-goal season in New Jersey. It hurts, even more, to see Ladd's play rendering him essentially useless to Tavares and top-line minutes. But what hurts more is that Islanders GM Garth Snow has not gone out of his way to get John Tavares the support that he needs. Regardless of who the Islanders captain plays with, he'll get to 70 points because he's an elite talent. But both he and the Islanders will never realize their true potential until he has a winger than can give him space to create.