The play of Erik Gudbranson, one of the Canucks' prized offseason acquisitions, has largely been a question mark through the 24-year old defenceman's first 30 games with his new team. With news of his pending wrist surgery and the date for his rehabilitation and return uncertain, the questions surrounding him and his future with the team will loom large between now and the offseason.
The Steep Price of Acquisition
Gudbranson was acquired from the Florida Panthers in a May trade that confused fans and analysts of both the Panthers and Canucks. Going to Florida in the deal was promising rookie Jared McCann, who had shown flashes of offensive creativity and a deceptive release. In Gudbranson, Canucks GM Jim Benning and President Trevor Linden saw and presumably still see a current and future top-four defenceman with the ability to live up to his status of third overall draft pick in the 2010 NHL entry draft.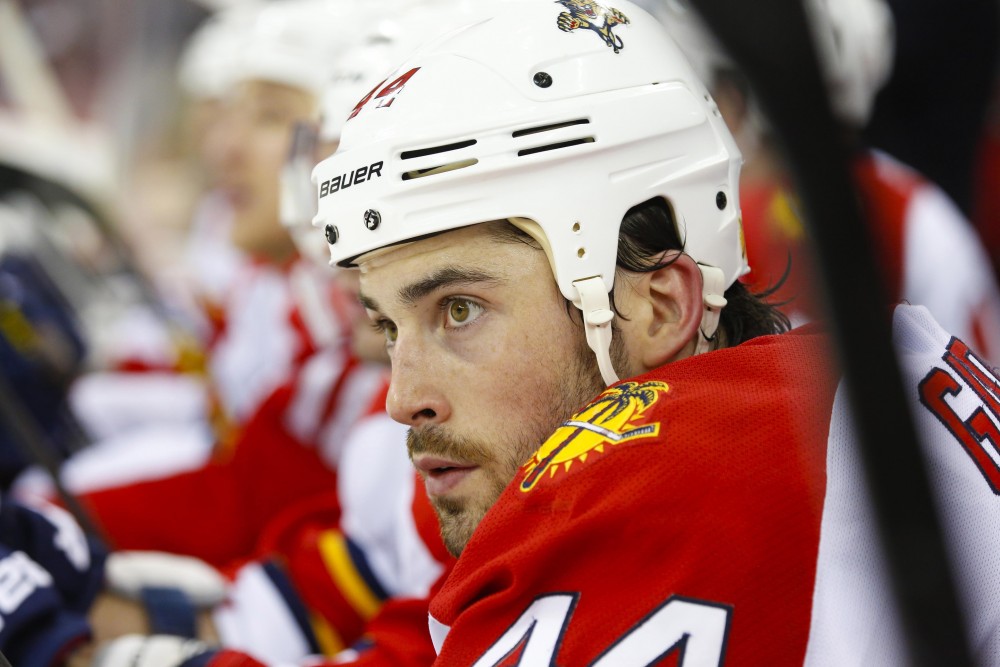 While the trade was criticized by many, some analysts and fans saw the Gudbranson acquisition as another example of Canucks management trading potential for certainty, much like they did the previous offseason with the Hunter Shinkaruk for Markus Granlund swap. If that's the case, it's hard to argue that the Canucks have received what they were looking for in Gudbranson. A review of Gudbranson's statistics and underlying numbers doesn't exactly paint a picture of a certainty and steady play.
Tough Minutes and Mixed Results
Gudbranson wasn't acquired by the Canucks to put up offensive numbers, and his six points on the season bear that out through 30 games. However, he was acquired to play top-four minutes alongside sophomore Ben Hutton and provide the young Hutton with a reliable and defensively sound partner. In that respect, the results have been mixed.
Technically speaking, Gudbranson hasn't averaged top-four minutes on the Canucks' injury-depleted defence corps. His average 20:20 time on ice per game (TOI/GP) ranks him fifth on the team behind Alex Edler, Hutton, Troy Stecher and Chris Tanev. In fact, he ranks ahead of only Luca Sbisa, Philip Larsen, Nikita Tryamkin and Alex Biega in this respect. However, what those rankings fail to illuminate is the fact that Gudbranson has played by far the most penalty killing time of anyone on the team: 82:57, which is a clear 12 minutes more than anyone else.
Also factoring into Gudbranson's seemingly low TOI/GP is the fact that he's played only 10:58 on the power play all season. Looking at the type of minutes Gudbranson is being asked to play and the positions he's being put in, which includes leading the team in defensive-zone-starts (DZS), it's clear that his usage, especially on special teams, is putting him at a disadvantage when judging his play based on statistics.
Everything Else Being Equal
Indeed the rap on Gudbranson from Canucks management and his supporters in Florida when we was first acquired was that his worth as a player isn't necessarily measured with statistics. As of yet, we don't have a statistic that measures leadership, toughness or determination. Sadly, grit-per-60 just doesn't exist. It is, however, reasonable to assume that Canucks management acquired Gudbranson to play difficult minutes and suppress scoring chances against. You know: bang the body, block some shots and keep the puck out of their own net. So, how has he fared in that respect? Again, the results are mixed.
If we accept that Gudbranson's usage on special teams prevents him from balanced statistical analysis, we need to eliminate power play and penalty kill usage from the equation and look solely at his impact at even strength 5-on-5 play. A quick review of corsica.hockey shows that his Corsi-for percentage (CF%) — that is shots generated divided by shots generated plus shots against — is 48.03%, good for sixth on the team. Sitting behind him in seventh? That would be his 5-on-5 partner, Hutton. In fact, Hutton and Gudbranson are first and second on the team in shots allowed while on the ice at even strength. Even fan whipping boy Luca Sbisa puts them to shame in this respect.
Any way you look at the numbers, Corsi-for (CF), Corsi-against (CA), or CF%, Gudbranson is not doing a good job of suppressing scoring chances against at 5-on-5 play. Further cementing this are his quality-of-competition statistics. Because while it's true that Gudbranson plays the highest quality of 5-on-5 competition on the team other than Tanev, his relative CF while facing top competition (CF.QoT) is a dismal 48.87, good for fifth amongst Canucks defencemen.
Well, Well, Well…What Do We Have Here?
Now the big question: What do the Canucks do with Erik Gudbranson? He'll be a restricted free agent this summer, coming off a deal that paid him $3.5 million per season. Given that management paid a steep price to acquire him, you'd have to imagine that they'll qualify him and try to re-sign him to a new contract. But, at what price and for how long?
Can the Canucks feel comfortable knowing what they have in Gudbranson given the mixed results of his first 30 games on the team? A best-case scenario for both the player and the team is that he heals and recovers from his wrist surgery relatively quickly and can get back into the lineup to continue his audition. Unless that happens, there's still a lot left up to interpretation with regards to the play of Erik Gudbranson and how he factors into the team's long-term strategy.