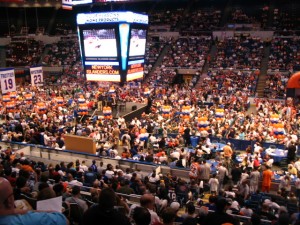 It has become a reality. Trust may be put back in the management for finally making the right decision. The seven most memorable words of my life, "The New York Islanders select John Tavares."
Nassau Coliseum was packed. Starting around noon the tailgating outside the coliseum began. Different groups were divided, people put up there flags, tents everywhere, grills firing up, and people having a great time. Outside people debated all day who the Islanders were going to take. Some people tried not to think about it by getting involved in wiffle ball games and playing pick up hockey, but it ultimately could not be avoided. Chants of "John Tavares broke out" which surprisingly was answered by some with "Matt Duchene."
Five o'clock rolled around and people started to head inside. Islanders were giving tours of the locker rooms, selling equipments, and had many games and tables set up. Mike Bossy, Bryan Trottier, and Bobby Nystrom were at the party making their way around signing autographs for anyone who asked.
Around 6:30 p.m. was when many people started getting nervous. Word was getting around that Colorado said the Islanders were definitely taking Matt Duchene.  People started thinking about every little comment that someone would make.  All the fans seemed paranoid.  The draft was getting closer and the mixed amounts of emotion were colliding in one giant blender. Everywhere you looked you could see people wearing Tavares shirts they made themselves and some even as far to be seen wearing Tavares Islanders jerseys. People made plenty of signs showing their interest for John Tavares.
Finally the time came and the Islanders made their pick. I had my camera ready to record history. This was the most emotion seen from the fanbase since Shawn Bates' penalty shot in 2002.  Judge for yourself.